For college football fans, the Rose Bowl in Pasadena, CA is sacred ground. "The Granddady" of the college football tournament games, it has been played every year since 1902.
The accompanying parade, the Rose Parade, predates the game, dating way back to 1890. It's a tradition that normally goes off without a hitch–that is, until this year, when "Occupy the Rose Parade" has decided to disrupt the festivities.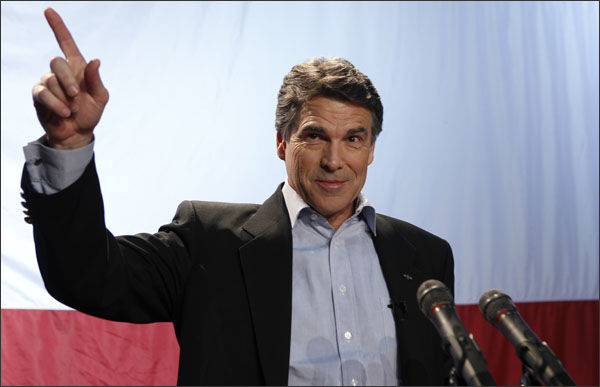 Peter Thottam, right
Led by Peter Thottam, who we will return to in a moment, the Occupy the Rose Parade activists will follow the long parade with their own demonstration. It won't be the first time that Thottam has tried to disrupt the parade.
In 2008, he–along with supporters from the Los Angeles National Impeachment Center–worked with Cindy Sheehan, Code Pink, and Iraq Veterans Against the War to try to make a statement about impeaching Bush and Cheney.
But this year, Thottam obtained approval for a protest to follow the parade. At the parade's conclusion, his group plans to pilot an "Octupy Octupus," a puppet made from recycled plastic bags and bamboo that takes 40 people to operate. The organizers say that the puppet symbolizes Wall Street's tentacles, strangling American politics.
To prepare for the Occupiers, who will include Sheehan and filmmaker Michael Moore, the City of Pasadena had to double its police presence to deal with the supposedly peaceful protestors.
Thottam makes clear that his beef is with the parade, not the game. "A total of nine floats are underwritten by banks. We believe the parade has not only been corporatized but militarized," Thottam told the local press.
Of course, what particularly bothers Thottam are the Obama administration's foreign wars, and the fact that J.R. Martinez, a wounded veteran, is leading the parade.
"You have a grand marshal who is an Iraq soldier and we have nothing against him, but those two wars–Iraq and Afghanistan–were wrong and the government took money away from social services to fight those wars."
Thottam wasn't always so "supportive" of the troops. In March 2003, he headed a radical anti-war group, known as Answer L.A. The war in Iraq was being waged, according to Thottam at the time, not for democracy or to remove a tyrant, but for "empire" and "oil," he told The Boston Herald as he protested the war outside of the 75th Academy Awards.
Thottam appears to have contempt for the kind of rule of law that American soldiers like J.R. Martinez and others sought to promote abroad.
In June 2003, Thottam was arrested for theft in Mexico. The incident was written up in an August 2003 article by The Village Voice. Thottam spent four nights with thirteen other prisoners in a crowded Mexican prison cell. A friend came to the rescue and posted the $1,100 bail and Thottam, in his words, "hightailed" it out of the country. Thottam claims that he was looking for a lost guide book when he nearly stepped out of the store with a pair socks in hand. In 2004, Thottam was later caught shoplifting at a clothing store on the East Coast, according to court documents filed by his estranged brother and sister.
Thottam was also convicted that year of petty theft in Irvine, CA, for stealing $71 worth of books from a bookstore. He was placed on probation for one year, and ordered to complete 20 hours of community service and pay $130 in fines and fees by an Orange County court.
But Thottam, who graduated from UC Berkeley Law in 1999 and passed the bar in 2000, failed to disclose the theft and had his law license suspsended in 2008.
Here's how the California bar described it.

After practicing law for several years, Thottam enrolled in an MBA program at UC Irvine. He decided to transfer after a year and tried to return his textbooks, worth hundreds of dollars, to the Irvine bookstore for full price. When the bookstore refused, Thottam became upset and took two other books, worth $71 from the store.

At the time, he was under a great deal of stress because his mother had had one leg amputated for gangrene but refused to allow doctors to remove the other diseased leg. She died a few weeks later of septicemia, gangrene of the lower extremities. Thottam admitted taking the books and told police about the stress he was under.

He failed to appear in court for the criminal matter and a bench warrant was issued. He ultimately pleaded guilty to misdemeanor petty theft but did not report the conviction to the State Bar.
On March 11th, 2007 Thottam spoke at one of many 9/11 Truth conventions. You can watch him talk about the strategy behind 9/11 denial here in his own words. He coordinated with other Truthers to disrupt Bill Maher's show on October 23, 2007, and he is pictured here, next to a sign saying that "World Trade Building 7 Didn't Just Blow Itself Up!"
In 2010, Thottam ran for the Democratic nomination for California's 53rd Assembly seat. He cited his background as "a financial analyst," a skill he had purportedly learedn from his father, who he watched suffer a bankruptcy in early 1990s. Thottam argued that the example had taught him to be better with money and to plan for the future.
However, as the Daily Kos points out:

But in at least two of his jobs in the financial realm, Thottam was fired.

From 1999 to 2001 Thottam worked for the Silicon Valley law firm of Wilson, Sonshani, Goodrich & Rosati before he was fired for "performance-based" reasons, according to the company as reported in an April 2002 article published by the Communications Workers of America.

In the article about the stigma workers carry for being fired rather than being laid off, Thottam claimed he was actually laid off.

Thottam subsequently went to work for the prestigious law firm of O'Melveny & Myers in San Francisco from 2001 to 2002. Again, Thottam claimed he was laid off according to a March 2002 article in the Daily Journal; the company responded in the article by saying the firm had suffered no layoffs and was, in fact, hiring.
Thottam's skills were so bad at managing finances that his own siblings fought over his handling of his late mother's will. That may be a common occurrence among families, but the charges leveled by family members were particularly severe. According to the Daily Breeze:

Allegations leveled against Thottam by his siblings in court documents related to the trust set up for them include:

That his brother and sister, Jameson and Elizabeth, were "considering removing Peter as a co-trustee because Peter lost $800,000 playing the stock market and misappropriated rents" from a property belonging to the trust "to cover margin calls on his personal stock account."

That he was "an unsuitable trustee because he was convicted of shoplifting from the UC Irvine bookstore and was previously caught shoplifting from a clothing store on the East Coast and again shoplifting from a store in Mexico where he was subsequently placed in jail."
Despite that history, Thottam still secured the endorsement the Progressive Democrats of Los Angeles.
And now, Thottam is inviting protestors from all around the world to descend on Pasadena. Are they aware of Thottam's past?