A new Breitbart/Judicial Watch Poll reveals more than half of Americans are skeptical that the "Affordable Care Act" will lower their health insurance costs. Fifty-four percent say so, while only one-quarter believe their health insurance cost will decrease if they sign up for one of the government's health plans.
As you may know, a law was passed in 2010 that makes major changes to the country's health care system. Please tell me if you agree or disagree with the following statement. "My healthcare insurance costs will decrease if I enroll in one of the government's new health insurance plans."

25% TOTAL AGREE (NET)

12% STRONGLY AGREE

12% SOMEWHAT AGREE

54% TOTAL DISAGREE (NET)

13% SOMEWHAT DISAGREE

40% STRONGLY DISAGREE

21% DO NOT KNOW

1% REFUSED
Democrats are more likely to be optimistic about Obamacare's cost-saving ability than Republicans. Even so, Democrats are not overwhelmingly optimistic, rather, they are split on the question.  Independents are more in line with the GOP (72%) as 54% of Independents doubt that Obamacare will lower their healthcare costs should they sign on to the program.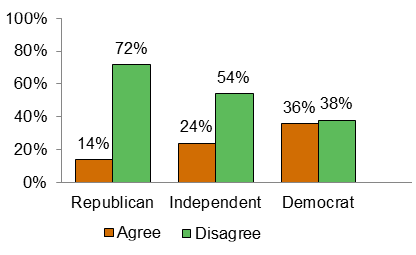 Expectations are different along racial lines and more likely to be divided on the issue of cost decreases. African-Americans are split along with Hispanics on the cost saving aspect of Obamacare. Forty-three percent of African-Americans do not expect their costs to decrease and 37% of Hispanics say the same, significantly lower than whites.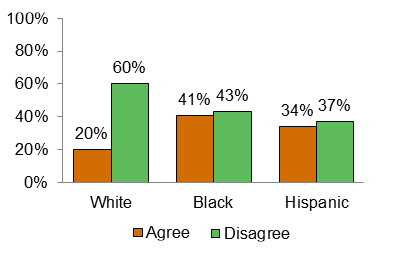 Older Americans do not believe their costs will decrease under the program. Less than one in five adults over the age of 45 expects to see a decrease in costs with the new government program. Even so, in every age cohort more people than not do not expect to save money under Obamacare.

One group more likely to be optimistic is those forced to buy into the healthcare exchanges.  Adults who purchase their own insurance and those without insurance are more optimistic about costs than those who have employer-provided insurance health plans. Even among these self-insured/uninsured folks, more do not expect to see cost savings under Obamacare than do.   

The survey also finds that costs have not decreased over the last two years leading up to the Obamacare roll-out. Since the 2010 passing of the Obamacare law, a mere handful of adults has seen a decrease in their health care costs. Only 4% say their own health care costs have decreased, while 44% report their costs have increased. Forty-seven percent say their costs have stayed the same. 
Over the last two years, have your health care costs increased, decreased or stayed the same?

47% STAYED THE SAME

44% INCREASED

4% DECREASED

4% DO NOT KNOW
We find a significant disparity among the age groups regarding their health care costs over the last two years.  Younger adults, aged 35 or under, are less likely to report an increase, but this group is also less likely to have insurance coverage or need health care services as they are healthier.  Twenty-eight percent of the 35 and under crowd report cost increases while that figure almost doubles (57%) for the 45-54 age cohort.

On the partisan front, Republicans are more likely to report an increase in costs: 52% say they have experienced an increase while only 40% of Democrats and Independents (41%) say the same. But neither of these groups are reporting a decrease, merely that their costs have remained constant.

Cost increases have fallen on the backs of those insured via their employer. Fifty-nine percent of adults with employer provided insurance report their costs have risen over the last two years.  By contrast only one-third of those with government provided insurance or those who are self-insured say their costs have increased.  Nevertheless, the overwhelming majority of these groups are not reporting cost decreases.
Overall, the majority of the public is not expecting costs to go down under Obamacare nor did they see their costs go down in anticipation of the new program. Today is the deadline for most people who do not have health insurance to sign up for the program. It is also the midpoint for Obamacare's six month enrollment period.  It remains to be seen how many people will chose to pay the fine (1% of income or $95) instead of complying with the law. If people are looking for cost-savings, they they don't expect to find it with Obamacare. 
The Breitbart/Judicial Watch Poll was conducted by The Polling Company among 1000 adults, December 13-16 using live callers. The survey had a dual-frame sample of 65% landline, 35% cell phone with a margin of error of +/-3.1 at the 95% confidence level.