According to Federal Election Commission records, Texas gubernatorial candidate Wendy Davis–the feminist icon who exploded onto the national political scene with a pro-abortion filibuster in June–donated to Republican George W. Bush days before becoming a public official.
The records list a $250 donation from Wendy Davis from April 28, 1999 to Bush for President, Inc. Davis listed her occupation as "homemaker" and her address as "Continental Plaza #C-10," a sector of an office building which legal directory FindLaw.com lists as the office of attorney Jeffry Davis, her husband at the time.
The donation, earmarked for the Republican primary campaign, came two days before Wendy Davis won her first political office–a seat on the Fort Worth city council which she had unsuccessfully ran for in 1996. Jeffry Davis also donated $250 to Bush that day–and listed the exact same address as Wendy Davis. Jeffry Davis's occupation was listed as "Safeco Tile," an apparently mistaken reference to the company he owned then, Safeco Title.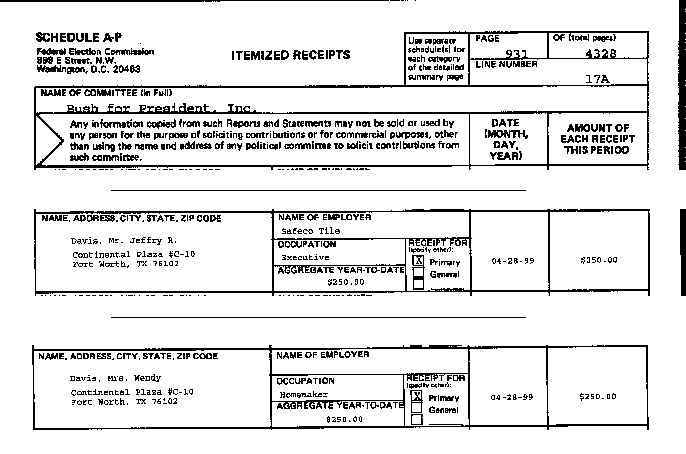 Davis made a name for herself nationally with a filibuster championing legal abortions, a progressive cause, but in the Texas State Senate, she has a history of fluid political allegiances that have prompted Democratic allies to question her loyalty. Davis voted in Republican primaries in 1996, 1998, and 2006, according to the Texas Tribune. She donated to her Republican Congresswoman Kay Granger multiple times, even after being elected to the Fort Worth City Council (on a nonpartisan ticket).
When she began to aspire to higher office–the kind of office that requires a strong ideology and loyalty to a major party, Democrats were slow to trust her as one of their own. "I didn't have a partisan affiliation by my name, and I didn't govern with one either," Davis told the Daily Beast of her tenure on the City Council, explaining why local Democratic officials were wary of her representing the party. The donations were later dismissed as predating her political activity–and, indeed, her donation to former President Bush's campaign does, but no one changes their ideology in two days.
Known nationally only as the lady in Vogue in the pink shoes, a confirmation that she gave money to perennial bogeyman George W. Bush will be difficult to swallow for the far left that has embraced her. To Democrats in the state, she already has the unfortunate reputation of being, if at all possessed of a political and moral compass, far to the right of the national party. She may have taken one rare stand–literally–in June, but her record otherwise leaves observers baffled as to whether there is a coherent set of beliefs in her core person.
Davis' campaign did not reply to a request for comment.