Coming in at almost $1 trillion, and after three years of legislative delays, Congress has passed a farm bill. President Obama is expected to sign the farm bill into law at Michigan State University Friday.
A key takeaway from the nearly 1,000-page mega-bill is a measure that could cut about $9 million from food stamps over ten years. The cuts are said to trim an average of $90 a month in benefits from some 850,000 Americans who rely on the program.
However, the farm bill's overall spending totals are exploding.
The Congressional Budget Office says this year's farm bill is projected to cost a total of $956 billion from 2014-2023. That's a 49 percent increase from 2008's $640 billion farm bill which was vetoed by President Bush due to its nearly 50 percent cost increase over the 2003 farm bill. Both houses of Congress overrode Bush's veto.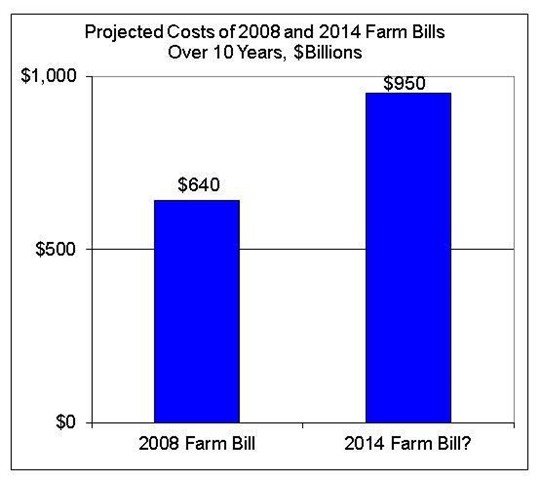 One reason for the new farm bill's bloated budget is the move to end guaranteed direct payments – payments farmers receive regardless of their harvest quality or crop prices – and increase crop insurance subsidies by $7 billion over a decade. Direct payments have been a part of the farm bill for more than 80 years and have attributed to steady increases in farmland values.
In 1996, the Freedom to Farm Act, pushed by then-Speaker Gingrich as a start to phasing out all farm subsidies, drastically cut price supports and withdrew the government from grain management. When grain prices started to fall after this, pressure from agricultural interests led to the implementation of the direct payment system.
Farmers usually insure about 80 percent of their crops, which promises a guaranteed yield and price. In a bad year, crop insurance (a taxpayer subsidy) covers crops if the crops' prices fall. If a massive flood wipes out most of a farmer's crops, crop insurance makes up for the losses. If a natural disaster drives up the price of crops, crop insurance must match the new price.
Thanks in large part to the expanded crop insurance measures in recent farm bills, farming is a booming business promising large profits and low risk. In fact, farming incomes have steadily outpaced non-farming household incomes since the '60s – and have skyrocketed since the early 2000s.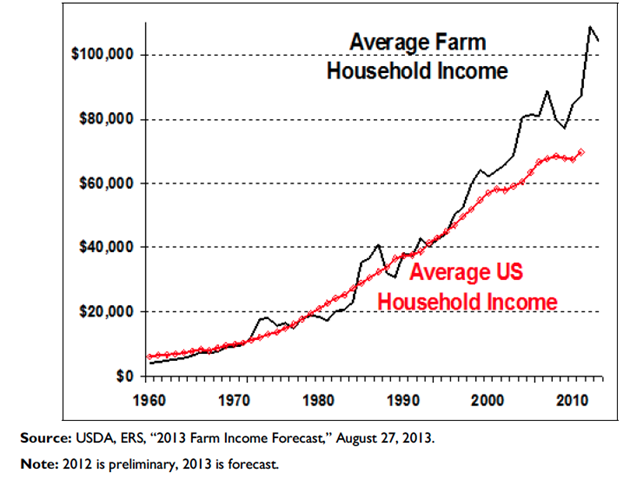 Also increasing farm bill costs is a measure packed into the bill that would cut virgin land subsidies in half and aims to help protect wetlands and grasslands and force farmers to adhere to a number of conservation practices. This new provision comes in at $1 billion. Indeed, planting on eroded land and wetlands has increased over the last several years. The provision was pushed by environmental groups who claim that the same practice of planting crops on America's grasslands are what led to droughts in the 1930s.
A Republican-backed provision that would have forced members of Congress to disclose if they or any of their immediate family members were receiving crop insurance subsidies was stripped from the original version of the farm bill.
In all, with the steady diminution in direct payments and the expansion of crop insurance, the new farm bill will likely exacerbate risks, leaving American taxpayers holding the bag.