Rep. Julia Brownley (D-CA), a first-term representative whose district includes parts of Ventura County, Simi Valley and the San Fernando Valley, has apparently removed her support for Obamacare from her campaign website. As recently as late February (see cached image above), Rep. Brownley claimed that the "Affordable Care Act…made some much needed improvements to our health care system." 
That section is now gone.
In its place on the "issues" section is a simple note: "COMING SOON…".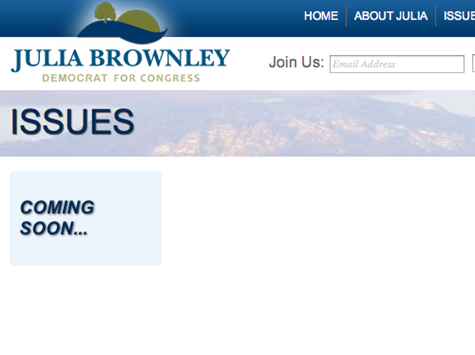 The Brownley campaign did not return calls for comment or explanation.
The 26th congressional district of California is considered one of the nation's most competitive. The 2012 race in the newly-redrawn district saw millions of dollars spent by both sides, notes the local Camarillo Acorn, as Brownley benefited from a small Democrat registration advantage.
Realtor Rafael Dagnesses, a retired Marine and police officer who is one of two Republicans (plus an independent) challenging Brownley for the seat, told Breitbart News he was not surprised. 
"Career politicians will say and do anything in an election to get to voters. That does not change who they really are," he said. 
"So she'll back off Obamacare during the election. She'll be right back with Obama when she's back in office."
Update: Brownley spokesperson Lenny Young told Breitbart News that the campaign website was just "being updated," but would not answer questions about her position on Obamacare.