A new Gallup poll released on Monday shows that Americans consider unemployment/jobs, government corruption, and the economy as the three "most important" problems facing the country. Just 3% of those surveyed listed the environment/pollution as America's most important problem. 
President Barack Obama has recently made a renewed push on issues that resonate with liberal members of his Democratic base, including: global warming, racism, and income inequality. However, as the Gallup poll reveals, none of these issues receive more than 3% on the list of problems most important to Americans.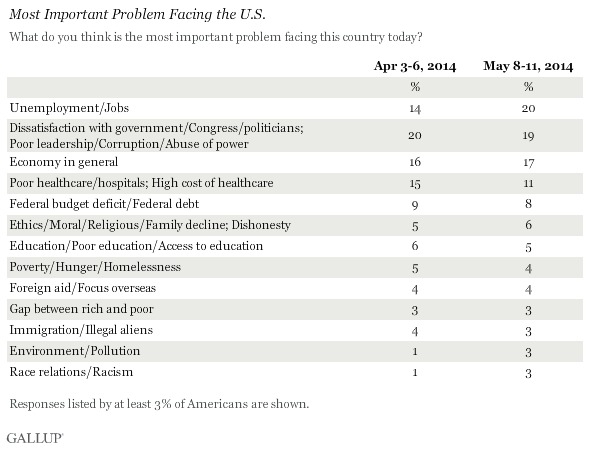 The Gallup poll adds further headaches to Democrats. On Monday, Politico released a poll showing "Obama's approval rating is a perilous 40 percent, and nearly half say they favor outright repeal of the Affordable Care Act." The poll also revealed that Republicans hold a seven point advantage over their Democratic rivals in key congressional and state races heading into the midterm elections. 
Voters head to the polls in 169 days.