As protests continue in Ferguson, Missouri, gas mask sales are skyrocketing at Amazon.com. Sales of the online retailer's most popular gas mask model have risen 434 percent in the past 24 hours.
According to Amazon.com, the $149.99 NBC 40mm NATO SGE 400/3 Anti-Riot Military Gas Mask, sold by the Military Mega Store, only has 20 more models left in stock at the time of publication.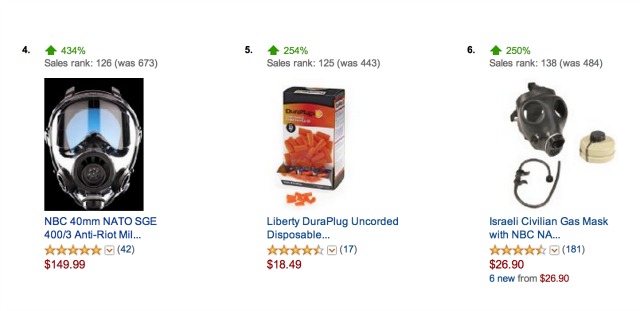 One online reviewer of the gas mask indicated that he specifically bought the gas mask in response to the news of the protests in Ferguson. 
The sales rank for the gas mask is now at 126 in Amazon's Industrial and Scientific Department, up from a ranking of 673 just 24 hours ago.
Another popular gas mask sold on Amazon, the Israeli Civilian Gas Mask, has rocketed up the sales charts by 250 percent. The mask sells for $26.90 and qualifies for Amazon Prime shipping.
Plastic earplug sales are also up 254 percent in the last 24 hours, a popular tool for people pushing back against LRAD sound cannons, which have been used in Missouri.
Breitbart News reporter Kerry Picket noted on Monday that the use of tear gas by Missouri law enforcement has caused a run on gas masks in St. Louis area stores.