An undercover investigation of Planned Parenthood has turned up evidence that it sold "intact" fetal organs to at least one California company known as Stem Express. Stem Express charges $400 to $25,000 for stem cells grown from fetal organs.
In the undercover video release Tuesday, Planned Parenthood's Senior Director of Medical Services Dr. Deborah Nucatola explains that fetal organs they harvest are available at a cost of $30-$100 per specimen. However, she added that the national organization does not offer clients a "menu" because their own lawyers don't, "want us to be the middle people for this issue right now."
Dr. Nucatola then mentions that another buyer called Stem Express had approached them with the same request.
Stem Express is a California-based company started in 2010. Its website was apparently put into a maintenance mode on Tuesday after the story broke. However, the Internet archive shows the site listed "fetal tissue" and "fetal liver" for sale at least as far back as 2012: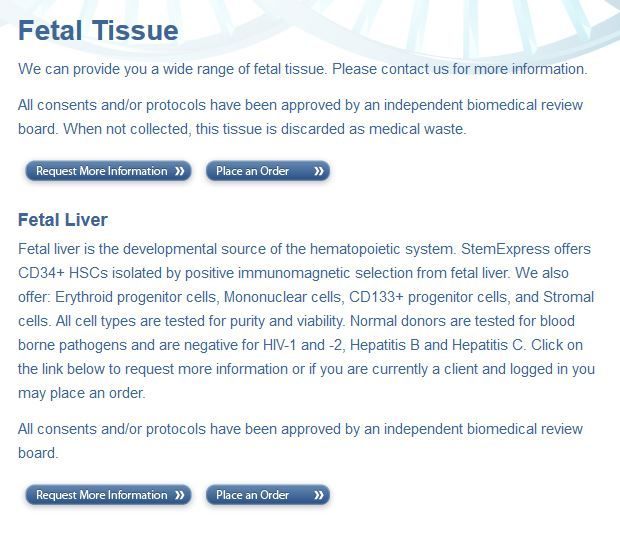 The most current version of the site even lists the prices for various fetal liver products. Prices range from $488 for a vial of half-a-million "cryopreserved" CD34+ cells up to $24,250 for a vial of 5 million CD133+ cells: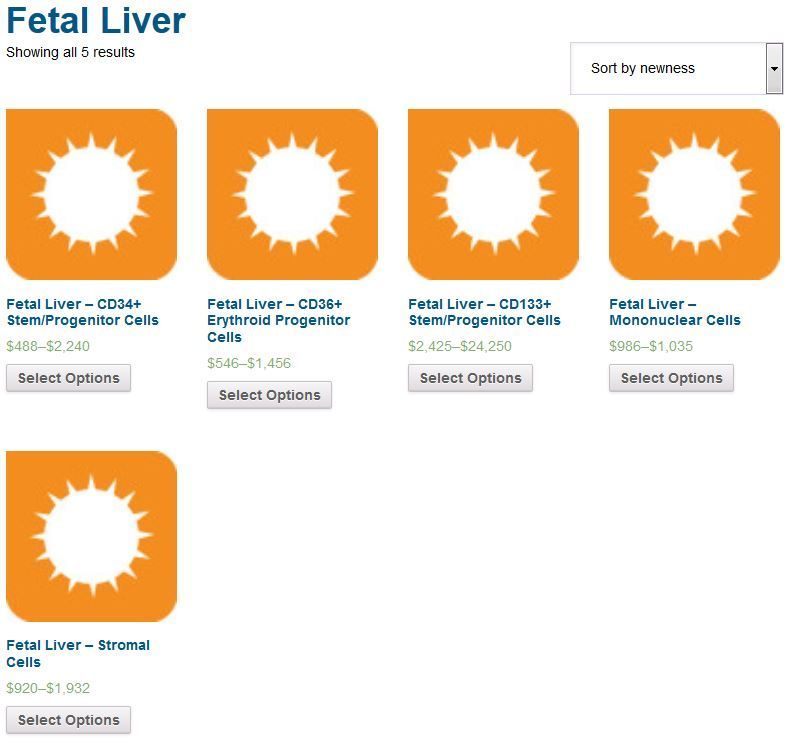 Clicking on one of these stem cell types gives a price page that looks like this: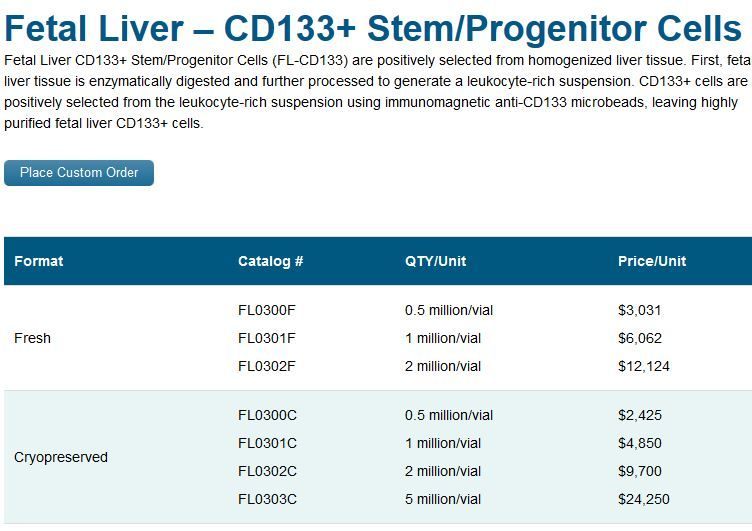 A fact sheet explains how the samples are collected:

The sale of fetal body parts is illegal in the United States, however, the law outlawing it does allow for companies to charge for processing and shipping costs of those organs/tissues. In a statement issued after the video was released, Planned Parenthood stated, "At several of our health centers, we help patients who want to donate tissue for scientific research, and we do this just like every other high-quality health care provider does—with full, appropriate consent from patients and under the highest ethical and legal standards. There is no financial benefit for tissue donation for either the patient or for Planned Parenthood." It's not clear why Planned Parenthood charges $30-$100 per specimen for organs that would otherwise wind up as medical waste.
As for Stem Express, their site explains the processing which turns fetal organs (livers) into vials of stem cells.