More fake news from the Weather Channel, which last week attacked Breitbart for writing the truth about global cooling, and which has now launched a similarly politicized and gratuitous attack on the Florida sugar cane industry.
Florida sugar growers, it claims in a ten-minute mini-documentary fronted by its toothsome Hit Girl presenter Kait Parker, are responsible for the outbreak of toxic algae blooms on Lake Okeechobee in the summer.
If true, fair or accurate this would represent serious investigative journalism: the algae, which invaded a 33-square mile section of the Florida's largest lake in May this year, caused havoc to the local economy and environment, killing fish and other wildlife, poisoning water supplies, closing beaches (on Florida's Treasure Coast) and causing sickness in humans.
Clearly, if the sugar cane industry is responsible then something needs to be done.
Problem is, the sugar cane industry is likely innocent on all charges. So once again, the Weather Channel has been caught neglecting its core business—duh: the weather—to indulge in the kind of left-leaning environmental attack we witnessed last week when for no obvious reason it chose to pick on Breitbart.
Yet again the technique used is the classic Argumentum ad Puellam Pulchram. (The one where a pretty girl is deployed in order to distract you from the feebleness of the actual argument being made).
In the video, Toxic Lake, Kait Parker visits Lake Okeechobee to wrinkle her pretty nose at the environmental catastrophe—"This is the grossest thing I have ever seen"—to meet apparently neutral but passionate local citizens and then to point the finger of blame at Florida sugar cane growers.
According to the video—"so this entire mess, it all goes back to sugar"—the algae blooms have been caused by phosphorus used in the cane industry's fertilizer and also by the fact that the cane fields now stand in the way of a mitigation scheme to enable the run off from Lake Okeechobee to drain into the Everglades to the south.
Now I have no particular axe to grind for the Florida sugar cane industry. According to this American Enterprise Institute profile from three years ago, it's another classic Big Government boondoggle:
Without the Army Corps of Engineers' dredging and building, the cane growers wouldn't have the soil or the irrigation they need. Without Washington's decades of rigging the labor market, the companies wouldn't have had the workers they needed before mechanization. Now the industry says it deserves to be protected from foreign competition. And the growers are putting their profits behind the fight. […]

[…] Florida sugar cane is an industry literally built on big government, and growers know it will wither in a free market.
Well sure, but that still doesn't mean the industry deserves to be vilified on the Weather Channel for something it hasn't actually done. Heaven knows, I've experienced this kind of thing often enough myself in my war on the corrupt, mendacious environment industry over the years and apart from being hurtful, it's just morally wrong and it represents the kind of bad journalism—fake news indeed—that gives the media a bad name.
First, only a fraction of the water added to Lake Okeechobee comes from the south, where the sugar cane fields all are—as this map shows. What's also clear is that sugar cane producers are responsible for—at most—four percent of the phosphorus that goes into the lake.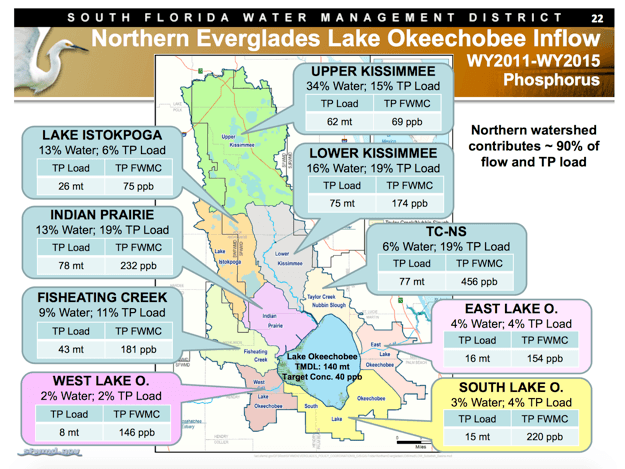 Second, the whole sugar cane/Lake Okeechobee issue is just a distraction.
Brian LaPointe, an expert in algae blooms and a research professor at Florida Atlantic University's Harbor Branch Oceanographic Institute in Fort Pierce, questioned whether slowing the discharges would help much. He said septic tanks, sewage systems and other nutrient-laden pollutants have fueled the widespread algae blooms invading Martin County waters.

"It is not the lake," LaPointe said Thursday. "It is really the human activities on the watershed. The algae is just the ecological response to excess nutrients. Lake Okeechobee is easy to point your finger at, but the reality is that it is coming from many, many sources."

On Wednesday, the South Florida Water Management District issued a news release that also made the same argument.

The release, which included the headline "Myth versus Fact," detailed the district's response to the algae outbreak. The district said the idea that Lake Okeechobee is the sole cause of blue-green algae is a myth, adding that the blooms have occurred in years when there were no lake releases.

"The nutrients and fresh water that can fuel growth of naturally occurring blue-green algae also comes from local stormwater runoff and septic tanks," the district wrote in the release.
But the Weather Channel appears not to have been interested in the views of experts who disagreed with its "Sugar Cane is killing Lake Okeechobee" thesis. Instead, the people Kait Parker consulted for her Weather Channel hit job were mostly prominent anti-sugar-cane activists.
One of them was Michael Conner, founder of BullSugar—a 501(c)(4) group—whose funding has been called into question.
This is where the story gets murky—for 501(c)(4) groups are the favoured method by which the liberal billionaires who bankroll so much environmental activism (for reasons ranging from guilt to cynicism and self interest) hide their identities.
Much of the environmental activism in the Everglades is funded by one man in particular, an out-of-state hedge fund billionaire called Paul Tudor Jones II. He lives in Connecticut but owns a $71 million coastal estate in Palm Beach, Florida.
He is a Teddy Roosevelt-style conservationist and wants as much land owned by the government so it can never be developed. He has given millions of dollars annually to Florida environmental groups that then sue the sugar cane industry (for carbon emissions, water pollution, etc.) and publicly call for the purchase of its farmland.
Local blogger Brian Burgess has been on his case for some time.
Jones has succeeded in being labeled a philanthropist, in part because he annually gives a few million dollars of his multi-billion-dollar fortune to left-leaning charity organizations. These activists are all too happy to use a small portion of his contribution to give him shiny awards at celebrity studded galas, and his public relations operation is excellent about making sure everyone knows he's hob-nobbing with actual liberal icons like Jimmy Buffett.

But it is exactly this sort of self-promotion, or at least, self-preservation, that seems to be the driving force behind at least a couple of Jones' nonprofit initiatives. Last year, for example, just four days after being confronted with angry protesters upset about income inequality outside his gated home in Greenwich, Connecticut, Jones announced a new nonprofit entity called Just Capital, with the mission to provide the public with information about how "just" companies are.
BullSugar (one of the main sources for the Weather Channel's hit job) has denied being bankrolled by Paul Tudor Jones II. And given its 501(c)(4) status it's free to deny till the end of time. But if it isn't funded by Tudor Jones II, its about the only local environmental charity that's not.
According to Burgess:
From an in-depth examination of tax-exempt filings and business records, Jones and his Everglades Foundation are at the center of a political network that controls the messaging of a flock of other activist groups, even to the point that their individual missions have become compromised.
And:
According to the Everglades Foundation's annual reports, Paul Tudor Jones II is the largest contributor and the only donor to give more than $1 million annually.  From 2011 through 2014 (the only annual reports available at press time), Jones is listed as the sole "Millennium Society Member," a status reserved for those contributing between $1,000,000 and $5,000,000.  A 2014 IRS form 990 shows that Jones contributed $1.64 million to the Everglades Foundation in 2014.

Through examining the groups Form 990's, The Capitolist determined that the non-profit group is the single largest contributor to some of Florida's most vocal environmental activists. Audubon Florida, for example, collected an average of $418,000 every year just from the Everglades Foundation, while the Sierra Club took an average of $117,000 between 2012 and 2014.
How much does Paul Tudor Jones II really care about the environment? So much that in 1990 he was fined $2 million for damaging ecologically sensitive wetlands on his private hunting retreat.
A top Wall Street commodities trader was fined $1 million and ordered to pay another $1 million in restitution today after pleading guilty in federal court here to damaging ecologically sensitive wetlands on his 3,272-acre private hunting retreat on Maryland's Eastern Shore.

In what prosecutors called the largest financial penalty ever assessed against an individual in an environmental case, Paul Tudor Jones II, multimillionaire chief of Tudor Investment Corp., also was ordered to serve 18 months' probation.
And how much does this ostentatious liberal champion of the poor care about the little people?
While the attendees at the TED Talk seemed at least mildly entertained with Jones' speech, the protestors from Connecticut were less than impressed. A few months later, they launched a two minute long attack ad taking Jones to task for his philanthopic facade.

Among the more serious of Jones' sins chronicled in the video:

Charging obscene fees for his management of public employees retirement funds
Destroying wetlands to create his own private hunting preserve, for which he was fined $2 million
Blatant hypocrisy in his income inequality speech, as evidenced by his $71 million Florida mansion, others in California and Connecticut, and a 364,000 acre resort in Tanzania.
Profiting on investments in sugar while giving money to activist groups who want to end sugar farming in Florida

More recently, in spite of his professed abhorence of income inequality, Jones laid off a significant portion of his hedge fund workforce. Apparently, keeping so many people employed was beginning to hinder his charitable giving.

Jones has also made it clear he supports the radical plan for Florida's state government to buy farmland south of Lake Okeechobee so that it can be flooded. This will, the thinking goes, send more water south, and away from his $71 million coastal estate, where the nutrient rich water might play havoc with his property values.
There is no suggestion that Paul Tudor Jones II actually financed the Weather Channel's hit job on the Florida sugar cane industry. But given the Weather Channel's lamentably poor research and willingness to buy the version of events of a small group of environmental activists serving Tudor Jones II's interests, clearly it had no need to.
Across the U.S. there are dozens of other liberal billionaires doing much as Tudor Jones II is doing in Florida—bankrolling the environmental activism which has made swathes of the U.S. landscape unworkable, destroyed jobs, and killed local industry.
President Trump is going to have his work cut out draining the swamp of these people. They are not going to lie down without a fight. And they are going to have the full support of swathes of the media—among them, it would appear, the Weather Channel.