According to the most recent data, the employment field where immigrants—both legal and illegal—make up the largest percentage of the U.S. workforce is the area of domestic help, the Pew Research Center revealed Thursday.
The Pew analysis of government statistics found that 22 percent of persons employed by private households are illegal immigrants, while a corresponding 24 percent of household employees are legal immigrants, bringing the total to 45 percent of the domestic workforce—the largest percentage of any area of employment.
Second to domestic help comes the field of "textile, apparel, leather manufacturing," Pew reported in its analysis of Census Bureau data from 2014, the most recent year for which such data was available. Between legal and illegal, immigrants make up 36 percent of the workforce in that sector.
In third place comes the agricultural sector, with a third of the nearly 2 million farm workers in America born in another country.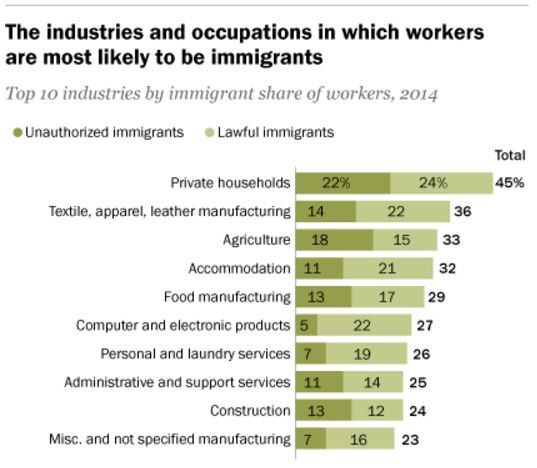 The immigrant portion of the U.S. workforce has grown steadily in the past two decades. Pew estimates that in 1995 combined legal and illegal immigrants made up only 12% of the total civilian workforce.
In 2014, however, immigrants made up 17.1% of the total U.S. workforce, a growth of nearly 30 percent in just 20 years. Immigrants now account for some 27.6 million workers out of the entire U.S. workforce of 161.4 million.
The share of legal immigrants in the workforce has grown by only 25 percent in this period, from an estimated 9% in 1995 to 12% in 2014, while the portion of illegal immigrants grew by 40 percent, from about 3% in 1995 to 5% in 2005.
"About 19.6 million workers, or 12.1% of the total workforce, were in the U.S. legally; about 8 million, or 5%, entered the country without legal permission or overstayed their visas," Pew said in its report.
Follow Thomas D. Williams on Twitter Follow @tdwilliamsrome