The race for Chairman of the Young Republicans National Federation (YRNF) is shaping up into a showdown over competing ideological factions.
The Chairman and other Young Republicans officers will be selected at the YRNF's bi-annual convention to be held August 2nd-6th in Annapolis, Maryland. As the convention draws nearer, the campaign between leading candidates Maryland Young Republicans Chairman Kory Boone and current National Secretary Jason Emert has taken on wider implications for the direction of the organization with regard to the Trump administration.
This year's convention comes after elements of the YRNF were reported to have taken a #NeverTrump stance during the 2016 election season and worked to sabotage pro-Trump members. Former New Hampshire Young Republican's Chairman Robert "Bob" Burns's case was one of the more public examples. Burns was an early endorser of Donald Trump for president and later became National Youth Coalition Chair for Trump's campaign.
The YRNF withdrew recognition from Burns's chapter after a complicated dispute resulted in rival New Hampshire Young Republican groups. Burns believes the YRNF's decision to side against him and with New Hampshire GOP Chairwoman Jennifer Horn, who once called for all Trump supporters to resign from the party, was in part due to his support for Trump. "Jennifer Horn was extremely anti-Trump. They kind of went into cahoots with the YRNF to essentially usurp the bylaws and remove me, and a lot of it had to do with me being a Trump supporter," he told Breitbart News.
Kory Boone is the candidate of Young Republican Resurgence, the faction more enthusiastic for YRNF leadership to support the President. "Thousands of Young Republicans are re-energized with the election of Donald Trump, Mike Pence, and a Republican Congress," the Resurgence website reads.
Boone boasts the endorsement of one-time Trump campaign manager Corey Lewandowski and deputy campaign manager David Bossie. "It is important to have a political leader who supported our nominee 100%, and continue to support our President to Make America Great Again; that's why I'm endorsing Kory Boone for Young Republican National chairman," Lewandowski said.
Speaking to Breitbart News, Boone was sharply critical of the behavior of the current Young Republicans Executive Board during the primary season. He cited a series of now-deleted YRNF press releases as the start of the hostility to Trump supporters. For example, after Trump announced his support, in December 2015, for a moratorium on Muslim immigration, the Board, including Chairman Dennis Cook and Secretary Jason Emert, now running for chairman, sent the following statement to members:
The YRNF wants to be very clear: Donald Trump is out of line with his comments about Muslims. These statements targeting a specific group of people for their race or religion does not reflect who we are as a party. Nor do they reflect the values that we embody, embrace, and encourage others to adopt.

As House Speaker Paul Ryan so rightfully put it, "This is not conservatism. What was proposed yesterday is not what this party stands for. And more importantly, it's not what this country stands for."
On the October 7 release of the infamous Access Hollywood tape of  Donald Trump conversing with Billy Bush some ten years earlier, Cook again felt the need to distance himself from the nominee of the party whose youth wing he ran, saying in a statement, "As a father of a young son I want him to know this sort of vulgar rhetoric is not typical locker room banter, and is totally unbecoming for any man – let alone a nominee for President of the United States."
Boone told Breitbart News he was dismayed that YRNF leadership "felt so emboldened" to criticize Trump in press releases and emails:
I know, as the state chair of Maryland, I had some members that were not on the Trump bandwagon. But didn't  go around publicly bashing him. If you have a problem with him, you just keep your mouth shut…and that goes for all of our nominees.
According to Boone and other sources, YRNF walked back significantly from any "#NeverTrump" affectations after the upset victory of November 8, 2016 and has displayed open hostility to the President since. Still, Boone had reservations based on earlier conduct. "The attitude and the mentality is still there," he said, "You can't go about bashing our nominee until the week of the election and then have a change of heart…we still aren't really behind President Trump."
Boone touted his own pro-Trump bone fides, making reference to his endorsement by Lewandowski and Bossie. "I gave them my word that we'll be another arm to help President Trump push his policies, his platform, and gear up for his reelection bid," he told Breitbart News.
"Since Donald Trump was elected, people are coming to membership fired up," Boone said of the changes in Young Republicans since Trump's election. "I want to wipe away the YRs version of the swamp."
Jason Emert, another leading contender for the chairmanship, represents the YR Majority faction. The faction's platform makes no mention of Donald Trump, and its "Vision 20/21" omits the presidential election campaign entirely. Its leadership has closer ties to the current YRNF board, including Emert himself who is serving as secretary.
Breitbart News obtained screenshots and archive files of Twitter and Facebook posts from the 2016 campaign season in which Emert appears to speak ill of then-candidate Trump and promote #NeverTrump hero and widely suspected Washington Post leaker Evan McMullin in his stead.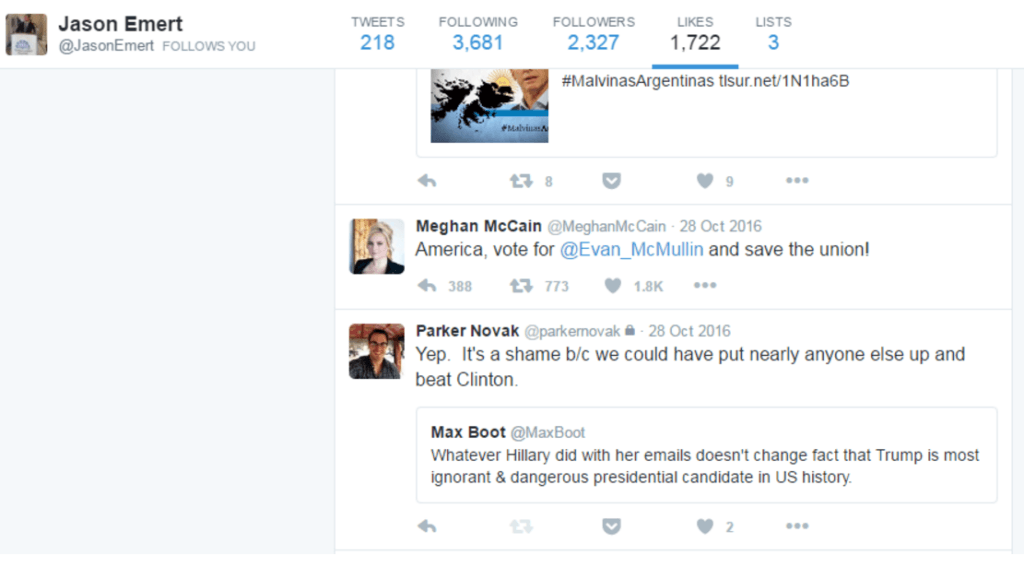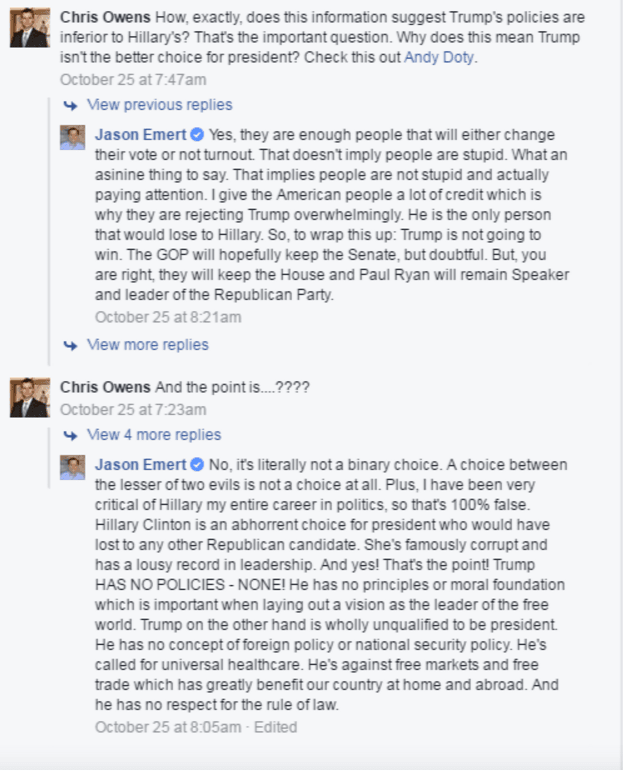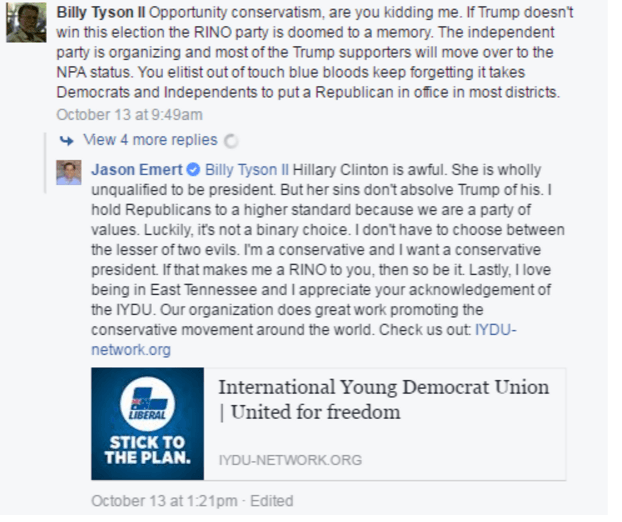 Emert appears to have deleted all his tweets from the 2016 campaign season. Breitbart News could not independently verify the Twitter postings, but relied on archive files from a source close to the Boone campaign for the Facebook postings which were visible only to friends. Emert declined to be interviewed for this article and did not deny the veracity of the postings when asked.
Burns, the ousted New Hampshire YR chair, did not, however, blame Emert himself for the YRNF's alleged actions against Trump supporters. "It's not Jason Emert per se, but it's definitely the people he  surrounds himself with, particularly [current YRNF Chief-of-Staff] Clayton Mark Turner," he told Breitbart News.
Burns, who is supporting Boone in this race, emphasized what he saw as the significance of the election for the future direction of the orgnaizati0n. "From all appearances, there's people in the Young Republicans who think that they're going to continue with some sort of Kasich or McMullin presidency and I think they think this is the first phase of it," he said.