White House staff failed to develop a policy initiative to accompany the administration's much-delayed September 5 announcement ending the legally flawed DACA amnesty, said Mark Krikorian, director of the Center for Immigration Studies. 
Their failure leaves President Donald Trump with no sales pitch, and has allowed Democrats to dominate the subsequent debate with plans for a bigger-than-DACA amnesty called the Dream Act, he said, adding:
In the absence of any signal from the White House, the discussion has been shaped by [Sen.] Chuck [Schumer] and [Rep.] Nancy [Pelosi] and others who do not have the administration's best interest at heart. …
After recent staff changes, "there is no-one in a position of authority" who can build an internal consensus for a pro-American alternative to DACA, Krikorian said. Chief of Staff "John Kelly is not on the [Democratic] side, but he is more of non-ideological person who just wants to get stuff fixed, so he is not going to be considering the political and policy consequences," Krikorian said.
The staff failure is a threat to Trump's presidency, which he won by promising pro-American immigration reforms, said Krikorian. He said:
DACA is the main lever that the President has and if gives it away for nothing, the Democrats will not agree to any other positive changes, period.

Basically, he would be surrendering the primary issue that propelled him into the White House for nothing. Whereas if he got substantial concessions — [for example]  Mandatory E-Verify, some of the family chain migration policies abolished, he would be in a stronger position to say 'These are important things we got in exchange. and if the Democrats sabotage these concessions, we haven't given away that much.
Without an in-house proposal — which could be a simple as a residency permit for approved DACA beneficiaries — Trump is instead asking Democrats to come up with a quick plan, Krikorian said.
So far, Democrats are using the political opportunity to push for a huge, no-strings amnesty dubbed the Dream Act, which would provide a fast-track to citizenship for at least 3.6 million illegals and foreigners with temporary residency permits. The long-term cost of the bill would be at least $1.5 trillion, and the cost would likely increase as more foreigners use the act's many loopholes to move themselves and their foreign relatives into the United States. That would be a political gift to the Democrats and a huge taxpayer-funded windfall for business groups. 
The planning failure by Trump and his top aides — including Chief of Staff John Kelly and congressional relations deputy Marc Short — was highlighted Tuesday, September 12, when the chairman of the House Freedom Caucus said his group was asked by a White House official to develop an immigration reform that can be packaged with a renewal of the DACA amnesty.
"Administration officials don't want to be caught flat footed with no proposals," said Rep. Mark Meadows, the chairman of the caucus. He continued:
It is incumbent upon us to put some conservative and compassionate solutions out there to address it. So we're taking that task as a real challenge. I was asked to do it. That's what we're doing.
Asked by reporters to name the White House official, the North Carolina Republican declined to provide the name. 
House Speaker Paul Ryan is also using White House's policy vacuum to develop a DACA-replacement plan that could include a greater inflow of cheap foreign workers.
On, September 12, Short appeared to endorse a no-strings amnesty in exchange for Democratic support for a business-friendly tax cut. Short is a former top aide, and an anti-Trump campaigner, for the Koch brothers. 
However, two pro-Trump Senators are encouraging Trump to tie their RAISE Act to any DACA extension. They are Arkansas Senator Tom Cotton and Georgia Senator David Perdue. 
In an August White House media event with Perdue and Cotton, Trump has endorsed the RAISE Act, which would cut unskilled "chain migration," cut welfare costs by an additional $1 trillion per decade and also boost Americans' productivity and wages. 
Media reports say Trump promoted the bill in a Wednesday meeting with business-backed Republicans and progressive Democrats but did not demand that the RAISE Act be included with any DACA re-amnesty.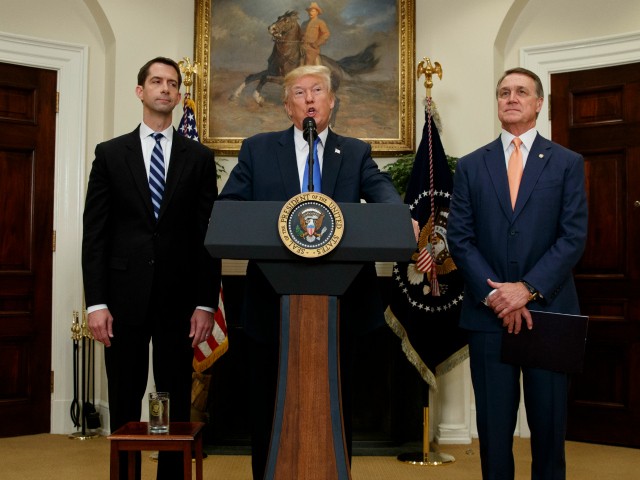 "Senator Perdue and Senator Cotton continue to educate members about the RAISE Act, which as the polls show has broad support," a Hill staffer told Breitbart News. 
The pro-American RAISE Act wins high approval in polls, according to staff.