The first round of the NFL's 80th Player Selection Meeting is in the books. So what teams were the big winners—and the big losers. Let's take a closer look . . .
Winners
Jacksonville Jaguars
Florida linebacker/defensive end Dante Fowler is a rare talent and the Jaguars defensive-minded coach Gus Bradley is going to have fun with his new toy. Fowler is a versatile player you can move around a lot and with whom you can create a lot of havoc. He's a rare athlete for a man his size (6-3, 261), and big-time hitter.
New York Jets
Landing USC's dominating defensive end Leonard Williams with the sixth pick qualifies as a major steal. Some teams listed him as the top rated player in the draft. He's a 6-5, 304 pound athletic freak who runs like a tight end. The Jets defensive line of Williams, Mo Wilkerson, and Sheldon Richardson could emerge as the best in football.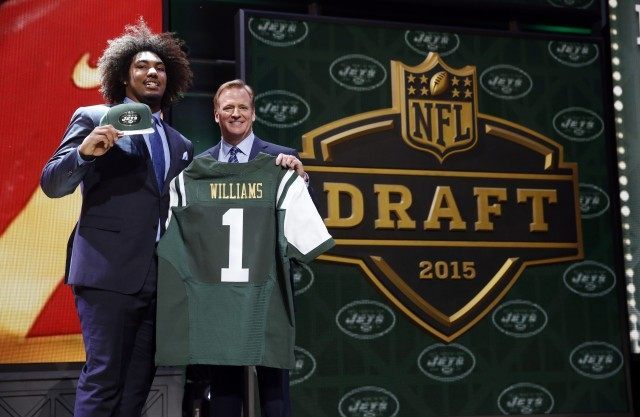 Denver Broncos
The Broncos landed the draft's best pass rusher, Missouri defensive end Shane Ray, with the 23rd pick of the first round. He is the all-time leader in sacks for the Tigers, and established a school-record with 14.5 last season. Ray displays a great first step. He's a top ten talent who slipped in the first round because the police cited him for pot possession last week in Missouri. However, what he was arrested for is legal in Colorado, so the team isn't going to get much bad PR with their fans.
Indianapolis Colts
The Colts landed the draft's fastest wide receiver, Phillip Dorsett, late in the first round. What a weapon he will be for Andrew Luck, especially on that fast playing surface at Lucas Oil Field. Not only will he help the Colts' passing game, but he will help them on the ground by making safeties play deep to honor his world-class speed, and backing them off the line.
Minnesota Vikings
The NFL has turned into a passing league in recent years, so the value of talented corners can't be understated. The Vikings landed the draft's best cornerback, Trae Waynes, with the 11th pick, which constitutes very good value. Waynes is a very talented man-to-man cover guy with outstanding speed.
New Orleans Saints
Two things the Saints need to do better than last year are protect quarterback Drew Brees and play better defense, so adding perhaps the most talented offensive tackle in the draft (Andrus Peat), and a stout inside linebacker (Stephone Anthony), with their two first-round picks should help them a great deal.
Losers
Washington Redskins
First off, it's important to point out that Iowa offensive tackle Brandon Scherff is a good player. But to pick him at five might have been a reach considering some scouts thought he wasn't athletic enough to stay at tackle and might need to move inside to guard. He also lacks ideal arm length.
Cincinnati Bengals
Offensive tackle Cedric Ogbuehi could turn out to be a solid player, but do you pick players in the first round coming off a torn ACL in a bowl game and an inconsistent senior year? They probably could have landed him later.
Dallas Cowboys
Cornerback Byron Jones enjoyed a phenomenal workout at the combine, including a 44 ½ inch vertical leap, and this pushed him into the first round. However, his workout numbers often don't translate to the field. He also played in a weak conference where he didn't get challenged much. He's an okay player, but this pick was a little bit of a reach.
Incomplete
Tampa Bay Buccaneers and Tennessee Titans
Tampa Bay picked Jameis Winston first overall, and the Titans grabbed Marcus Mariota with the second pick. These two players were considered the two top quarterbacks in the draft, but neither is an Andrew Luck "can't-miss" prospect. It's such a gray area whether they can make a successful transition from college to the NFL. It's so hard to tell. Both players will likely struggle mightily as rookies, and it's hard seeing either team winning this year. After that, who knows? Both franchises roll the dice here. So many first round quarterbacks flame out because college football quarterbacking compared to the NFL is like comparing apples to oranges.