Striking a blow against the inherent racism, sexism, and homophobia of sideline mascots, or, alternatively, signifying the fast approach of the apocalypse, the Rutgers University Student Assembly voted overwhelmingly to introduce the school's Scarlet Knight as homosexual, female, transgender, and in various racial incarnations.
How dare they exclude the handicapped!
"This bill is about representing how diverse Rutgers is, and that we should take pride in that we're one of the most diverse schools in the nation," Emmet Brennan, the sponsor of the legislation, told The Daily Targum last week. "It's not really about taking away from the current mascot we have, but really celebrating that diversity and involving the student body in our mascot."
Brennan cited the school's "Queer Caucus" as one of the groups the student government will seek input from on how to create non-offensive Scarlet Knights appealing to various segments of the student population. He told the paper that he hopes to bring sketches of the multicultural mascots to the administration and maintains that the student government would seek alumni and institutional funding for the Scarlet Knights rather than money from student-activity fees.
The freshman told the paper that noticing the blue eyes of the Scarlett Knight at a football game planted the thought that "this does not seem right."
Wait until a similar epiphany strikes his counterparts across the country when they gaze upon the dreamy ocean eyes of Stanford's "Tree." Come to think of it, WuShock exhibits frighteningly-Aryan features and Lil' Red looks like he just stepped out of a whites-only Gymboree catalogue. Peel back Kool-Aid Man cousin Otto the Orange and surely there lurks a straight, white, male.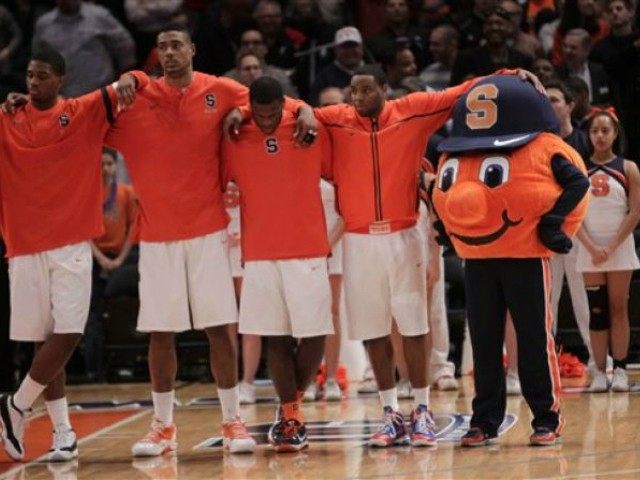 New Brunswick, New Jersey, hosts merely the latest skirmish over the symbolism of sports teams. Marquette waved goodbye to Willie Wampum in the 1970s and hello to the Golden Eagles nickname two decades later. Earlham College dropped Fighting Quakers for Hustling Quakers more than a quarter-century ago, and then dropped that for the plain-old Quakers. In the 1990s, students at UMass failed to jettison the musket-toting minuteman, dubbed a "racist, sexist, white man with a gun," as their school's mascot. "If you're a woman or a person of color," protest leader Martin Jones maintained, "he really can't represent you."
Rutgers, too, has been here, done that. The mascot move follows 2013's alteration of the school's 140-year-old song to expunge non-gender-neutral lyrics. "My father sent me to old Rutgers/And resolv'd that I should be a man," went the words of the original "On the Banks of the Old Raritan." The now-official bowdlerized version informs: "From far and near we came to Rutgers/And resolved to learn all that we can."
It's enough to turn a knight scarlet.