The projected 351 rosters for each D1 team in are listed alphabetically, and you can type over "Type Notes or Corrections Here" any place you notice a player is missing from a team.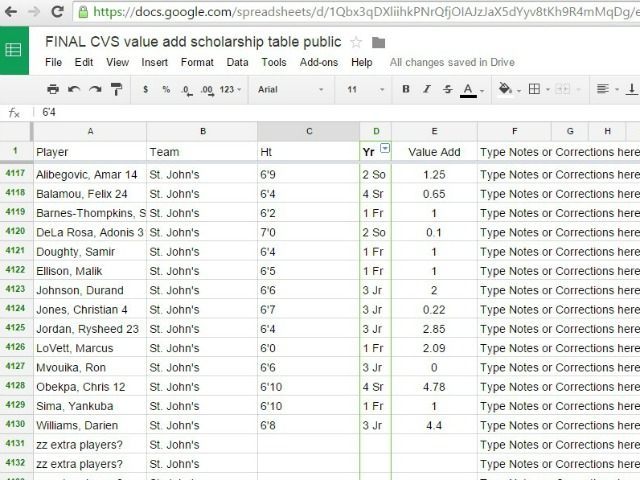 The Top 100 teams based on the tally of their current roster at www.valueaddbasketball.com follows. The game-changer still available is Thon Maker, with a Value Add of 7.52. He could take Kentucky or Indiana up to 3rd if he goes to either, take Arizona State from 85th to 49th, or solidify Kansas as No. 1. It is fair to note Kansas also ranked very high in last year's preseason and fell well short.

Here are the top 100 teams, or you can click on the database to look at each player.
| Rnk | Team | Conf | Value Add |
| --- | --- | --- | --- |
| 1 | Kansas | B12 | 59.87 |
| 2 | Maryland | B10 | 54.68 |
| 3 | Louisiana St. | SEC | 47.71 |
| 4 | Duke | ACC | 47.26 |
| 5 | North Carolina | ACC | 47.14 |
| 6 | Oregon | P12 | 46.38 |
| 7 | Arizona | P12 | 45.18 |
| 8 | Indiana | B10 | 44.03 |
| 9 | Kentucky | SEC | 43.92 |
| 10 | Wichita St. | MVC | 43.23 |
| 11 | Baylor | B12 | 42.34 |
| 12 | Oklahoma | B12 | 41.73 |
| 13 | Villanova | BE | 41.61 |
| 14 | West Virginia | B12 | 40.73 |
| 15 | Vanderbilt | SEC | 40.68 |
| 16 | Louisville | ACC | 38.58 |
| 17 | Texas Christian | B12 | 38.46 |
| 18 | Utah | P12 | 37.91 |
| 19 | Virginia | ACC | 37.47 |
| 20 | Texas | B12 | 37.36 |
| 21 | Oklahoma St. | B12 | 37.34 |
| 22 | Purdue | B10 | 36.77 |
| 23 | Cincinnati | Amer | 36.62 |
| 24 | Pittsburgh | ACC | 36.39 |
| 25 | Michigan St. | B10 | 36.11 |
| 26 | Iowa St. | B12 | 35.91 |
| 27 | Illinois | B10 | 35.84 |
| 28 | Ohio St. | B10 | 35.80 |
| 29 | Texas A&M | SEC | 35.51 |
| 30 | Memphis | Amer | 34.97 |
| 31 | San Diego St. | MWC | 34.88 |
| 32 | Georgetown | BE | 34.63 |
| 33 | Notre Dame | ACC | 34.59 |
| 34 | California | P12 | 34.47 |
| 35 | Rhode Island | A10 | 34.44 |
| 36 | Michigan | B10 | 34.29 |
| 37 | Utah St. | MWC | 33.92 |
| 38 | Virginia Commonwealth | A10 | 33.77 |
| 39 | Florida | SEC | 33.63 |
| 40 | Oregon St. | P12 | 33.38 |
| 41 | Southern California | P12 | 32.87 |
| 42 | Xavier | BE | 32.62 |
| 43 | Southern Methodist | Amer | 32.58 |
| 44 | Gonzaga | WCC | 32.37 |
| 45 | UAB | CUSA | 32.13 |
| 46 | Florida St. | ACC | 31.92 |
| 47 | Virginia Tech | ACC | 31.74 |
| 48 | Miami FL | ACC | 31.73 |
| 49 | Iowa | B10 | 30.67 |
| 50 | Davidson | A10 | 30.63 |
| 51 | Seton Hall | BE | 30.38 |
| 52 | Wisconsin | B10 | 29.84 |
| 53 | South Carolina | SEC | 29.69 |
| 54 | Clemson | ACC | 28.46 |
| 55 | Pepperdine | WCC | 28.45 |
| 56 | Creighton | BE | 28.36 |
| 57 | Nevada Las Vegas | MWC | 28.29 |
| 58 | Mississippi St. | SEC | 28.16 |
| 59 | Stephen F. Austin | Slnd | 27.73 |
| 60 | UCLA | P12 | 27.40 |
| 61 | Connecticut | Amer | 27.33 |
| 62 | Marquette | BE | 27.28 |
| 63 | Mississippi | SEC | 27.26 |
| 64 | Central Michigan | MAC | 27.19 |
| 65 | Syracuse | ACC | 27.05 |
| 66 | Dayton | A10 | 26.99 |
| 67 | George Washington | A10 | 26.97 |
| 68 | Washington St. | P12 | 26.30 |
| 69 | Vermont | AE | 26.23 |
| 70 | Valparaiso | Horz | 26.20 |
| 71 | Texas Tech | B12 | 26.13 |
| 72 | Auburn | SEC | 26.07 |
| 73 | Tulsa | Amer | 25.89 |
| 74 | Northwestern | B10 | 25.85 |
| 75 | Minnesota | B10 | 25.32 |
| 76 | Georgia | SEC | 25.27 |
| 77 | Wake Forest | ACC | 25.20 |
| 78 | Tennessee | SEC | 25.13 |
| 79 | Richmond | A10 | 25.12 |
| 80 | North Carolina St. | ACC | 25.06 |
| 81 | Butler | BE | 24.94 |
| 82 | Houston | Amer | 24.64 |
| 83 | Providence | BE | 24.37 |
| 84 | Temple | Amer | 24.15 |
| 85 | Arizona St. | P12 | 23.98 |
| 86 | Hawaii | BW | 23.80 |
| 87 | Arkansas | SEC | 23.55 |
| 88 | Stanford | P12 | 23.51 |
| 89 | Illinois St. | MVC | 23.34 |
| 90 | IONA | MAAC | 23.27 |
| 91 | Buffalo | MAC | 22.98 |
| 92 | Washington | P12 | 22.89 |
| 93 | Fresno St. | MWC | 22.87 |
| 94 | Louisiana Tech | CUSA | 22.62 |
| 95 | South Dakota St. | Sum | 22.46 |
| 96 | St. John's | BE | 22.34 |
| 97 | Loyola Chicago | MVC | 22.23 |
| 98 | La Salle | A10 | 21.85 |
| 99 | Old Dominion | CUSA | 21.50 |
| 100 | Penn St. | B10 | 21.31 |