Abby Wambach, one of America's biggest soccer stars, retired from the American national team with a bang on Wednesday, slamming U.S. men's coach Jurgen Klinsmann for for bringing too many "foreign guys" into American soccer. On the field, she left with more of a whimper in a 1-0 loss to China in the Superdome.
Appearing as a guest on a Bill Simmons podcast, Wambach, who with 184 goals ranks as the top scorer in international history–whether male or female–criticized coach Klinsmann for bringing in "a bunch of these foreign guys." She also blasted all the "egos" in "our men's program."
In Wednesday night's game, Wambach figured into several scoring opportunities but couldn't put the ball in the net. She dramatically took off her cleats to a standing ovation in the 72nd minute.
Congrats on a great career, Abby Wambach. For the goals you've scored & the kids you've inspired, you're the GOAT! pic.twitter.com/Kud56ChsBO

— President Obama (@POTUS) December 16, 2015
Wambach is one of the most successful soccer players in U.S. history. She was a top player on the women's team that went to the World Cup this summer, boasts two Olympic gold medals, and was chosen the 2012 FIFA Women's Player of the Year. As she bids her soccer career adieu, Wambach leaves the field with strong opinions about the state of American soccer. And she isn't happy with what she sees.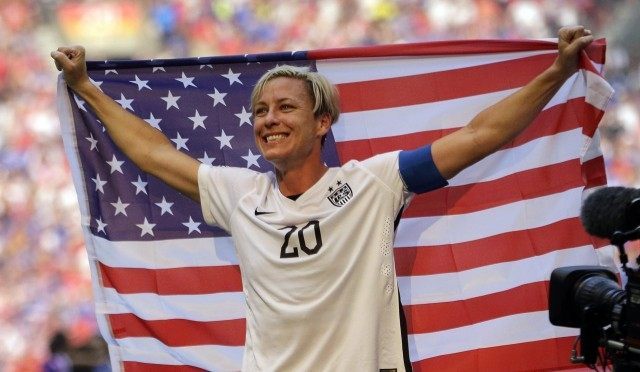 Wambach feels that men's soccer is being somewhat mismanaged. She also decries the "less than" status in the U.S. of women's soccer in particular and women's sports in general.
But as ESPN reports, her harshest words were for Klinsmann, the German football manager and former player who is currently head coach of the U.S. men's national soccer team. "I would definitely fire Jurgen [Klinsmann]. Sorry Sunil [Gulati], sorry, U.S. soccer, but I don't think Jurgen and this litmus test on him has worked. He hasn't really focused, I feel, enough attention on the youth programs. Although he says he has, I don't think that he has," Wambach explained to Simmons. "The way that he has brought in a bunch of these foreign guys is not something I believe in wholeheartedly. I don't believe in it. I don't believe in it in my heart."
She continued, "And I love Jermaine Jones, I love watching him play, and I love Fabian Johnson, and he plays in Germany and is actually killing it right now after being sent home for 'faking an injury.' But I just think that this experiment that U.S. Soccer has given Jurgen isn't one that personally I'm into. It's gotta be interesting for those guys to see their coach take off in a helicopter and fly home to his home and then back to training."
Wambach went on to talk about how women's sports are given short shrift in America.
Ever since I announced my retirement, I have been able to have cool conversations and pick people's brains to figure out why there is such a disparity, not just in my sport but in other sports and other industries. There is there innate thing that women are less than, that women don't deserve to be treated fairly.

I think that our society is pushing toward a place where we really start to look to each other as people and not put each other in these boxes. … I feel the men get paid way more than the women in soccer, yeah, I understand logically the argument about the ratings and that is more global. But that doesn't mean that it makes it right. Equality isn't something that actually costs anything. I know we are talking about gender pay gap differences. But to treat someone fairly doesn't cost a single cent. It wouldn't cost anything, it would be just a decision. When you are in it, you don't want to fight too much against it because you want to be thankful for what you are getting.
Wambach also pledged that if she got into sports broadcasting she would be as outspoken all the time.
Despite the criticism, though, ESPN notes that spending on soccer in the U.S. has increased under Klinsmann.
"Under Klinsmann's watch," ESPN wrote, "the amount of money spent on the men's U.S. program jumped from $9.9 million in 2010 to $19.7 million in 2014, according to U.S. Soccer financial reports."
Still, Klinsmann has been criticized for not leading U.S. teams to victory in the CONCACAF Gold Cup and losing the Confederations Cup playoff to Mexico.
Wambauch isn't the first high profile member of the U.S. soccer scene to criticize the number of foreign players in American soccer. In 2013 former U.S. men's team coach Bruce Arena also noted that having so many players born in other countries means that in the U.S. "we aren't making progress" in fostering the sport.
Follow Warner Todd Huston on Twitter @warnerthuston or email the author at igcolonel@hotmail.com