Donald Trump put his signature to several important executive orders during his first days in office. However, the commander in chief managed to succeed in radically altering one sector of our economy by simply raising his hand.
On Friday, TMZ reported the unsurprising but significant news that baseballs signed by Donald Trump, saw a tremendous increase in value since his inauguration.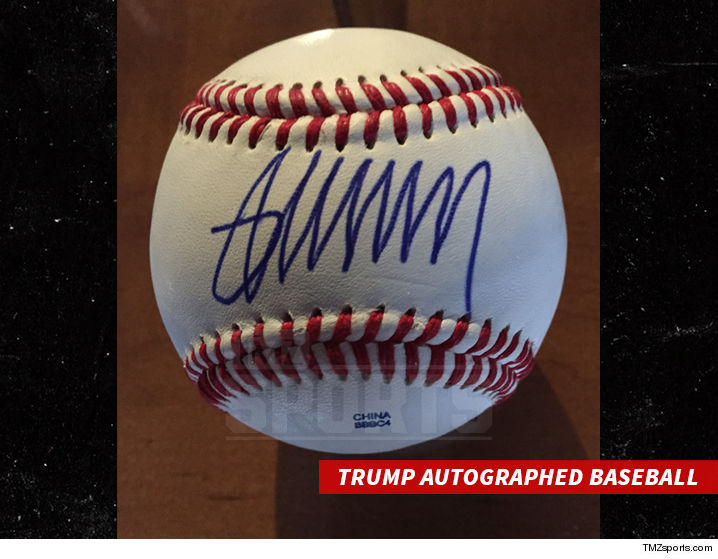 If the internet tells me that is President Trump's signature, I will believe them. Though, that ball looks like it was signed by someone named "Ammmmmm."
According to TMZ:
(TMZ) spoke with multiple sports memorabilia experts who tell us the value of a Trump signed baseball used to be around $100 ($200 tops) … now, it's worth around $1,000 depending on the quality of the signature. Both Brandon Steiner of Steiner Sports and Joe Coppola of Sports Integrity say the fact Trump is now president makes his autograph much more collectible … and therefore valuable.

So, where does Trump's autograph rank among other presidents?

A Barack Obama ball sold for $1,485 in 2013 … according to GoldinAuctions.

They also sold a George H.W. Bush ball for $800.

George W. Bush went for $787.

Jimmy Carter fetched $674.

Bill Clinton's ball went for $500.

A Ronald Reagan ball got $3,300.

And get this … GoldinAuctions tells us a Hillary Clinton signed ball went for $3,062 back in August.
I'd really love to know what Hillary could sell her baseball for now.
Follow Dylan Gwinn on Twitter: @themightygwinn