Mitt Romney attempted to purchase a stake in the Miami Marlins a few months ago, and that effort stalled with no sign of return. Now, the Romney's have shifted targets, and want to purchase a small share of the New York Yankees.
According to Jon Heyman at FanRag, "If the deal goes through, it is expected to be $25 million to $30 million per percentage point and thought to be interested in one or two percentage points. The Yankees are valued around $3 billion or more.
"Mitt Romney, in response to an earlier version of this story about his potential involvement in a sale, denied that he's involved in the talks in a statement, per a spokesperson. The former governor of Massachusetts, Romney is a lifelong Red Sox fan and is sensitive to being associated with the Yankees after hearing early reaction from Red Sox fans."
Romney has apparently conquered his sensitivity towards an association with the Yankees by making the purchase through his son, Tagg, as a part of the family business.
According to Heyman, "However, (Mitt Romney's) family is in talks to buy a small stake (in the Yankees) led by his son Tagg and business partner Spencer Zwick through the family company, Solamere Capital….Tagg is Mitt's oldest son at 46. He previously worked in marketing with the Dodgers and Reebok before founding and selling a software company. He later became a partner in a private equity firm, Solamere Capital, before working as a senior aide on his father's presidential campaign in 2008 and as an adviser in 2012."
And that is apparently how you get around "sensitivity." There is something really gross about this whole thing. Of course, businessmen look for great business opportunities regardless of where they find them. No one becomes a billionaire by sticking to emotional fandom, or rooting interests.
However, to have a self-described "lifelong Red Sox fan" buy a piece of their archrival, is, again, gross. Not to say that Romney wouldn't be a good owner. He's a tremendously successful man who would no doubt have many contributions as a part of any organization. However, as a Red Sox fan, the Yankee organization is not one.
After all, does this look right to you?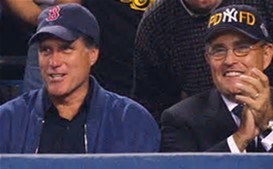 Follow Dylan Gwinn on Twitter: @themightygwinn