Tyreke Smith, a player attending Ohio State's football camp, made quite the impression when he showed up on the Buckeye's campus.
However, it wasn't for anything he did on the football field. Instead, it was for what he wore.
Smith reported to camp wearing a T-shirt that said, "I hope I don't get killed for being black today."
Smith explained his decision to wear the shirt to ElevenWarriors, a site which covers Ohio State football. Smith said, "I decided to wear the shirt because I wanted to bring attention to the epidemic of blacks being killed at an alarming rate. What we would like to do is have people talk about these issues to reduce the murder rate of African-Americans."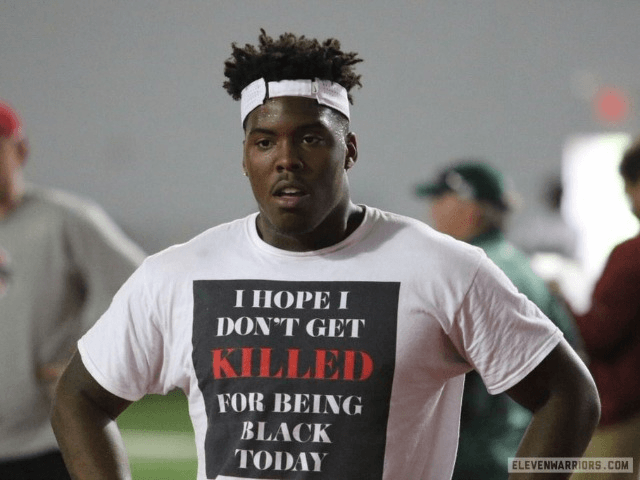 Smith's older brother Malik created the shirt. Malik says, "The shirt was created to bring light into the everyday problems that blacks face between police and black-on-black crimes. The shirt exemplifies a voice that we have, but may not be heard. So why not have people see it?"
Tyreke, a Division I defensive tackle prospect, told Cleveland.com, "I felt I should wear it because I'm big on the African American culture and know the struggles that our race goes through. Whether people think that being black isn't a task or not.
"Being the individual I am and the spotlight I have, I felt that people would get the message if I wore the shirt. Because if I'm being real, people are looking at me even when I don't know and I knew they would see the shirt."
Smith is a highly ranked defensive prospect who not only has an offer from Ohio State, but also has offers from Alabama, Florida, Georgia, LSU, Michigan, Notre Dame, Oklahoma, Oregon, Penn State, Texas, UCLA and USC.
Follow Dylan Gwinn on Twitter: @themightygwinn