The Sydney to Hobart yacht race, Australia's iconic long-distance ocean challenge, this year boasts a U.S. entry that was launched a full 15 years before the event was first run in 1945.
Dorade, launched in 1930 to a design by the fabled Sparkman & Stephens partnership, has contested almost all of the other great ocean events in  her 87-year history, having taken line honours in the 1931 Transatlantic, the 1931 and 33 Fastnet and the 1936 Transpacific races.
Matt Brooks and his partner Pam Rorke Levy purchased Dorade in 2010 and spent a year restoring her. Now they are ready for a unique ocean race that covers 630-nautical miles down the east coast of Australia and into the Roaring Forties.
"When the boat was shipped back after that Trans-Atlantic race it had a ticker tape parade in New York, in Manhattan," skipper Kevin Miller told AAP.
"This was was quite a groundbreaking boat when it was designed and launched in the 1930s and it beat boats that were almost twice as big.
"There's something intangible about these old wooden boats and in particular this one."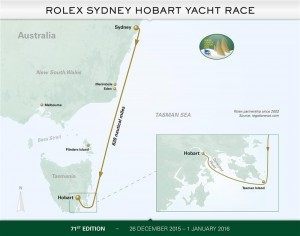 Dorade's crew includes renowned Australian navigator Adrienne Cahalan, who will extend her record for most Hobart races by a female to 26. Miller has one extra thing to consider compared to skippers aboard 101 more modern boats sharing the starting line in the 73rd edition of Australia's most famous yacht race.
"Primarily manoeuvring, particularly on the start line," he said. "When we're sailing against modern boats they respond much more quickly.
"Most people don't know that, so when you get next to them they expect you to respond in a certain way and we just can't. We have to make sure we give other boats a wide berth."
The Sydney to Hobart yacht race sets sail on Boxing Day from a start line in Sydney Harbour. The gun goes at 1300hrs AEDT.
The U.S. has a long history of providing entrants for the event. In 2015 the New York Yacht Club entry Comanche was the first yacht to finish and was declared official line honours winner, as Breitbart News reported.
Full list of entries and all information can be found here.
Follow Simon Kent on Twitter:

Follow @SunSimonKent

or e-mail to: skent@breitbart.com