Justice for Men and Boys, a British political party whose founder, Mike Buchanan, is a familiar face to those interested in men's affairs, is hosting an International Conference on Men's Issues in London in July.
I am not a men's rights activist, but I am keenly interested in men's affairs – and I don't just mean the married blokes I like to spirit away from their wives. I share something in common with the men's rights movement and the manosphere more generally, you see: a visceral loathing of vindictive, bullying and sociopathic third-wave feminists, whose ugly prescriptions are damaging men and women alike.
I would like to share with the world my tips for beating these dreadful people in debate, on the rare occasion they deign to emerge from behind their Macbooks. So I will be giving a short lecture at the conference provisionally entitled: How To Beat Feminists In Debates. I will endeavour to provide as many practical tips as belly laughs.
I am of course merely the light entertainment at this gathering. Erin Pizzey, a domestic violence campaigner and founder of the first battered women's shelter, will speak too. As will Paul Apreda, from Families Need Fathers, Canadian writer and blogger Janet "JudgyBitch" Bloomfield, Buchanan himself, YouTuber Karen Straughan and a number of other familiar faces to those who follow men's issues.
A late addition to the roster is a buddy of mine, Telegraph journalist and regular Sky commentator Martin Daubney, King of the airwaves as far as men's affairs in the UK are concerned. Daubney was previously the editor of Loaded and is the most influential journalist in Britain who regularly writes and speaks about issues affecting men.
Daubney is the author of an 8-page feature on "men going their own way" in the Sunday Times Magazine this coming weekend with incredible, intimate access to several young male students who are literally too terrified to have sex at university thanks to toxic, man-hating campus rape culture mythology. 
Among the more serious issues under discussion will be domestic violence, educational attainment, employment, veterans, circumcision, paternity fraud, divorce, healthcare, political representation, homelessness, sex offenders and, of course, feminism.
Tickets are priced at £265, with various payment options available. A pre-registration fee of £22 is requested by the organisers no later than 10pm on Sunday 6 December, to give the organisers a steer on likely numbers. Tickets will be available up to and including at the conference.
The International Conference on Men's Issues is being co-hosted by A Voice for Men, an American website edited by Paul Elam which reports half a million page views a month. A Voice for Men held its own men's issues conference in Detroit in 2014. This event promises to be a repeat of what I am informed by the organisers was a well-received programme of talks.
The conference is well-timed. Public opinion is shifting quickly against the sort of mean-spirited, fact-free, venomous diatribes of Jezebel bloggers and Guardian columnists and toward compassion and reconciliation between the sexes, as the public becomes better educated about some of the challenges currently facing men in the west.
Since my entry into the debate on third-wave feminism, men's rights and fact-based reporting about gender relations, observers have commented on its stylistic reinvigoration and a whiff of flamboyance about the whole thing. I am assured, however, that any mildly faggy impression left by the conference's rainbow-themed promotional literature is entirely coincidental.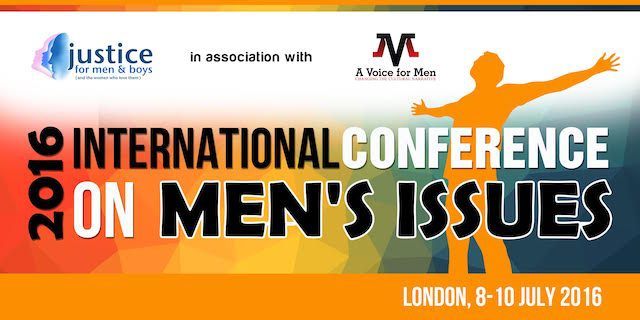 Disclaimer: if this story reads as unduly promotional, well done! You have basic reading comprehension skills. It is; I'm speaking at the conference. But in this age of suspicion of the media, allow me to soothe your anxiety. I'm not accepting a fee to appear. I am told there will be a professional photographer present who may grant VIPs rights to his work afterwards, but given the number of notoriously attractive photographs of me already on the internet, I doubt this represents much in the way of serious professional advantage. You know, unless they come out really hot.
Follow Milo Yiannopoulos (@Nero) on Twitter and Facebook, or write to him at milo@breitbart.com. Android users can download Milo Alert! to be notified about new articles when they are published.