Any impartial observer could have seen the fall of Shaun King coming. Even if you discount the questions about his claim to black ethnicity, which was thrown into doubt by Breitbart's reporting, the dubiousness of his financial affairs was bound to catch up with him. Now, Black Lives Matter seems to be on the verge of civil war as supporters are forced to choose between King and Deray Mckesson, who accuses King of ignoring his questions.
The activist and New York Daily News journalist is under siege on social media, long his primary field of operations. King has lost more than two thousand followers in under 12 hours. Supporters and opponents alike are flooding into the discussion, with dozens of messages about King per minute on Twitter.
King himself seems to be in a highly panicked state, quickly adopting and then abandoning tactics to respond to the controversy. He initially posted a string of tweets in which he apologised to his followers for the "drama" while maintaining that key allegations against him were "BS."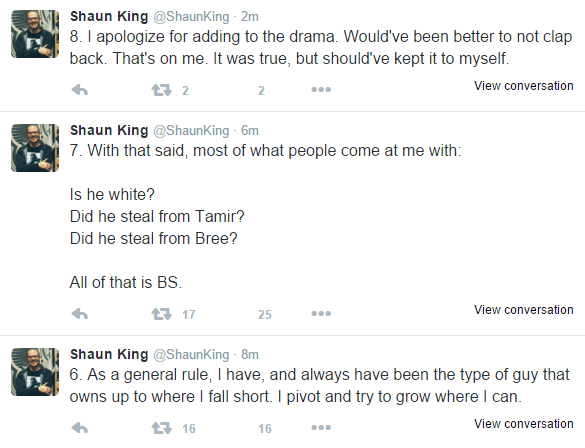 He then appeared to think better of this tactic and deleted the tweets. He went on to spend this morning tweeting about racism and police brutality as if nothing had happened. His latest article for the New York Daily News also made no attempt to address the allegations against him. Notably, his apology was also deleted.
@NYDailyNews @ShaunKing You can delete your tweets Shaun, but not the truth.
You love those "Merchants of death" pic.twitter.com/OrNQT2LzWX

— MIRAGE (@Mirage_Intl) December 14, 2015
Shaun King is this generation's Ali G.

— Tim Young (@TimRunsHisMouth) December 14, 2015
https://twitter.com/ProperlySeared/status/676434448993419264
@ShaunKing so we're just going to pretend that the deleting at 70000 tweets didn't happen, huh, and that money wasn't stolen, huh?

— The Dad Presents (@thedadpresents) December 14, 2015
Shaun King is doing something that's necessary. I also have reasons to believe that he's in this for self promotion. He's an opportunist.

— A Moor in America (@_blackmanrising) December 14, 2015
https://twitter.com/ElJefe2414/status/676442197172948992
For a while, King appeared to be more interested in discussing the nuances of trigger warnings than addressing the questions against him, despite the fact that they come from leading figures in Black Lives Matter including Deray Mckesson and Johnetta Elzie.
https://twitter.com/ShaunKing/status/676441647115276288
https://twitter.com/ShaunKing/status/676441791416172544
https://twitter.com/ShaunKing/status/676442749500055552
Now, King has changed his mind again and is protesting his innocence on social media. The repeated switching between tactics conveys a sense of panic, with King apparently unable to decide how best to approach the mounting hostility from former allies towards him.
https://twitter.com/ShaunKing/status/676448531901775873
https://twitter.com/ShaunKing/status/676449308871417856
https://twitter.com/ShaunKing/status/676450391802912768
King is now going all in, accusing Deray Mckesson and Breitbart of "throwing shade" and ignoring facts. Black Lives Matter supporters will now have to choose who they believe: King or Mckesson. Of course, as King has cleverly pointed out, accepting Mckesson's points will also mean accepting questions raised by Breitbart — something that is sure to sting supporters of the ardently left-wing movement.
https://twitter.com/ShaunKing/status/676452022506401792
Even now, King is not without supporters. His tweets continue to gain considerable engagement from followers, and some Black Lives Matter supporters appear to be keen to see the embarassing controversy go away.
Nicki Minaj is not your enemy. Shaun King is not your enemy. Deray is not your enemy. Spike Lee is not your enemy. Let's focus on the enemy.

— Talib Kweli Greene (@TalibKweli) December 14, 2015
It has taken several months for the gravity of allegations against Shaun King to dawn on the Black Lives Matter movement. Many were initially in denial about them and refused to believe the stories published by Breitbart, which kicked off scrutiny of King in the national media.
Despite this, the outpouring of disgust towards King from other Black Lives Matter supporters suggests that a split is now on the way. A group of Shaun King loyalists will now stand off against his critics within the movement, which now include followers of Deray Mckesson and Johnetta Elzie. Given the weight of the allegations against King, it looks like neither side will back down soon.
Follow Allum Bokhari @LibertarianBlue on Twitter, and download Milo Alert! for Android to be kept up to date on his latest articles.