The rise of Amazon-owned Twitch TV's live streaming platform has continued year upon year, making it the most popular way for gaming enthusiasts to watch their favourite titles and personalities.
In 2015, Twitch viewers watched 241,441,823,059 minutes of streamed content, with an average of 550,000 concurrent viewers throughout. However, despite the platform's success, the curation of content remains somewhat antiquated, and sharing highlights of the best moments with friends remains a clunky process.
In the middle of 2015, Oddshot looked to combat that by creating a browser plug-in that would record the last few moments of a Twitch stream and package them into an easily shareable clip, ideal for social media sharing. The service proved immensely popular and quickly made a name for itself, with gaming subreddits inundated with clips from popular streamers.
The service proved so popular it prompted many streamers to come out and complain about how it impacted on their copyright, with users taking clips from their streams and monetising them via services such as Youtube. The resulting discussion promoted Oddshot to create a partnership program. Copycat services were only a matter of time.
Enter LiveCap TV. Released in January 2016 and offering a similar service with a few bells and whistles, such as its inclusion of Twitch chat reactions, LiveCap started to encroach on the territory that had been dominated by Oddshot, especially on Reddit. On the surface this might seem normal; the benefits of being second on the market, offering improvements and innovations the pioneer hadn't thought of. Instead, Breitbart has learned that LiveCap, developed by the Chinese owned FunPlus Inc., have allegedly engaged in unethical behaviour to try and increase their market share. This has included allegedly repeated exploitation of Reddit rules by posting links across multiple alternate accounts, offering financial incentives and contracted work to Reddit moderators, as well as offering financial rewards to people with front page Oddshot links if they will change it to a LiveCap link.
This behaviour has been taking place in multiple prominent eSports subreddits; however, the one dedicated to Valve's Counter-Strike: Global Offensive title reportedly has been of the most interest to the LiveCap staff. One source places the Global Offensive subreddit as making up to almost 75% of their traffic. However, upon seeing evidence, moderators have moved to ban the use of LiveCap links entirely. Anyone trying to post a LiveCap link in the subreddit will receive a message that reads, "We have suspended Livecap.tv links due to a number of factors regarding abuse and self-promotion."
While having multiple accounts across Reddit isn't much of a transgression, the link aggregator themselves have taken a very militant stance on anyone abusing their platform for traffic. This would seem a bizarre stance if you didn't know that Reddit had continually struggled to make the website profitable, despite it currently being linked as the thirty-third most popular website in the world. Reddit takes a very dim view of anyone cynically using their platform for profit unless they are paying for it.
The multiple accounts used to promote LiveCap aren't subtly disguised. You can see for yourselves. For example, one "Social Media Assistant" for LiveCap TV called Emir Neradin posted LiveCap links across a variety of Reddit accounts here, here, and here. The IP address for the last account was verified as belonging to Neradin by Reddit moderators he had contacted off the Reddit platform.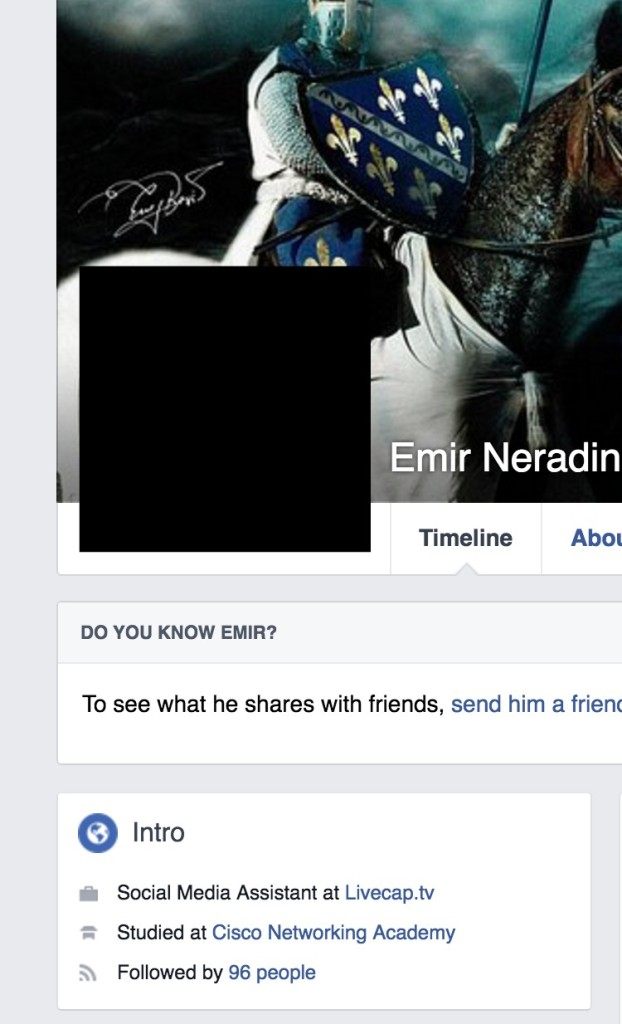 When LiveCap staff were confronted with this evidence, they refused to acknowledge they had any connection to this individual. In a private message to moderators, they wrote:
First things first, these accounts that are posting LiveCap links, we have no association with any of them whatsoever, We'd prefer if you guys are able to ban them if self-promotion and spam occurs with these accounts. We may have approached some of them in the past before being asked not to, however, we do not incentivize anyone using our service to post and spam on Reddit. We've already learned our lessons from Reddit Admins and do not want to have old "shit" as part of the evidence against us.
They continued
As far as Emir goes, we have no idea why he added "LiveCap.tv Social Media Assistant" as his title. We have no form of contract that states this position in our company, we can provide proper documentations as needed. If you have looked at any of our previous AMA you do not see any verification from any of the threads, if you ask him if he knows our social media accounts, he won't be able to log into any of them. Hence why we are quite confused as to where this accusation comes from… As part of thanks for noticing this, we will kindly ask Emir to remove this from his profile.
There were also been marketing posts such as this one. There a user who had posted several Oddshot clips shows evidence he was contacted privately by the Livecap marketing manager and offered a financial reward for using their service and it making the front page.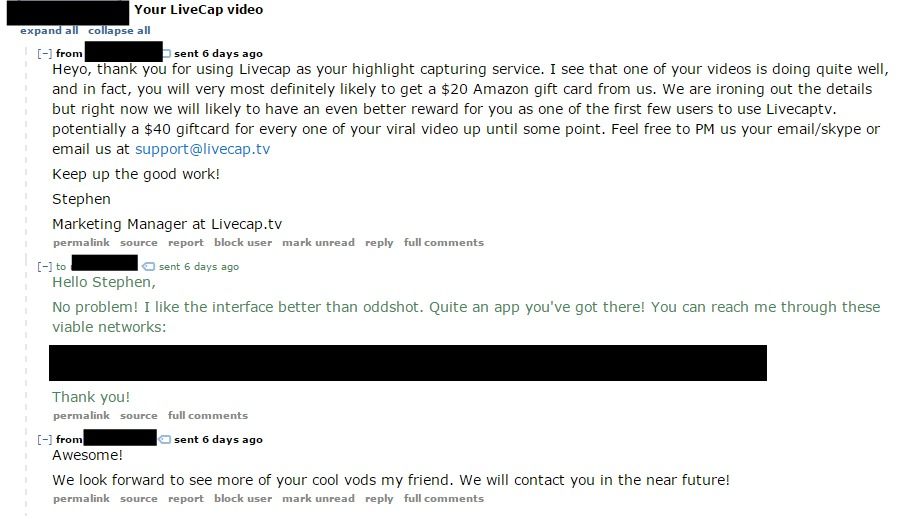 Again, the moderators contacted LiveCap about this and received the following message:
We have decided to stop all gift card events to remove any incentives that might had created these issues. Our goals & intentions were to encourage users to create high quality highlights, not spams & break reddit rules. We have no control over users acting on their own. Hopefully after removal of gift card events, the remaining issues can be resolved.
It doesn't stop there though. LiveCap were even allegedly willing to pay moderators in exchange for promoting their service ahead of their rivals. "One of our Match Thread posters (voluntary non-mod team) was given a 'contract' behind the scenes by LiveCap," a moderator from the CS:GO subreddit told us. "He was then told to keep it quiet and they paid him to put LiveCap replays only in the match threads. This is huge for us, since we approve those, so it falls under us and our negligence to an extent."
Breitbart obtained evidence that one Reddit moderator, who was in a trustee position in the CS:GO subreddit, was contracted by LiveCap in exchange for covert promotion of their service. The moderator in question, Marcos Silva or AG_Marcos, made no secret about being financially incentivised by LiveCap. Using his position as one of the CS:GO subreddit's official match thread posters, he ensured that LiveCap was the preferred method of replaying highlights. While we cannot share all of it for privacy reasons, a Skype conversation shows him admitting he was engaged by LiveCap to do so and even saying he would contact Oddshot in order to offer his services in exchange for similar rewards.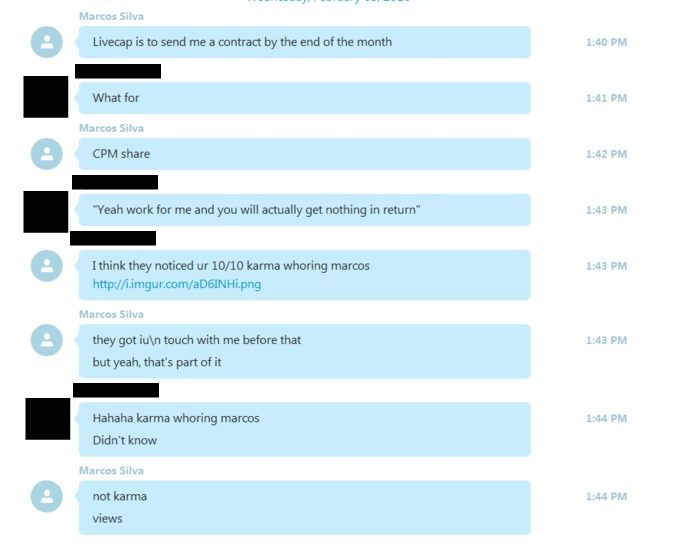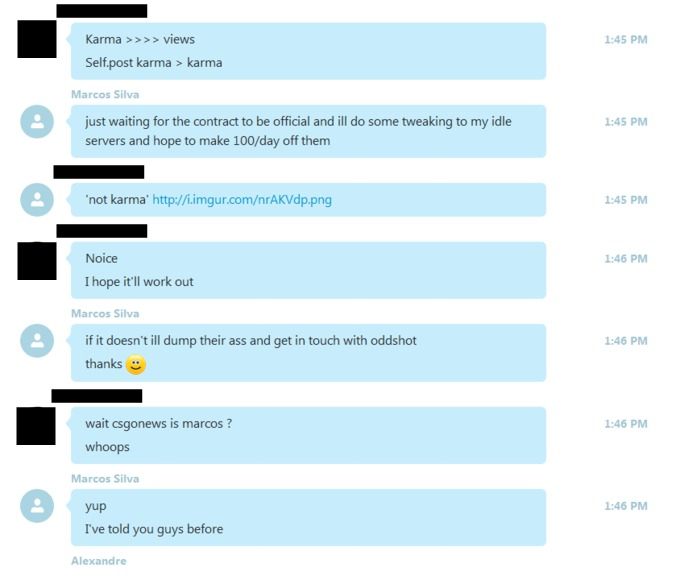 While his primary account was here, where you will notice almost exclusive use of LiveCap until recently, Silva also used the account csgonews, which has now been banned.
While Reddit have inconsistently applied the rules about companies and conflicts of interest to their "independent" subreddits down the years, most notably with Riot Games' involvement with the League of Legends moderators, they have always made it clear that accepting money for moderating is an absolute no-no.
This has echoes of the recent Star Wars: Battlefront controversy where it was alleged that an EA representative bribed Reddit moderators in exchange for moderator actions that were beneficial for the game. This resulted in the removal of the moderators by Reddit staff, although no further action was taken.
The timing of these allegations won't be a good look as LiveCap announced a partnership with the most popular CS:GO coverage website, HLTV.org, on March 17th. This partnership means that the best moments from CS:GO matches were captured and automatically embedded in the match threads on their site. With a Reddit-wide ban looking increasingly likely, HLTV might want to renegotiate their deal, as they will be a primary source of traffic.
LiveCap certainly doesn't need to engage in this type of behaviour. Funplus Inc. sold the bulk of its business to Zhongji Holding in 2014 for a deal worth $960 million. With this amount of money, you would think they could find a more effective way of marketing their product than this; however, it seems par for the course that big companies can flaunt the Reddit rules with few consequences.
The team responsible for this strategy are made up of former employees of the Curse Inc. network, who themselves are no strangers to being accused of gaming Reddit in exchange for views. In April 2014 it was revealed that Robert "fluxflashor" Veitch, a moderator of the Hearthstone subreddit, also worked at the Curse-owned Hearthpwn website. During his time as a Reddit moderator, he abused his position to delete posts from rival websites and replaced them with Hearthpwn links. In the aftermath, he was fired, although Curse refused to confirm that it was anything to do with his behaviour. Curse also had an employee serve as a moderator of the Heroes of the Storm subreddit, although they stood down before any evidence of wrongdoing came to light.
One of the former Curse employees was also a StarCraft professional player, Zifeng "hellokitty" Wang, who also operated under the alternative name noobeater5. That corresponding Reddit account, who had made posts regarding his StarCraft play, now spends most of his time promoting LiveCap under the name Stephen. He posted on a small gaming forum, 907gamers.com, using the name Stephen Wang to promote their service. His Linkedin also confirms his role within the LiveCap organisation. His colleagues include Kaze Jung Hideyoshi, the social media manager, and Dawei Lu, the product manager, who also spent time at Curse.
Reddit staff have been informed of these multiple transgressions by moderators from each of the big eSports subreddits but have yet to respond. Breitbart understands that the ban on LiveCap links started by the CS:GO subreddit are likely to be mirrored across the other eSports-themed subreddits. We have attempted to contact LiveCap prior to publication of this story and have yet to receive a response.