There are reports of mass censorship on /r/News, the chief Reddit community for breaking news stories, in the wake of last evening's deadly terrorist attack. Moderators of the subreddit even deleted a post offering blood donation advice to Orlando residents.
One user reported that he was banned from the /r/News subreddit after he posted a link to a news story detailing the FBI's suspicions that the Muslim shooter, who attacked a gay nightclub in Orlando, had ties to Islamic extremism.
Another user reported that comments had been locked in a thread about the shootings as soon as the FBI confirmed that it was indeed a Muslim terrorist attack.
A commenter underneath the post also claimed that he was banned from /r/News for merely asking if there was an alternative location to discuss the story, after comments on the original link had been locked.
A thread on KotakuInAction, a major anti-censorship community on Reddit, tracked thread deletions and locks as they emerged. Although a "megathread" discussing the shootings appears to have eventually been set up on /r/News, it was preceded by multiple topic lockdowns and comment-deletions.
However, censorship in the "megathread" continued — at the time of reporting, there are over 10,000 comments in the thread, but large swathes of them have been deleted by the subreddit's moderators.
Extraordinarily, Reddit archive sites show that moderators deleted a post offering advice to Orlando residents about how to donate blood to survivors.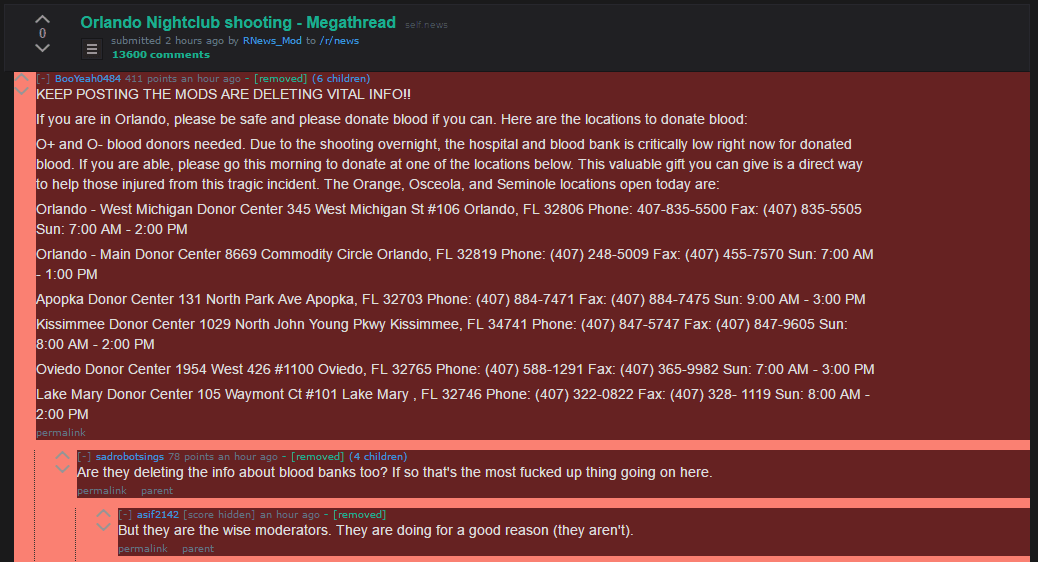 Anti-censorship users on Reddit are currently coalescing in the GamerGate subreddit /r/KotakuInAction, the censorship-tracking subreddit /r/undelete and /r/The_Donald, the primary subreddit for supporters of Donald Trump. Threads about censorship on /r/News are currently among the most popular posts across Reddit.
I messaged the moderators of /r/News, to give them an opportunity to clarify their reasons for censorship. Their response was to mute my Reddit account without explanation and direct me to Reddit's press team — who have yet to reply to my request for comment.
You can follow Allum Bokhari on Twitter, add him on Facebook. Email tips and suggestions to abokhari@breitbart.com.