Twitter has officially refused to punish the user who repeatedly sent violent threats and sexually explicit messages to Breitbart contributor and student Kassy Dillon.
"Someone shoot this bitch please" posted the user, along with a link to one of Dillon's Twitter videos.
https://twitter.com/SheDontTextBack/status/755784850976677893
"IMMA EAT YA ASS IF YOU LET ME BOO. Let me get a taste so we can make peace and make America great again" he continued, sending explicit private messages and a picture of his crotch.
Whatever that is is as small as my interest in you. @FanuteTheCoupe pic.twitter.com/TzDDGnkUNU

— Kassy Dillon (@KassyDillon) July 21, 2016
"Want to have sex? Type 1 for yes, Type 2 for yes… You gon respond? Bitch?!"
Over the past few days the account has continued to make abusive tweets about Dillon, and has also attacked people for attempting to defend her in amongst other offensive posts.
I'm on yo ass boo. They ain't ever gon ban me. I'mma send you pictures of my ass next. @KassyDillon

— CJ (@Crazyinfinitus) July 23, 2016
when you put ya finger in her butt and she tries hard not to smile @KassyDillon pic.twitter.com/gU19fKURUS

— CJ (@Crazyinfinitus) July 23, 2016
Yuck the idea of white people mating is repulsive

— CJ (@Crazyinfinitus) July 22, 2016
"Nigga somebody should murder you you the ugliest thing I've ever seen in my life quasi moto lookin ass" he replied to one user who attempted to stand up for Dillon.
Despite mass-reporting of the account by dozens of witnesses, Twitter said the user had done nothing wrong.
"Thanks for letting us know about your issue. We've investigated the account and reported Tweets for violent threats and abusive behavior, and have found that it's currently not violating the Twitter rules" responded Twitter, despite the fact that all of the above examples, in addition to many of the account's other tweets, clearly break the rules of the site.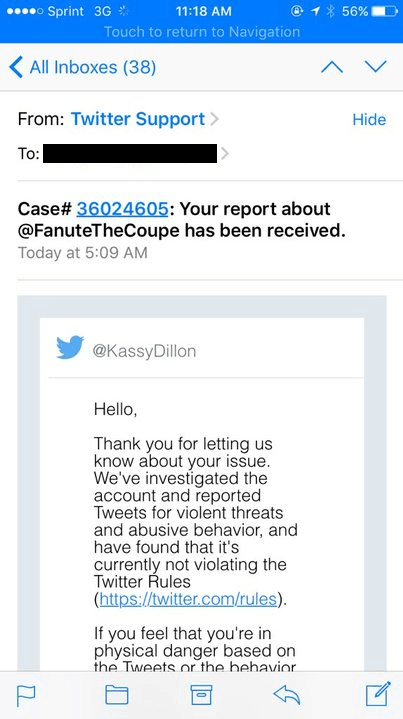 Breitbart Tech editor Milo Yiannopoulos was permanently suspended from Twitter on Tuesday after he criticized Ghostbusters (2016) actress Leslie Jones for playing the victim after she spent days complaining about trolls on the social network.
Yiannopoulos was falsely accused of inciting racial harassment, despite zero evidence to substantiate these claims, however the social network still refuses to deal with genuinely threatening behavior — at least when it's directed against conservatives.
It's not just Kassy Dillon – the site refused to suspend a user who offered his followers $100 to punch right-wing blogger Matt Forney at the Republican Convention, and left a GQ journalist unpunished after he tweeted that he wanted to beat Pat Smith, mother of a Benghazi victim, to death. The platform has also tolerated calls for the assassination of Donald Trump, death threats against Republican senators, and widespread calls for the murder of more police officers in the wake of the Dallas and Baton Rouge shootings.
Charlie Nash is a reporter for Breitbart Tech. You can follow him on Twitter @MrNashington or like his page at Facebook.