Facebook has fired its Trending News team, responsible for curating the social media network's "Trending News" list, after Breitbart Tech began to reveal their progressive biases last month. The team is set to be replaced by a team of engineers managing an algorithm.
Facebook's Trending News feature is supposed to present users with the most popular news topics being discussed across the platform. But a Gizmodo exposé in May revealed that Trending News operated much like a traditional newsroom, with a team of "curators" selecting stories they considered newsworthy.
It was later revealed that the team artificially injected stories that were not trending into the Trending News feed, and routinely suppressed topics that were of interest to conservatives. In response, Republican Senator John Thune, Chairman of the Senate Commerce Committee, sent a letter to CEO Mark Zuckerberg demanding answers.
Eager to avoid further congressional action, Facebook launched an internal investigation, which found themselves not guilty. However, in their report they did acknowledge that the "unintentional biases" of its overwhelmingly progressive workforce might have led to bias in its Trending News curation.
Last month, Breitbart Tech decided to show the world just how biased Facebook's Trending News team were, with a series of articles documenting the wacky progressive views of some of its leading team members.
Now, according to Quartz, Facebook has laid off its entire Trending News staff as they move towards a more algorithm-focused process. Descriptions for trending news topics, which Facebook says was the primary reason for employing news curators, will be removed.
Humans will still be involved in the process – Facebook's engineers will remove duplicate topics for example – but the social network has emphasized that the new system is more "algorithmically driven" and has explicitly claimed that the new system will be less prone to political bias:
Earlier this year, we shared more information about Trending in response to questions about alleged political bias in the product. We looked into these claims and found no evidence of systematic bias. Still, making these changes to the product allows our team to make fewer individual decisions about topics. Facebook is a platform for all ideas, and we're committed to maintaining Trending as a way for people to access a breadth of ideas and commentary about a variety of topics.
As can immediately be seen by comparing the old and new Trending News feeds, the new system also looks very similar to the trending hashtags list on Twitter, the financially beleaguered, news-centric microblogging platform that Facebook is moving to crush.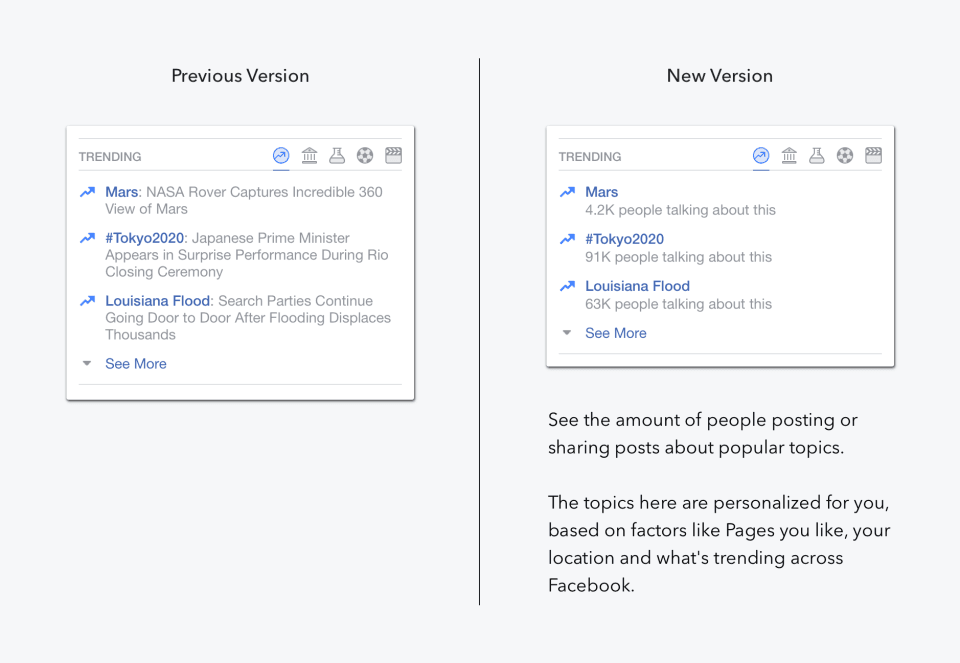 Facebook's change doesn't guarantee that the system will be free from political bias, of course. The company's engineers will still remove trending topics deemed to be "un-newsworthy" (Facebook uses #food as one such example), and given that the algorithm will likely have been designed by progressive tech workers, there's also no guarantee that bias – unintentional or otherwise – isn't written into the system.
But the focus on Trending News masks an even bigger problem for Facebook: bias in its system of punishments and suspensions. While the social network is usually quick to reinstate accounts that have been wrongly suspended, its record of suspicious suspensions of high-profile conservatives and critics of progressivism is easily equal to Twitter's.
Suspended pages and accounts include Islam critic Pamela Geller (who is currently suing the company), gun store owners, immigration hawks, popular anti-SJW pages, and pages mocking Hillary Clinton. Many of these users and pages were reinstated following coverage from Breitbart Tech and other outlets, but their initial, inexplicable suspensions continue to raise questions about bias at the company. Earlier this month, a group of popular comedy pages staged a revolt against Facebook's track record of censorship.
Unlike Twitter, Facebook is at least responding to claims that it is politically biased. Yet it remains to be seen if its changes to Trending News will give their users a less biased experience. It also remains to be seen if they will do anything about their suspensions team, which appears to face similar problems to Trending News.
You can follow Allum Bokhari on Twitter, add him on Facebook. Email tips and suggestions to abokhari@breitbart.com.