Breitbart News overtook the New York Times, CNN, and Fox News for Facebook engagement on election day, accumulating 923,746 total engagements on November 8th.
According to leading analytics site NewsWhip, the total number of engagements, which consist of likes, comments, and shares from readers, also placed Breitbart News as the fourth biggest election day publisher worldwide, just behind NBC, The Huffington Post, and USA Today.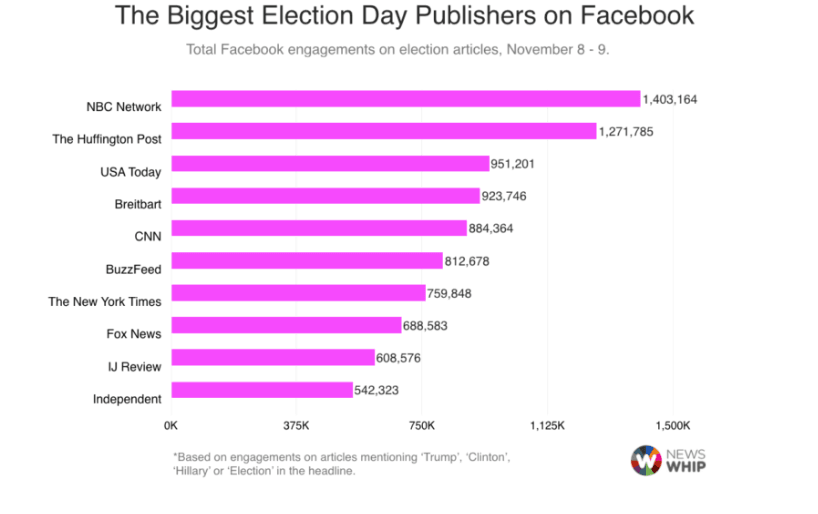 According to engagement numbers, CNN, Buzzfeed, The New York Times, Fox News, IJ Review, and the Independent were all placed below Breitbart.
Earlier this week, Breitbart News was also listed as the 6th biggest for Facebook engagments for election content, beating CNN, The Huffington Post, NowThis Election, and the Daily Caller. Breitbart News received around half of the engagement that Hillary Clinton's official Facebook page did.
"Our #1 in the world political Facebook page continues to wow social media industry experts," said Breitbart News Managing Editor and Social Media Director Wynton Hall on Tuesday. "Everyone wants to know how our engagement numbers are so strong when there are many other publishers who have millions more followers than we do. I always tell them the same answer: Breitbart's Facebook followers punch far above their weight class and constitute one of the most engaged and politically savvy online communities in the world."
Breitbart News also broke traffic records last month, generating over 240 million pageviews and 37 million unique visitors in October, up 40 million pageviews from September.
"While several publishers have enjoyed an uptick in traffic due to election coverage, we are proud to have built a massive and deeply-rooted community that will remain long after the election cycle fades," said Breitbart News CEO and President Larry Solov on Tuesday.
Breitbart News' official Facebook page currently boasts over 2,712,000 likes. The official Breitbart News Twitter page has over 462,000 followers, despite remaining unverified by the social network, while the recently launched Instagram page has nearly 10,000 followers.
Charlie Nash is a reporter for Breitbart Tech. You can follow him on Twitter @MrNashington or like his page at Facebook.