A columnist who has written for both the Telegraph and the Guardian, Monisha Rajesh, deleted her Twitter account shortly after tweeting a call for the assassination of president-elect Donald Trump.
Following the election of Donald Trump this week, Rajesh posted multiple angry tweets to her now-deleted Twitter page, an archive of which can be seen here. The most notable, however, was one that Rajesh tweeted to Mark C. O'Flaherty, a photographer and travel writer who has also deleted his Twitter account, calling for "a presidential assassination."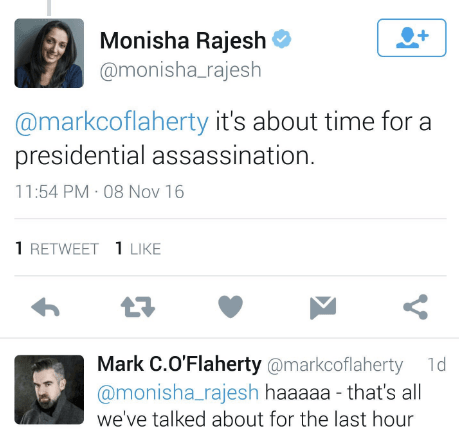 Breitbart reached out to both The Telegraph and The Guardian for comment on Rajesh's tweets promoting violence against the president-elect. The official comment from the Telegraph Media Group was, "Monisha Rajesh is not an employee of Telegraph Media Group and will not be commissioned on a freelance basis."
Speaking to The Guardian, a spokesperson told Breitbart News, "Monisha Rajesh is an infrequent freelance contributor, not a staff writer, and the Guardian cannot take responsibility for comments expressed by her in a personal capacity."
Breitbart attempted to reach out to Rajesh for an explanation of her comments but received no reply.
Lucas Nolan is a reporter for Breitbart Tech covering issues of free speech and online censorship. Follow him on Twitter @LucasNolan_ or email him at lnolan@breitbart.com