#DumpKelloggs was the most popular trending topic on Twitter in the United States at the time of this writing after Breitbart News organized a boycott against the company on Wednesday.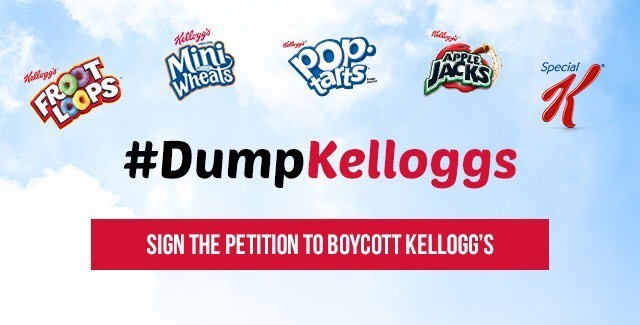 Breitbart News organized the boycott after Kellogg withdrew their advertising from Breitbart News, claiming that the site and its conservative readers were not "aligned with our values as a company."
The boycott, which has also taken place under the hashtag #DumpKelloggs, has generated thousands of posts on Facebook and Twitter, with the official Kellogg's Facebook pages for various products being bombarded with complaints from Breitbart's readers.
"We regularly work with our media-buying partners to ensure our ads do not appear on sites that aren't aligned with our values as a company," said Kellogg's Kris Charles in a statement this week. "We recently reviewed the list of sites where our ads can be placed and decided to discontinue advertising on Breitbart.com. We are working to remove ads from that site."
Breitbart News Editor-in-Chief Alexander Marlow encouraged the boycott of Kellogg's products, describing their war against Breitbart News as bigoted and anti-American.
"Breitbart News is the largest platform for pro-family content anywhere on the Internet. We are fearless advocates for traditional American values, perhaps most important among them is freedom of speech, or our motto 'more voices, not less,'" declared Marlow. "For Kellogg's, an American brand, to blacklist Breitbart News in order to placate left-wing totalitarians is a disgraceful act of cowardice. They insult our incredibly diverse staff and spit in the face of our 45,000,000 highly engaged, highly perceptive, highly loyal readers, many of whom are Kellogg's customers."
"Boycotting Breitbart News for presenting mainstream American ideas is an act of discrimination and intense prejudice," he continued. "If you serve Kellogg's products to your family, you are serving up bigotry at your breakfast table."
Breitbart President and CEO Larry Solov mirrored Marlow's response, branding the move as "un-American."
"Kellogg's has shown its contempt for Breitbart's 45 million readers and for the main street American values that they hold dear," said Solov. "Pulling its advertising from Breitbart News is a decidedly cynical and un-American act. The only sensible response is to join together and boycott Kellogg's products in protest."
**UPDATE**
#DumpKellogs became the #1 trending topic in the U.S. on Twitter Wednesday evening.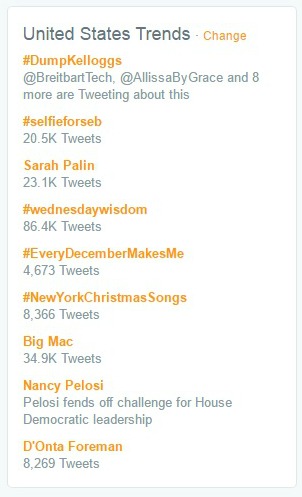 Charlie Nash is a reporter for Breitbart Tech. You can follow him on Twitter @MrNashington or like his page at Facebook.