The deputy editor of the Chicago Tribune has accused Facebook of causing a decline in their web traffic, blaming the social network's new algorithm, which is designed to surface "accurate" and "relevant" stories.
In a post on Medium, Tribune deputy editor Kurt Gessler revealed that the paper had seen a rapid decline in its median Facebook organic post reach after November, with the number of articles being read by fewer than 10,000 readers "skyrocketing," according to Gessler's analysis of the data.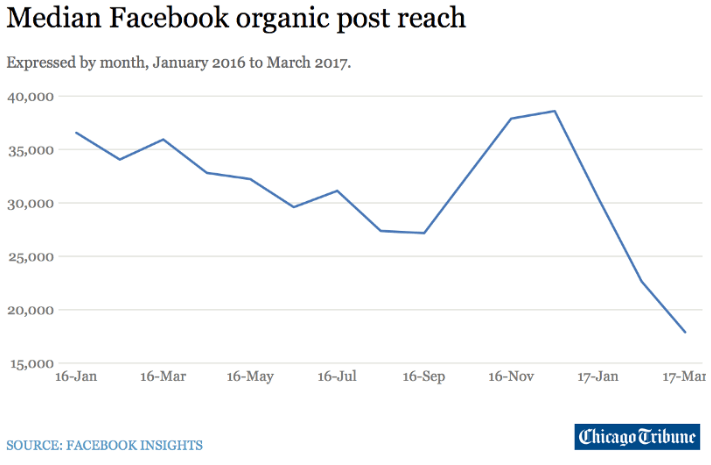 (Via Kurt Gessler/Medium.com)
Facebook did change its algorithms around the same time the Tribune's median traffic began to drop. In January, Facebook's "trending news" feature was changed from its previous model, which tailored results to the personal preferences and interests of users, to one which surfaced news based on geographical region. According to reports, the change was introduced to favor so-called "real news" over "fake news."
The Chicago Tribune, of course, is one of the most influential and respected mainstream papers in the U.S., and clearly considered itself a part of the mainstream media's fight against "fake news," which reached a height in the weeks and months immediately following Donald Trump's election. "We are going to point out fake news when we see it," The Tribune's Facebook account posted in late December.
In January, Facebook also changed the algorithm of its users' news feeds, again with a focus on finding "real news." According to Facebook, the new algorithm would "incorporat[e] new signals to better identify and rank authentic content."
The algorithm is also intended to surface "timely" and "relevant" content. This is what Gissler – who does not believe a paper as mainstream and respectable and established as the Chicago Tribune could ever be accused of peddling fake news, much less admitting to it and correcting themselves afterwards – believes is hurting his paper.
Given that I hope the Tribune passes muster for "authentic," let's focus on the second half. What exact signals are being used to determine what "timely" means? It purports to favor topics that are being discussed in real time.
In addition to rejecting the idea that the Chicago Tribune might not always publish authentic content, Gissler also fails to consider that the time-period of the paper's drop in traffic is also right after the general election. While some news sites have avoided a post-election slump, others, like Slate and Politico, saw traffic declines of 40 percent or more after the election.
The legacy news industry is increasingly troubled by the power of Facebook and Google, which together are extending their dominant position in digital advertising. The British press industry publication Press Gazette recently launched a campaign against the so-called "duopoly" of Google and Facebook, urging them to cut old media in on their ad revenue, as well as do more to tackle "fake news."
If Gissler's suspicions are correct, however, tackling "fake news" might not get legacy media the results they wanted.
You can follow Allum Bokhari on Twitter and add him on Facebook. Email tips and suggestions to abokhari@breitbart.com.