CNN's public image sank further into the mud last evening as public anger over the network's recent actions exploded on social media.
"#CNNBlackMail" rose to the top of Twitter's trending hashtags after the network threatened to reveal the identity of a Reddit user alleged to have created an animated image mocking CNN, which was recently tweeted by President Trump.
#FraudNewsCNN #FNN pic.twitter.com/WYUnHjjUjg

— Donald J. Trump (@realDonaldTrump) July 2, 2017
In an article which led CNN's website on the evening of the 4th of July, the network stated that the user had apologized for "the video and other offensive content he posted — one day after CNN identified the man behind the account and attempted to make contact with him."
In the article, CNN promised not to reveal the user's name … for now. However, the network made it clear that this was only because "he is a private citizen who has issued an extensive statement of apology, showed his remorse by saying he has taken down all his offending posts and because he said he is not going to repeat this ugly behavior on social media again."
Furthermore, CNN said the network "reserves the right to publish his identity should any of that change."
As a result, CNN is now being accused of blackmail from multiple quarters on social media, as #CNNBlackMail became the top trend in the United States.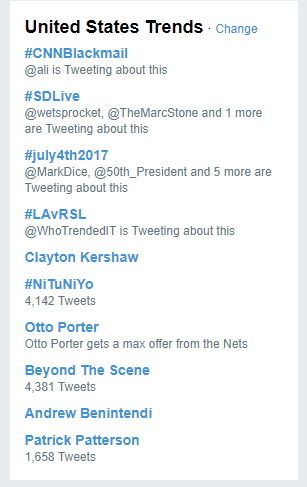 Multiple commentators condemned CNN, including WikiLeaks founder Julian Assange.
A multi-billion dollar TV network blackmailing a private citizen into not making funny videos about it is not journalism, CNN. #CNNBlackmail

— Assange Defence (@AssangeDefence) July 5, 2017
Exclusive: CNN tracked down the Reddit user behind the Trump wrestling GIF. Now he's apologizing. https://t.co/HMEKfD1De3

— CNN (@CNN) July 5, 2017
Count me among those that find's CNNs veiled doxing threat to Han Assh*leSolo very, very ethically shaky. pic.twitter.com/2KwfJV6Ap9

— Brianna Wu (@BriannaWu) July 5, 2017
Is that normal? Is @CNN essentially threatening to dox him, or am I reading that wrong? pic.twitter.com/7LMMqo1fK5

— Philip DeFranco (@PhillyD) July 5, 2017
https://twitter.com/MarkDice/status/882445809488416769
If you think the Reddit guy's name is newsworthy, publish it. If it's not, don't.

Holding future behavior over his head is #CNNBlackmail. pic.twitter.com/jH3EIQ2AyO

— Josh Jordan (@NumbersMuncher) July 5, 2017
If CNN's objective was to stem the tide of gifs and memes ridiculing the network, it has backfired spectacularly, with the #CNNBlackmail hashtag dominated by mockery.
There will now be more anti-CNN memes than ever before. Thank you, @CNN#CNNBlackmail pic.twitter.com/WVScWZVPe4

— Caligula Casanova (@FallenCasanova) July 5, 2017
https://twitter.com/getongab/status/882458911852433408
https://twitter.com/MarkDice/status/882258242574970880
*How @CNN has been handling this whole affair*#CNNBlackmail pic.twitter.com/rGqLtN1lBF

— Sepp Bastardson (@Sepp_Bastardson) July 5, 2017
https://twitter.com/MarkDice/status/882466205444997120
https://twitter.com/immigrant4trump/status/882442477722120197
#CNNBlackMail continues to trend.
You can follow Allum Bokhari on Twitter, Gab.ai and add him on Facebook. Email tips and suggestions to abokhari@breitbart.com.