Conservative street artist Sabo has taken aim at Google CEO Sundar Pichai — and the way his company profits off user data — in his latest art installations.
Conservative street artist Sabo has taken aim at Google CEO Sundar Pichai in a series of art installations across San Francisco, according to conservative journalist Katie Hopkins. Pichai sold a small percentage of his Google stock this week, netting him approximately $380,000,000. Sabo took issue with this windfall profit in a large poster featuring a photoshopped image of Pichai wearing gold rings and chains, flashing a handful of cash with the title "Hey, Silicon Valley! I made $380 million off my users' private data! Ask me how!"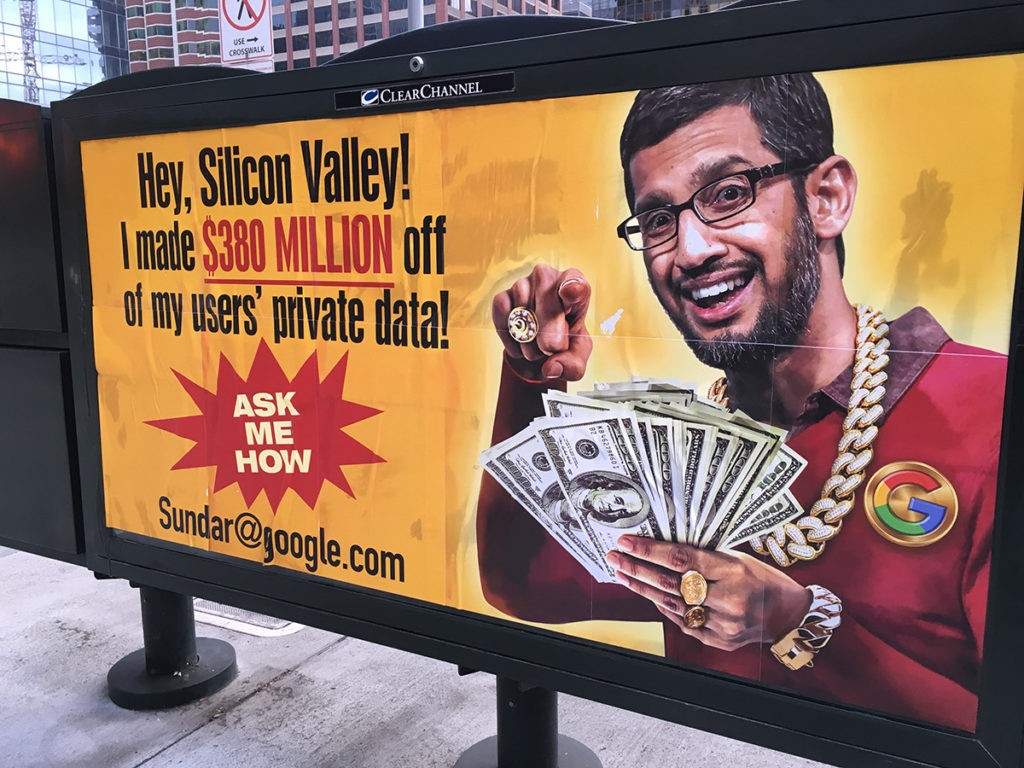 Sabo explained his reasoning behind the new series of art installations, telling Hopkins: "I wanted to demonstrate how Google can pay Pichai $380,000,000 while not charging the public for its products. It seduces people into taking its free services without regard to the real price they are paying."
Sabo went on to discuss the invasive nature of Google's user tracking habits saying:
"Google's pervasive surveillance tracks us more than Facebook does. If you think Facebook is bad, Google is far worse. It tracks you everywhere. Everything you're doing. On your Android phone. On your computer. In your car when you're using Waze. In your home. Your children. Google even tracks the barometric pressure so it knows what floor you're on. All your movements. These small pieces of data create patterns of your personality and behavior, which Google sells to advertisers and others who target you."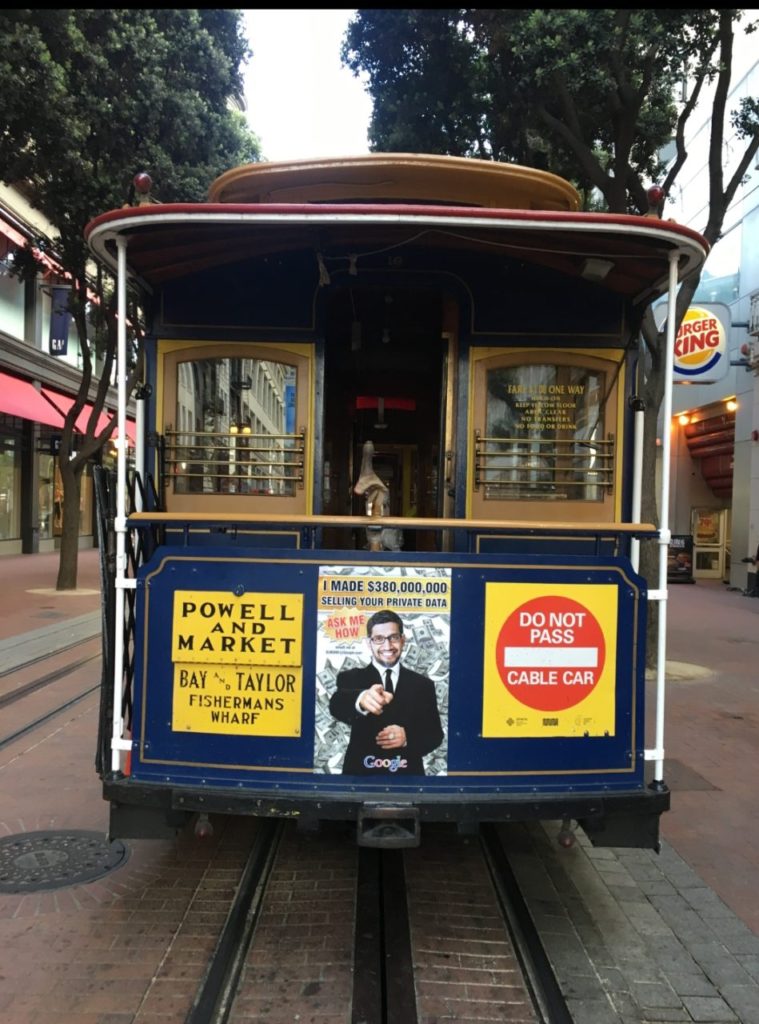 Sabo explained the decision to depict Pichai covered in gold chains and surrounded by stacks of cash saying: "Google's a huckster company. So Pichai's character looks like part-hustler, part-used-car salesman, with slick clothes and gold bling."
Sabo has previously roasted Silicon Valley's masters of the universe with his work —including a previous campaign aimed at Google after the firing of James Damore.  Facebook is another common target for Sabo, at one point he plastered pictures of Facebook CEO Mark Zuckerberg and Sen. Chuck Schumer (D-NY) across New York. One poster read: "You can't watch your kids 24/7… But we can," along with the hashtag #ZuckSchumer. The poster featured a picture of Zuckerberg, Schumer, and the Democratic congressman and registered sex offender Anthony Weiner.
Other posters stated: "Conflict of interest? The daughter of Chuck is working for Zuck," and, "Caution… Facebook sells your data."
Sabo strikes again! #ZuckSchumer pic.twitter.com/VCLVuwNyNy

— Jack Posobiec 🇺🇸 (@JackPosobiec) April 3, 2018
Lucas Nolan is a reporter for Breitbart News covering issues of free speech and online censorship. Follow him on Twitter @LucasNolan_ or email him at lnolan@breitbart.com