A U.S. Border Patrol K9 alerted agents to a load of 112pounds of liquid methamphetamine valued at $3.5 million. The meth wasdiscovered at the Border Patrol's Falfurrias Checkpoint in Brooks County locatedabout eighty miles from the Texas-Mexico border region on U.S. Highway 281.
A white Ford F150 pick-up truck approached the FalfurriasCheck Point on Highway 281 on Nov. 19. A K9 drug detection dog alerted to ascent and agents had the truck move to the secondary inspection point accordingto a U.S. Customs and Border Patrol press release obtained by Breitbart Texas.A search of the vehicle at the secondary inspection station revealed a cache ofliquid methamphetamine in one of the truck's fuel tanks.
Out of concern for agent safety, officials contacted a SanAntonio hazardous materials team to come to Falfurrias to extract the meth fromthe fuel tank. "The safety of our Border Patrol agents on the frontlines is ournumber one priority," said RGV Sector Chief Patrol Agent Kevin W. Oaks. "Agentsare trained to deal with various situations, but also recognize incidents thatrequire the assistance of specially trained personnel."
The driver of the truck, along with the narcotics andvehicle were turned over to the Corpus Christi office of Homeland SecurityInvestigations.
Breitbart Texas contacted the CBP Public Affairs office toobtain further information. No response has been received at this time.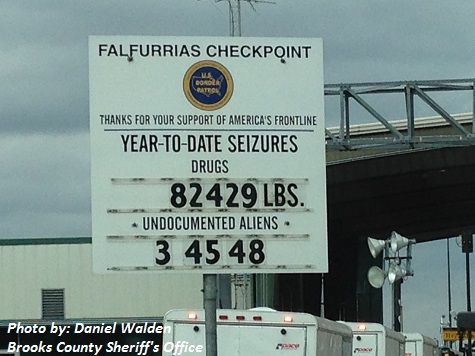 The Falfurrias Checkpoint has been responsible for over82,000 pounds of drugs being seized and the capture of over 34,000 undocumentedaliens according to the sign posted at the entry to the checkpoint.
Bob Price is a senior political news contributor forBreitbart Texas and a member of the original Breitbart Texas team. Follow himon Twitter @BobPriceBBTX.