A Texas couple claims that a doctor in El Salvador sold their newborn baby to human traffickers because of his fairer skin. The child was switched at birth when the mother gave birth while in her native country. The father is white.
As reported by Fox 4 News in Dallas, Richard Cushworth and his wife Mercedes reunited with their four-month-old son Monday night in El Salvador.
The mother told Fox 4 News that she gave birth in her native country in May. When they returned to their home in Dallas, Texas, they noticed that the baby's features did not resemble her and her husband's.
According to the report, they took a DNA test and the test proved that the baby was not their child.
The couple returned to El Salvador and accused the doctor of selling their child because of his fairer-colored skin.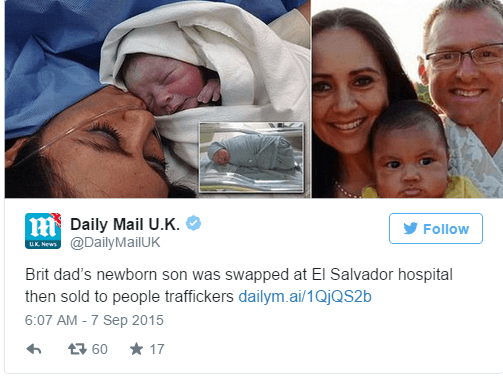 Cushworth told Fox 4, "And God has given us this child and somehow, somebody has taken him from us, and we want him back. It's a horrible situation for me and for her, for my family and her family."
The father continued, "A child is an experience you have for a lifetime. They give you grandchildren. I mean, this is a life-long journey that's very, very deep and it's horrible."
The Daily Mail reported the Cushworth family posted the following message on Facebook:
There are no words to express what our heart feels to have our baby at home! Thanks to all who joined our pain and fed our hope.

Thank God our family this gathered, for the moment we are not allowed to upload photos but soon we'll give them more details of the outcome of this miracle.
According to the report, the doctor has been arrested.
The couple's son was returned on Monday after the other baby boys born on the same day were tested for their DNA.
Lana Shadwick is a contributing writer and legal analyst for Breitbart Texas. She has served as a prosecutor and an associate judge. Follow her on Twitter @LanaShadwick2