Mexican authorities have announced the capture of a drug cartel lieutenant who allegedly served as the key players in the disappearance and likely murder of missing 43 students from the rural town of Ayotzinapa.
As reported by Breitbart Texas, cartel members and some municipal police officers allegedly kidnapped, executed, and incinerated 43 education students from the rural town of Ayotzinapa, Guerrero, last year.
This week, Mexico's National Security Commission confirmed the arrest of Gildrado "El Gil" Lopez Astudillo, a top lieutenant with the Guerreros Unidos Cartel, who allegedly ordered the executions and the incineration of the bodies.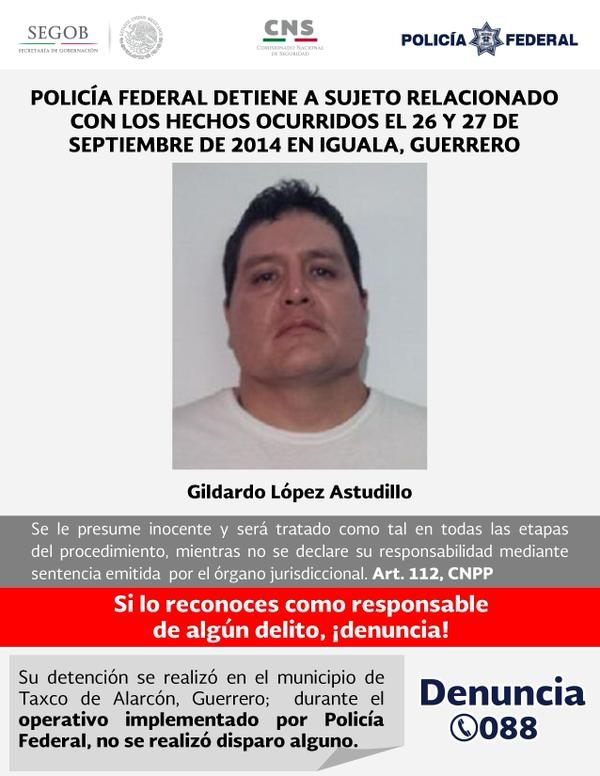 The missing 43 students had hijacked four buses and headed to a protest where police forces fired at them and kidnapped them in the town of Iguala. The students were then turned over to a local cartel called Guerreros Unidos. After killing them, the remains of the students had been allegedly incinerated in a landfill and then the ashes dumped in a local river.
The Mexican State of Guerrero has become a hotbed of violence as various cartels continue to fight for control of the poppy fields as well as drug distribution lines. Mexican officials have stated in the past that cartel members mistook the students for rival cartel members.
The case has garnered international attention and led to demonstrations all over Mexico, where some protesters claim that the federal government was behind the murders.
As reported by Breitbart Texas, the "official" version of events took a big hit when an independent team of foreign experts questioned its credibility by claiming that the evidence at the landfill didn't match the account provided by the government.
The independent investigations have also raised the fact that there may have been a fifth hijacked bus and it may have been loaded with drugs, which the students unknowingly took.
According to the information released by the Mexican government, Lopez Astudillo led the cartel enforcement group in the towns of Iguala, where the students were kidnapped, and Cocula, the location of the landfill allegedly used to incinerate the students.
The arrest took place 11 months after the disappearance of the students when authorities tracked El Gil to an apartment in Taxco, Guerrero. He was captured with some weapons, Mexican authorities said.
The arrest of Lopez Astudillo could support the official account of events as to the students having been burned at the landfill by the cartel members. However, the cartel member could also disprove the official version if his statements end up being contrary to the "official" version of events.
So far more than 110 cartel members, municipal police officers, and even local politicians have been arrested in connection with the case.
Ildefonso Ortiz is an award winning journalist with Breitbart Texas you can follow him on Twitter and on Facebook.