MATAMOROS, Tamaulipas—Mexican authorities have arrested one of the top leaders within the Gulf Cartel structure. The man, known as El Orejon, or Ciclon 7, is the current leader of the Ciclones faction which is in control of this border city.
While Mexican authorities have not released any official information not details on the case, Breitbart Texas has been able to confirm that on Friday morning a strike team of Mexican troops arrested Angel Eduardo "Ciclon 7 or Orejon" Prado Rodriguez.
Mexican authorities are expected to provide additional details in the coming hours. A citizen journalist shared on social media a leaked photograph taken shortly after Prado's capture.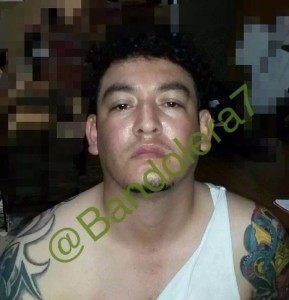 The man is described as the current plaza boss for the Gulf Cartel in Matamoros and the leader of the Ciclones faction which has been at war with their rivals the Metros from Reynosa, Breitbart Texas reported. Since February the two border cities have been involved in an escalating war over control of lucrative drug trafficking areas and trade routes. The ongoing fighting has resulted in a number of gruesome executions and fierce gun battles that have even prompted U.S. consular officials in Mexico to issue out warnings and alerts when violence breaks out.
While authorities in Matamoros arrested Prado, his rival in Reynosa Julian "El Toro" Loisa Salinas has been able to successfully pay off corrupt officials for his release, Breitbart Texas previously reported
Helicopters flew over downtown Matamoros Friday morning providing air cover for the heavily-armed soldiers on armored vehicles blocked off Sixth Street, site of the Matamoros location of Mexico's Attorney General's Offices. Similar security contingents were seen in other areas of the city such as the state attorney general offices. 
It remains unclear if the arrest was related to an early morning firefight that took place Friday morning near Rio Bravo, Tamaulipas that resulted in various citizens hearing the sounds of the gun battle on the U.S. side of the border.
Check Back for updates
Ildefonso Ortiz is an award winning journalist with Breitbart Texas you can follow him on Twitter and on Facebook.