Breitbart Texas traveled to the Mexican States of Tamaulipas and Coahuila to recruit citizen journalists willing to risk their lives and expose the cartels silencing their communities.  The writers would face certain death at the hands of the various cartels that operate in those areas including the Gulf Cartel and Los Zetas if a pseudonym were not used. Breitbart Texas' Cartel Chronicles are published in both English and in their original Spanish. This article was written by Coahuila's "JM Martinez" and Breitbart Texas' Ildefonso Ortiz.
PIEDRAS NEGRAS, Coahuila — Human smugglers are believed to have left behind the body of an unknown migrant in a shallow grave in this border city, setting off a series of police investigations.
The ghastly find was made in recent days by a passerby in the Villarreal neighborhood in this border city.  Agents with the Coahuila Attorney General's Office (PGJE) were called to document and remove the heavily decomposed  remains of the man who has yet to be identified.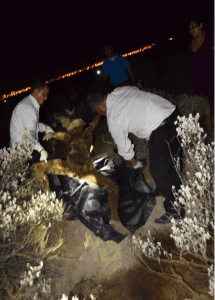 As part of the forensic procedures, investigators took DNA samples and checked to see if the human remains matched any of the missing person cases files in Coahuila. The search did not turn up any leads since the human remains were not a match.
Authorities believe the man was likely an illegal alien and he does not appear to show signs of a violent death. While investigators continue to look into the man's death, the body has since been taken to a paupers grave where he will be left unless a DNA match is made or a relative comes forward to claim the remains down the line.
The puzzling find takes place in a region with a rich history of narco-violence. In year's past Coahuila was a hub for the hyper-violent drug cartel Los Zetas which resulted in large-scale gun battles until state authorities were able to use tactical police teams to target and hunt down cartel gunmen.
While authorities have settled down much of the cartel violence in the region, Los Zetas have managed to continue their large human smuggling and drug trafficking operations into Texas.