Mexican court officials have released two suspected child kidnappers in the Mexican state of Tamaulipas setting off rage among neighbors who have vowed to take justice into their own hands.
The case began recently in the Mexican port city of Altamira, when Abel Correa Cardenas and Carlos Almaraz Villa reportedly tried to kidnap two young girls, Reynosa's El Manana reported.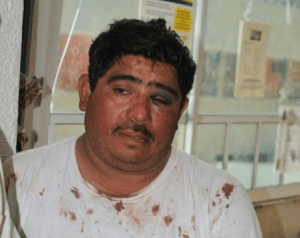 The kidnapping was thwarted by the area neighbors who rushed to aid the girls and began lynching the two suspected perverts. Neighbors recorded the incident and loaded the video onto social media before Mexican authorities arrived to arrests the two suspected kidnappers.
Tamaulipas Judge Ricardo Silva Salinas charged the two men with unlawful restraint and set their bonds at a little more than $1,000.
The case has angered the neighbors in the area who have spoken out to local news outlets about their intention to simply take justice into their own hands and not call authorities if future cases arise.
As Breitbart Texas previously reported, Altamira along with its neighbors Tampico and Ciudad Madero have been highly contested by the Gulf Cartel and their rival Los Zetas. The region has also been the scene of fierce gun battles between cartel gunmen and the Mexican military. As the fighting continues, the number of ransom kidnappings has skyrocketed leading to many middle to upper class families from the area relocating to Texas.
Earlier this year, as Breitbart Texas reported, cartel gunmen kidnapped and executed two businessmen who happened to be the father and brother of Alejandro Monteverde, a hollywood film maker. The two victims had relocated to Texas but had in fact travelled to Tampico to visit relatives when cartel gunmen kidnapped them and promptly executed them though a ransom was paid.
Ildefonso Ortiz is an award winning journalist with Breitbart Texas you can follow him on Twitter and on Facebook.