BROWNSVILLE, Texas — Two U.S. Border Patrol agents and one unsuspecting motorist sustained injuries during at least two separate crashes prompted by yet another drug smuggling attempt in this border city which resulted in a chase.
The  took place Tuesday morning when agents intercepted a vehicle that was being used to smuggle a marijuana load in Brownsville, information provided to Breitbart Texas by U.S. Border Patrol revealed.
Details of where the vehicle was intercepted or if there was a high speed chase were not readily available but authorities did confirm that the driver of the vehicle jumped out and ran into a nearby field where he was arrested.
As other agents were responding to the area to assist in the case there were two separate crashes between agents and local motorists. Two agents and one motorist were taken to a local hospital while another motorist ended up being treated by paramedics and released.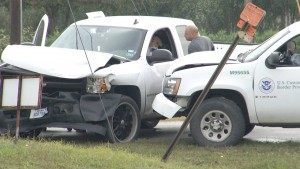 Local neighbors said the suspect that was arrested had multiple marijuana bundles in his vehicle. The area where the pursuit ended in Brownsville's western side is only yards away from the Rio Grande and has been used as a drug corridor for year.
The area where the chase ended is a little more than a mile from where a team from the location of a recent incident involving Breitbart Texas and suspected Gulf cartel associates. In that matter, men in multiple vehicles attempted to ambush a team from Breitbart Texas as they were filming during a late-night assignment in the Galaxia neighborhood that sits immediately on the Texas-Mexico border. The border fence in the area was left unfinished and the western Brownsville neighborhood has traditionally been a smuggling stronghold for factions of the Mexican Gulf cartel.
Ildefonso Ortiz is an award winning journalist with Breitbart Texas you can follow him on Twitter and on Facebook.