Breitbart Texas traveled to the Mexican States of Tamaulipas and Coahuila to recruit citizen journalists willing to risk their lives and expose the cartels silencing their communities.  The writers would face certain death at the hands of the various cartels that operate in those areas including the Gulf Cartel and Los Zetas if a pseudonym were not used. Breitbart Texas' Cartel Chronicles are published in both English and in their original Spanish. This article was written by Coahuila's "JM Martinez".
PIEDRAS NEGRAS, Coahuila — Two men who have worked in the past as lookouts for Los Zetas cartel had been accused of attacking a local man with a machete at a bar. Just days later the charges were dismissed.
According to information provided to Breitbart Texas by Coahuila State officials, Jose Nahum Cabrera Olivares had been at a local bar called Los Amigos when the attack took place last week.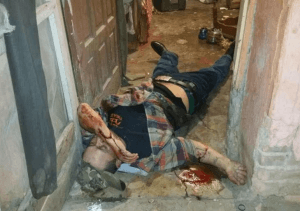 For unknown reasons, Cabrera got into an argument with 31-year-old Alejandro Fierro Avila and his brother 39-year old and Josue. The argument soon escalated into a violent attack when the two brothers pulled out a machete and began to hack away at Cabrera. The two brothers also began to vandalize the bar causing considerable damage.
Firefighters and paramedics rushed to the bar and began to tend to Cabrera injuries before rushing him to a local hospital from where he is expected to recover.
Both Fierro Avila brothers had previously been arrested in connection with their activities as lookouts for Los Zetas.
Just days after the attack, the two brothers were set free after the both the victim and the bar owner refused to press charges.