Breitbart Texas traveled to the Mexican States of Tamaulipas and Coahuila to recruit citizen journalists willing to risk their lives and expose the cartels silencing their communities.  The writers would face certain death at the hands of the various cartels that operate in those areas including the Gulf Cartel and Los Zetas if a pseudonym were not used. Breitbart Texas' Cartel Chronicles are published in both English and in their original Spanish. This article was written by "M.A. Navarro" from Ciudad Victoria. 
CIUDAD VICTORIA, Tamaulipas — Two factions of the Los Zetas cartel continue to fight for control of this city resulting in more executions, shootouts and the placing of banners aimed at inciting fear. The most recent banners offer cash rewards for the heads of their rivals.
As Breitbart Texas previously reported, one faction of the Los Zetas cartel calling themselves Grupo Bravo or Vieja Escuela has been carrying out a series of attacks against the faction known as Cartel Del Noreste (CDN), which had control of this city. The fighting between the two factions has resulted in several crude executions such as beheadings and dismemberments where the victims are left with messages aimed at sparking fear with rivals and the community alike.
The uptick in violence has resulted in mass panic in this city despite the governments constant assurances and effort to downplay the violence. Authorities confirmed that there had been a shooting on Friday near the intersection of Naciones Unidas Loop and Diaz Ordaz Streets. Almost simultaneously authorities were responding to another shooting in the downtown area.
In one of the shootings authorities found one woman who had been gunned down inside the offices of a local law firm owned by Martiniano Albarran. The woman was the lawyer's secretary. Next to the body authorities found a banner signed by the CDN. In that banner, the faction claims that a similar fate awaits their rivals and that their families are also targets.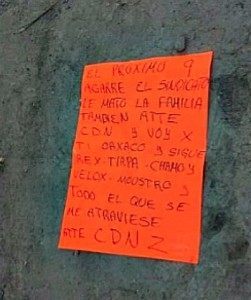 On Saturday, Grupo Bravo and Vieja Escuela hung two banners with the photographs of CDN's leadership. In the banner, the cartel members offer a 1 million Pesos reward for information or the head of Enrique "Kiko" Trevino who they describe as the leader of the CDN. The banner claims that Trevino has been living in Nuevo Leon. Grupo Bravo and Vieja Escuela claim in their message that they have been killing only people tied with the CDN who they claim are behind kidnappings and extortion in the city. However, information in a recent execution provided by authorities shows that two brothers who were gunned down near a gas station were in fact innocent employees of a man with ties to organized crime.
The same day, in Escobedo, Nuevo Leon, authorities found the bodies of two more victims along with a banner signed by a group called "Dorado" or Golden.