Breitbart Texas traveled to the Mexican States of Tamaulipas and Coahuila to recruit citizen journalists willing to risk their lives and expose the cartels silencing their communities.  The writers would face certain death at the hands of the various cartels that operate in those areas including the Gulf Cartel and Los Zetas if a pseudonym were not used. Breitbart Texas' Cartel Chronicles are published in both English and in their original Spanish. This article was written by Coahuila's "J.M. Martinez."
PIEDRAS NEGRAS, Cohauila — Investigators in this border city continue to look into the murder of a young man whose body was found by a soccer field near the Texas border next to a narco-message promising further acts of violence.
The discovery was made last week when investigators with the Coahuila Attorney General's Office responded to the Doctores neighborhood in this border city in regards to the discovery of the body. Investigators identified the body as  21-year-old Juan Alberto "El Coky" Gonzalez Tovar. The body, which did not show an advanced state of decomposition, had been stabbed multiple times, authorities revealed.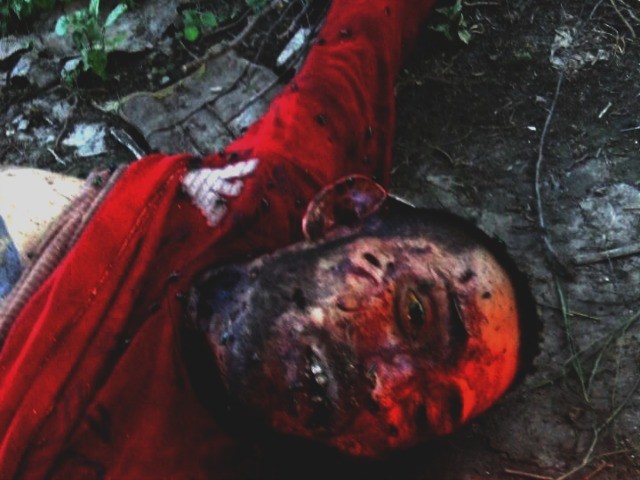 The murder victim was not stranger to law enforcement. On May 4, state police officers arrested him and turned him over to state prosecutors on destruction of property charges.
Military personnel and other law enforcements officials responded to the crime scene because of a narco-message, allegedly signed by the Gulf Cartel, which promised further acts of violence. The note was found next to the murder victim's body.
"This is what happens to snitches, keep working with Los GATES and this is how you end up. We are here CDG (Gulf Cartel) and we are coming for you damn Zetas full of (expletive) be (expletive) ready bastards . CDG" the Spanish-language message on the banner revealed.
In the message, the murderers make mention of the Los GATES, which is special police force that was created by the Coahuila government to take on organized crime, particularly Los Zetas.
Breitbart Texas reported during the last week of December, about how members of the Los Zetas cartel carried out a series of executions where they left four severed human heads and body parts around the city causing terror amongst the community.
During that week of terror, the Los Zetas left various poster boards with numerous messages threatening informants of the Los GATES police forces.
Since the murder, Piedras Negras Mayor Fernando Purón has made multiple public statements claiming  that the most recent murder is not tied to organized crime but that the message was left behind to distract authorities.