CORPUS CHRISTI, Texas — Federal and local authorities continue to look into the how a pair of men tied to Mexico's Gulf Cartel tried to move more than half a million dollars. The failed smuggling attempt has resulted in some safety concerns for the suspects involved.
The cash seizure took place last week near Driscoll when Nueces County Sheriff's Deputies carried out a traffic stop on a 2016 Cadillac Escalade. During the traffic stop, both the driver and passenger immediately became nervous raising the suspicions of law enforcement officials, information provided to Breitbart Texas by Nueces County Sheriff's Deputies revealed.
Authorities have since identified the driver as 28-year-old Carlos Olvera who was not only nervous because he was driving with an expired license, but also because he allegedly had been moving more than $500,000 in cash destined for Mexico. The man refused to give authorities permission to search the vehicle. During the traffic stop, authorities spoke with 21-year-old Rolando Garza who was the passenger of the vehicle. Both men gave conflicting stories about the trip to Mexico.
Nueces County Sheriff's Deputies brought a police sniffing dog to walk around the vehicle. The dog was able to detect the smell of cash bundles in the vehicle thus giving authorities probable cause to go into the truck where they found $500,000 in cash and $16,000 in the men's pockets. What surprised law enforcement officials was that the two men did not use any of the usual methods of hiding cash like hidden compartments.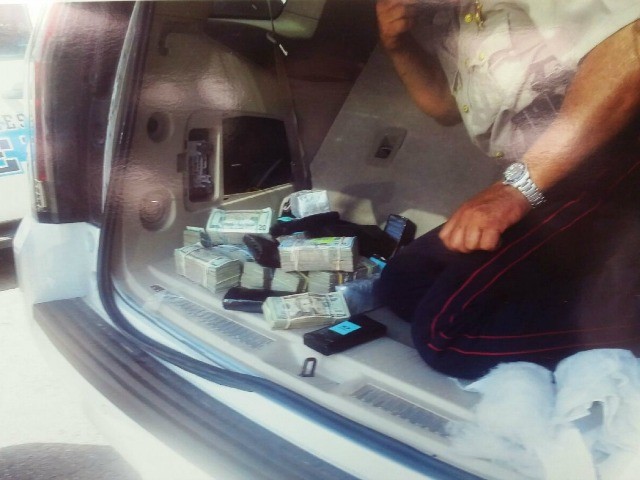 "They were confident that the money would arrive to their destination, they were not hidden, it was only a matter of time before the K-9 officer discovered it," said Nueces County Sheriff's Captain Danny Lobreau during a news conference attended by Breitbart Texas.
Both men remain in the Nueces County Jail on money laundering charges, however Breitbart Texas has confirmed with federal law enforcement officials that the case is being looked at by special agents tasked with narcotics interdiction. According to the federal law enforcement sources, agents are looking into the possibility of the driver and passenger becoming targets of Mexico's Gulf Cartel, the criminal organization that the $500,000 belonged to. The other possibility being looked at by law enforcement is that relatives of the two men could also be targeted or used as bargaining chips by the cartel.