Mexican citizen journalists are exposing what appears to be complicity between Mexican police officers and cartel gunmen during an apparent kidnapping in Sinaloa.
The video was recorded by a restaurant  patron in the port city of Mazatlan Sinaloa. The video shows a group of gunmen riding in at least one SUV as they get off in the street. The excited patron and other individuals at the establishment peek out the window at what appears to be a kidnapping in progress.  Across the street, the cell phone video reveals a convoy of police officers getting into their vehicle and leaving the area without confronting apparent the gunmen.
The Sinaloa government has not released any information to acknowledge or discredit the video. The video appears to the kidnapping of various individuals on Monday afternoon in Mazatlan. According to Mexico's Proceso Magazine, four individuals were kidnapped and forced inside a gray Honda CRV. The description of the vehicle is similar to the one depicted in the video disseminated by citizen journalists.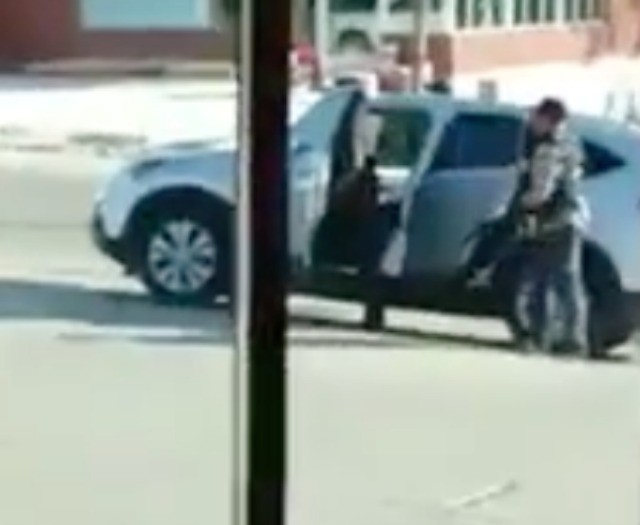 Proceso also reported that on Sunday, six others were kidnapped and murdered and in the same time frame one man was murdered and one injured during a nearby shooting.
Mazatlan is the same city where, in 2014, the top leader for the Sinaloa Cartel,  Joaquin El Chapo Guzman was captured for the second time. The drug lord had been hiding out in an upscale apartment complex with a series of tunnels that allowed him to avoid detection.
As Breitbart Texas has been reporting, Sinaloa has seen a resurgence in violence as members of the Beltran Leyva and Cartel Jalisco Nueva Generacion appear to be making a push into the territory. The hostilities resulted in a team of gunmen invading the rural town of Badiraguato and ransacking the home where El Chapo's mother was living.  Not long after the robbery, at least one of El Chapo's sons was kidnapped at gunpoint from a tony restaurant in the Mexican resort town of Puerto Vallarta, Jalisco.
Editor's Note: Breitbart Texas traveled to the Mexican States of Tamaulipas, Coahuila and Nuevo León to recruit citizen journalists willing to risk their lives and expose the cartels silencing their communities.  The writers would face certain death at the hands of the various cartels that operate in those areas including the Gulf Cartel and Los Zetas if a pseudonym were not used. Breitbart Texas' Cartel Chronicles are published in both English and in their original Spanish. This article was written by "M.A. Navarro" from Ciudad Victoria, Tamaulipas and Breitbart Texas' Ildefonso Ortiz.