PIEDRAS NEGRAS, Coahuila — Authorities in this border city are working to determine if human remains found this week belong to a woman who has been missing for more than two months.

 

In recent weeks Piedras Negras has seen a sharp spike in kidnappings and executions as part of a cartel war for control of the region.
This week, authorities discovered some human remains in a rural area not far from the banks of the Rio Grande. Currently investigators with the Coahuila Attorney General's Office (PGJE) are working to  determine if the human remains are those of 22-year-old Claudia Montserrat Escobedo, a local woman who went missing in August under suspicious circumstances. 
Information released to Breitbart Texas by state authorities in Coahuila revealed that in late August, Escobedo had left her home to  go to a party and was never heard from again. Since then investigators have questioned Escobedo's friends and relatives but had not been able to provide answers to her loved ones. Relatives of the missing woman began a Facebook page to gather support and spread awareness.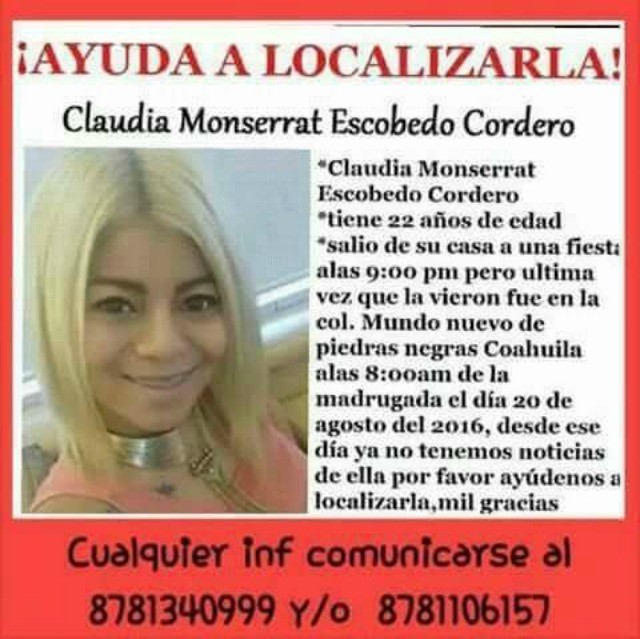 Escobedo's disappearance comes as Piedras Negras continues to see a wave of violence that includes multiple unexplained disappearances as well as multiple executions. In recent weeks, residents in Piedras Negras have also reported the disappearances of 12-year-old Yesica Lizbeth Villalba,  27-year-old Mayra Yaneth Garza Flores, and 30-year-old Carlos Alberto Martinez. Their whereabouts remain unknown.
In addition to the disappearances, Piedras Negras has seen a wave of executions and violent attacks as rival factions of the Los Zetas cartel continue to fight for control of the region and its lucrative drug trafficking routes. Breitbart Texas most recently reported on the attempted murder of an 18-year-old teen who was ambushed by a team of gunmen and shot in the face with a shotgun. That attack came just weeks after Los Zetas murdered a woman coming out of a bar. During that time frame, Los Zetas executed a young couple and set their vehicle on fire just yards from the Texas border.
In Ciudad Acuña, another border city in Coahuila, cartel gunmen with one faction of the Los Zetas cartel came close to capturing the top leader for another faction during a brazen raid. The attack occured without the interference of law enforcement. The cartel boss was forced to flee, leaving his grandmother behind.
Editor's Note: Breitbart Texas traveled to the Mexican States of Tamaulipas, Coahuila and Nuevo León to recruit citizen journalists willing to risk their lives and expose the cartels silencing their communities.  The writers would face certain death at the hands of the various cartels that operate in those areas including the Gulf Cartel and Los Zetas if a pseudonym were not used. Breitbart Texas' Cartel Chronicles are published in both English and in their original Spanish. This article was written by "J.M. Martinez" from Piedras Negras, Coahuila.