MONTERREY, Nuevo León — The arrival of cash from Texas into Mexico continues to avoid detection from authorities on both sides of the border. Mexican Federales patrolling the highways stopped a driver who had $75,000 hidden in the man's cowboy boots.
Appearing nervous is what led to the arrest of Luis Carlos Rodriguez Gonzalez after being pulled over at the 100 kilometer marker on the highway that connects the border city of Nuevo León with Monterrey. The traffic stop was made near the rural community of Sabinas Hidalgo.
Federal police officers revealed that during the traffic stop, they found a paper bag with 8 bundles of cash hidden under the car's carpet. When officers asked Rodriguez to step out of the vehicle they noticed the uncommon size of the man's boots.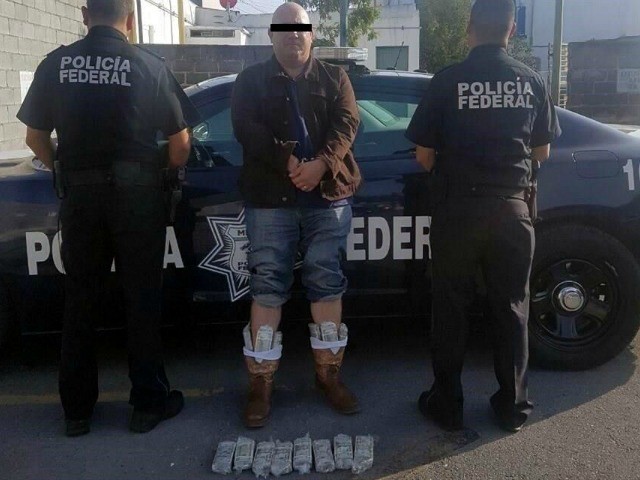 Once asked him to raise his pants, the man was not able to reveal where he got the money. Authorities turned him over to Mexico's Attorney General's Office to investigate the case and determine how he evaded border security. As Breitbart Texas has been reporting, Mexican cartels routinely move large quantities of cash which represent the proceeds of the sale of narcotics and human trafficking.
While U.S. authorities constantly inspect vehicles going north, they rarely inspect the vehicles going south into Mexico. This practice leaves Mexican Customs officers with the task of intercepting bulk cash smuggling attempts.
Editor's Note: Breitbart Texas traveled to the Mexican States of Tamaulipas, Coahuila and Nuevo León to recruit citizen journalists willing to risk their lives and expose the cartels silencing their communities.  The writers would face certain death at the hands of the various cartels that operate in those areas including the Gulf Cartel and Los Zetas if a pseudonym were not used. Breitbart Texas' Cartel Chronicles are published in both English and in their original Spanish. This article was written by Tony Aranda from Monterrey, Nuevo León.