MATAMOROS, Tamaulipas — Authorities in this border state have been carrying out elaborate security raids at prisons to prevent riots and breakouts by cartel members.
As Breitbart Texas reported in March, dozens of Los Zetas inmates escaped from the state prison in Ciudad Victoria through a tunnel. On that day and thereafter, inmates rioted in fierce battles for control and against authorities.
Last week, Breitbart Texas reported about another riot at the Ciudad Victoria prison where one inmate died and three others were injured, including an officer. Ciudad Victoria is the state capital of Tamaulipas, about 180 miles south of the Texas border. As a response to the riots, authorities moved several high-profile inmates to other prisons to avoid cartel infighting. Unofficial information obtained by Breitbart Texas revealed that after the riot, authorities found several high-powered rifles.  
State authorities have been carrying out raids at the various prisons in Reynosa, Matamoros, Nuevo Laredo, and Altamira. In addition to weapons, police have been searching the prison compounds for tunnels similar to the ones used in Ciudad Victoria.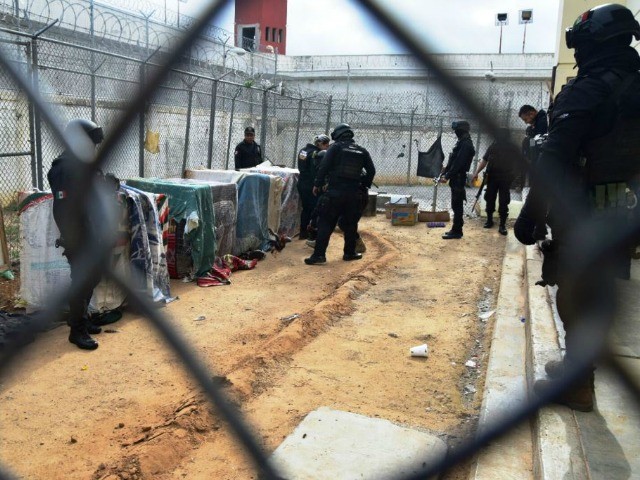 "They are doing everything necessary in the prison, with the use of technology in order to rule out the discovery of tunnels like the one that was found in the prison in Victoria from where the inmates escaped," said Carlos Alberto Garcia Gonzalez, the head of the Tamaulipas Congressional Political Coordination Group.
According to state sources, the actions in each of the prison compounds have been carried out in a surprise fashion to avoid information leaks. During a raid last week at the prison in Nuevo Laredo, authorities found edged weapons, drugs, fighting roosters, and one hen. Nuevo Laredo is immediately south of Laredo Texas.