He has written about having sex with an underage girl, and claims he once threatened to kill a pregnant girlfriend unless she had an abortion. He claims to hate marijuana, but recommends heroin as the cure for suburban boredom. He mocks "Tea Baggers" and scorns "hippies." His Russian newspaper was shuttered after a government crackdown, and he's a regular on The Dylan Ratigan Show on MSNBC.
Meet Mark Ames, the provocateur who created the Koch brothers conspiracy theory.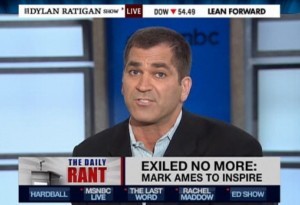 Long before John Podesta's Center for American Progress began targeting the Koch brothers for their supposed role in the Tea Party, and two years before the Kochs were cast as the villains of public sector union protests in Wisconsin, Ames had already shaped the Koch brothers meme.
Ames and co-author Yasha Levine launched the conspiracy theory–and its twin themes of drug abuse and gay sex–with a blog post (now removed) at Playboy.com in February 2009, entitled: "Backstabber: Is Rick Santelli High on Koch?" They published almost exactly the same article at their own site, exiledonline.com, as "Exposing the Rightwing PR Machine: Is CNBC's Rick Santelli Sucking Koch?"
Ames and Levine alleged that Santelli's famous "rant heard around the world" that inspired the Tea Party movement "was not at all spontaneous as his alleged fans claim, but rather it was a carefully-planned trigger" for an "anti-Obama campaign." That campaign, they claimed, had been planned for months before the 2008 election, and funded by "the Koch family, the multibilllionaire owners of the largest private corporation in America, and funders of scores of rightwing thinktanks and advocacy groups."
Ames would later explain that he had been inspired to write about the Kochs by his experiences in post-Soviet Moscow, when he edited a sensational newspaper, the eXile—described last year by Vanity Fair as "arguably the most abusive, defamatory, un-evenhanded, and crassest publication in Russia" before it closed in 2008.
Ames and eXile co-editor Matt Taibbi (now political editor at Rolling Stone) combined sensational and scandalous stories about hard drugs, prostitution, and violent crime with media criticism and investigative reporting. Their targets included the Russian oligarchs scavenging the remnants of the Soviet state, and especially the Western expatriates who were aiding and abetting them.
In the Koch brothers, Ames told Ratigan in March, he saw the same "oligarch politics" he had observed in Russia's "fake democracy": "When we saw this Tea Party thing…we found out, all trails led back to the Kochs, who we didn't even know, actually….We thought, OK, this is just like in Russia, it opened our eyes to how corrupt and how much like Russia America has become."
Ames and Levine had peddled their conspiracy theory for months, but it gained little traction until Jane Mayer's profile of the Koch brothers in the New Yorker in August 2010 gave the theory the mainstream media's imprimatur of credibility.
Since then, the Koch brothers have been the constant target of Democrats and their union allies as a proxy for the Tea Party, whose influence the left has been desperate to stop.
Effective as it eventually was, Ames and Levine's story was almost entirely false, their adrenalized innuendo undercut by their sloppy investigation. They failed, for example, to check their facts with Santelli himself.
In a statement on CNBC's website, Santelli flatly rejected the idea that he had been part of a broader political campaign:

First of all let me be clear that I have NO affiliation or association with any of the websites or related tea party movements that have popped up as a result of my comments on February 19th, or to the best of my knowledge any of the people who organized the websites or movements.
Ames still refers to Santelli's statement as an "apology," allegedly at the behest of the bosses at CNBC, but it was in fact the opposite–a strident defense of his views and the reaction they evoked. "Why would the Internet light up the way it did if people did not feel so strongly," Santelli asked. "The answer seems pretty obvious; the nerve I struck resonated across the country."
Ames and Levine also botched their claim that the Koch brothers funded FreedomWorks–and, through FreedomWorks, the Tea Party. In fact, FreedomWorks had split away from the Koch-funded Citizens for a Sound Economy in 2004, and does not receive funding from either one of the Koch brothers.
Another key link in the conspiracy theory, a website called ChicagoTeaParty.com, turned out to be a dud. Ames and Levine suggested that Chicago radio producer Zack Christenson, who registered the domain in August 2008, had done so in preparation for the launch of the Tea Party after Obama's (then uncertain) future inauguration.
But when the New York Times contacted Christenson, he said he had planned to use the site to plan cocktail parties for conservatives and libertarians in Chicago, and that it was "pure coincidence" that Santelli had called for a "Chicago Tea Party" six months later.
Eric Odom, a conservative "new media" activist whom Ames and Levine accused of working on the Kochs' behalf, told me that they had simply made up their claims. "They did not contact me about their story, nor did they respond to my repeated requests for a correction," Odom says.
Ames and Levine claimed that Odom's name had been "scrubbed" from the website of the conservative Sam Adams Alliance to conceal the Koch brothers conspiracy, but the truth was more mundane: Odom had stopped working there several months before. In fact, Odom says, behind the scenes there was conflict, not coordination, with Sam Adams's staff once the Tea Party movement began after Santelli's rant.
Paul Miller, who was the Sam Adams Alliance's communications director at the time, insists that there was no advance planning prior to Santelli's rant, but that the group was eager to get involved with the Tea Party once it had started, sending an actor dressed as Sam Adams to the first rally. He spent a bitter weekend, he says, fielding complaints about Ames and Levine's story.
Others also complained that Ames and Levine had not bothered to check their facts. Steven Megremis of the anti-bailout blog The Daily Bail called it "the mother of all irony" when Ames and Levine claimed his site was part of the tea party "machine":

Writers Mark Ames and Yasha Levine did some mundane research and pieced together a decent story. There's only one problem, everything they wrote about us is completely incorrect….

Laughably, the authors believe that we're part of a shadowy, right-wing conspiracy creating fake websites to influence public opinion. It specifically accuses us of being an 'astroturf' website, part of an imitation grassroots campaign to advance the corporate interests of the Koch family and others. The accusation might actually bother me if it weren't so comical. Had the writers bothered to contact me before going to press, they would have learned a few things about me politically and personally that would have kept The Daily Bail out of the mud. [Original emphasis]
Megremis recalls that he received an apology from Playboy. "I'll never forget those four days," he told me via e-mail, "as my site was deluged with commenters assuming I was an astroturf site. I'm a small government libertarian, and Santelli's message appealed to me. It was that simple."
In public, at least, Ames and Levine did not reply to these substantive criticisms, but focused their responses on those they termed the "Koch whores"–sincere critics such as McArdle at the Atlantic, Joe Weisenthal at Business Insider, and Dave Weigel at Slate who were more vulnerable because they had voluntarily disclosed their own varying connections to Koch-funded institutions.
Ames and Levine brushed aside these critics' arguments, and merely seized on their disclosures as further proof of the Koch brothers conspiracy: "So now you're seeing more and more of these libertarian 'full disclosure' disclosures. Which is sad for Koch whores, because these disclosures, when they're published, befoul what would otherwise be perfectly decent Koch boot-shine jobs."
Ames and Levine's subsequent personal attack on McArdle–targeting her father and her then-boyfriend (now husband), who once worked for FreedomWorks–was so outrageous that even liberal Washington Post blogger Ezra Klein, who had sparred with McArdle over ObamaCare, came to her defense–whereupon Ames attacked him, too.
Regardless, Playboy.com took Ames and Levine's post down within two days, perhaps because of legal threats (Playboy staff could not be reached for comment). But the Koch brothers conspiracy theory had caused enough controversy to attract significant attention from the mainstream media and the political left, planting a seed that would grow and ripen in the months to come.
Ames has complained repeatedly that ThinkProgress (April 2009), the Washington Post (August 2009), and the New Yorker (August 2010) ran stories on the Koch brothers' involvement with the conservative movement without giving him and Levine credit for their original "scoop." Though he would later praise Jane Mayer's New Yorker article, for example, Ames initially accused her of plagiarism. Mayer denies the charge, and the New Yorker provided me with the following comment:

Jane's covered the conservative movement since 1983, when she became the Wall Street Journal's correspondent in the Reagan White House. She's followed the Kochs since the 1990's, and when David Koch's name appeared over the State Theater at Lincoln Center, she suggested it would be interesting to explain their political influence to readers. The New Yorker story grew out of those events, not out of anyone else's work. She actually hadn't been aware of Mark Ames' work prior to writing her piece, but since then, she's found it interesting.
What is clear is that while Ames and Levine were the first to connect the Kochs to the Tea Party, they had made several wrong connections. It was ThinkProgress that first pointed to the Koch brothers' role in Americans for Prosperity, which has participated in Tea Party events. By chasing false leads–FreedomWorks, Santelli, the Sam Adams Alliance, etc.–Ames and Levine missed the Koch link that others later reported.
Yet Ames and Levine did set the precedent for casting the Koch brothers' role as a nefarious secret, aimed at self-enrichment, rather than what it actually was: open support for the Tea Party's vision of limited government, as a sincere and legitimate political philosophy widely shared by millions of Americans.
Ames and Levine also endowed the Koch brothers meme with the peculiar vulgarity that would emerge on the streets of Madison two years later, with protesters bearing signs reading "KOCH WHORE," "KOCH SUCKER," and the like. That style has been a feature of Ames's writing since his early days at the eXile, preserved in the newspaper's online archives and in a book he published with Taibbi in 2000: The eXile: Sex, Drugs, and Libel in the New Russia.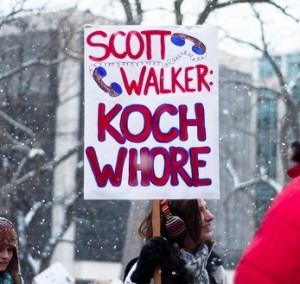 In one passage in the book, Ames, then in his thirties, recalls having sex with a fifteen-year-old named Natasha–in a country where the legal age of consent was sixteen:

When I went back into the TV room, Andy pulled me aside with a worried grin on his face.

"Dude, do you realize…do you know how old that Natasha is?" he said.

"Sixteen?"

"No! No, she's fif-teen. Fif-teen!" Right then, my pervometer needle hit the red. I had to have her, even if she was homely. I sat down next to her on the couch and fed her another double martini with pineapple juice… .After sex, she confessed to me that she had a three-month-old baby…(153)
Ames also recounts the controversy that erupted due to an infamous eXile column by "Johnny Chen"–later identified by Owen Matthews, Newsweek's Moscow bureau chief, as Ames himself–that described him raping a teenager, then wondering whether he should kill her afterwards:

…some teenager with a face like Muttley's from Laff-A-Lympics fell off the bar and onto my shoulders. I carried her almost straight out to the coat check, then hurried her down to a taxi, ran her home, up my stairs, and into my apartment. The whole time she was begging me to take her back, to be careful, she was drunk, bla-bla-blah… After we were through, I had no idea what to do with her. She was bleeding and crying. As for me, I was depressed. I'd just shot a load large enough to repopulate North Korea. So I walked her over to my balcony, and held her in my arm, leaning her over the ledge.

"Throw her over," Johnny Jr. advised me.

"What?"

"You know you want to," he said. "Just pick her up and throw her over. You'll feel better, I promise."

But I didn't have the energy…
In the book, Ames and Taibbi recall sexually harassing the eXile's female staff:

We have been pretty rough on our girls. We'd ask our Russian staff to flash their asses or breasts for us. We'd tell them that if they wanted to keep their jobs, they'd have to perform unprotected anal sex with us. Nearly every day, we asked our female staff if they approved of anal sex. That was a fixation of ours. "Can I fuck you in the ass? Huh? I mean, without a rubber? Is that okay?" It was all part of the fun. (134)
Ames also recounts how he convinced his Russian girlfriend to abort her pregnancy:

…Katya sat on my lap and told me she had some exciting news: she was pregnant, and I was the father!

I panicked. Children are my worst nightmare–worse than worst…

"No, Katya, you don't understand. I cannot have a child. I do not like children. I hate them. They disgust me, physically."

"But I can't have an abortion," she pleaded. "I was told that if I did, I'd never be able to have a child."

I knew she was bluffing, so I countered with the RU-486 pill. I offered to fly to France, pick one up, and bring it back for her. "It's totally safe," I cheerily offered.

"I can't do that," she said. 'I can't kill our child."

Right then, I stared at Katya with a look–I'm not sure how it appeared to her, but in my mind, I was starting to contemplate two courses of action: murder, or AWOL.

"What will you do, kill me?" she said, laughing nervously.

"Maybe, yeah," I replied. "I'll throw you off my balcony. I'll make it look like an accident."

She started to cry, but I was relentless. I told her that if she had the child, she would be killing me, so it was an act of self-defense. And if I didn't kill her, then I would flee Moscow and she'd never find me….I was relentless. I attacked her the Russian way: I wore her down for hours during the KGB interrogation-style…

At 5:30 the next morning, Katya, acting the martyr, quietly slipped out of my apartment, made a beeline to the abortion clinic, and sucked the little fucker out.
Ames adds that he later published a column about her, naming her "the worst woman of the year" because of what she had done to him. (154)
Whether serious or satirical (the book's copyright page declares it to be "a work of nonfiction"), Ames's contributions to the eXile place a premium on shock value. Despite–or perhaps because of–his self-proclaimed aversion to children, for example, Ames occasionally imagined (or threatened) violent sex with kids:

I bounced the little peasant girl on my knee while her grandmother–who stank like a slaughterhouse–smiled at me. "Let me guess, Katya. You lost your virginity in the maternity ward, didn't you? Dragged one of the orderlies into your crib. Couldn't hold out a few years for a horny old foreigner like myself, huh?" (168)
Ames and Taibbi once responded to a fan in California: "Dear Jeff, You want to introduce us to that wife of yours? Think she'd mind if we ass-fucked her? How about your kids? Any of them have pulses? Male or female, it's the same to us." (82)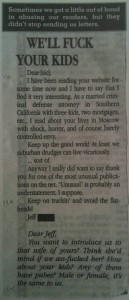 At the eXile, Ames also devoted considerable attention to drugs–writing about them, and doing them. Taibbi recalls:

An ill-considered decision to go weekly in February [1998] sent Mark [Ames], Krazy Kino Kevin, and me careening into severe substance abuse. Toward the end of the winter, we were each snorting enough speed every week to cause heart failure in the entire pan-African wildebeest herd…

After about six weeks of this, the line between reality and paranoid fantasy had become so blurred in our office that we were no longer sure what exactly it was we were doing… (83-4)
Ames does not look back on his drug adventures with regret: "What people forget in every article ever written about drugs is one simple, basic fact: PEOPLE TAKE DRUGS BECAUSE THEY'RE FUN." (106) He advises: "Of course you need speed, E, or heroin in suburban America–NOTHING HAPPENS IN SUBURBAN AMERICA. (110) He's not as bullish about marijuana, as he wrote recently:

Marijuana is for dumbshits; it makes dumbshits feel creative….THC equals pure terror and paranoia. Which is why I'm all for imposing a federal death penalty on anyone caught using marijuana or referring to it as a "soft drug" in public, or in the privacy of their own homes. That is, unless the Weed-Nazis are on board with an all-or-nothing drug decriminalization program.
Along with their ruminations on violent sex and the advantages of speed, Ames and Taibbi indulged the occasional racist joke. For example, they created a satirical headline reading: "NIGGERS? Where do they come from… And what are they doing here?" Ames recalls–with some regret–his published response to the eXile's first piece of hate mail:

I was cheap and unfair. I picked apart the grammar mistakes, then, in a cheap shift to racism, accused the authors of hiding the fact that they were really just a lone, envious African student from the People's University in Southeast Moscow. Fuck you, nigger! Learn how to write grammatical English, or shut the fuck up! That was my response. (174)
More recently, Ames applauded the Quentin Tarantino film Inglourious Basterds by lauding its portrayal of white people: "..it's a brave movie in ways most idiots don't get. That's because Inglourious Basterds is, above all, a gorgeous tribute to the European Race when Europeans still had a pulse-and fangs."
From his role in creating the Koch brothers meme, it would seem that Ames is a creature of the far-left. Indeed, in his 2005 book on school and workplace shootings, Going Postal: Rage, Murder, and Rebellion: From Reagan's Workplaces to Clinton's Columbine and Beyond, Ames blames the "system"–market economy and economic inequality–for gun violence.
"Before Reagan," Ames writes, there was no such thing as 'going postal' or schoolyard rampage murders. It all started with his reign and his revolution….When Reagan fired the striking air traffic controllers in 1981, he told America he was literally willing to kill us all if we didn't give in to his wealth-transfer plan." (241)
President Clinton's continuation of Reagan's market-friendly policies, according to Ames, continued a "cultural-economic transformation" so radical that "historians may look back at this time and wonder why there weren't more murders and rebellions, just as it is shocking today to consider how few slave rebellions there were." (87)
In comparing these mass killings to the slave rebellions of the South, Ames casts both as reactions to injustice–as "one-man suicide missions" undertaken by employees who fail to unionize, for example. (119) He concludes that "America is a hateful place for a great number of Americans, kids and adults alike" who hate America "…because there's a lot to hate." (235).
Like others on the left, Ames also detests the Tea Party, portraying its members either as paid Koch operatives or stupid rubes. For example, he mocked Ken Gladney–the black vendor beaten outside a town hall meeting in St. Louis in August 2009:

So here's how it works: rich corporate backers, led by billionaire health care CEOs, want to kill health care reform because it might fuck up their chances of buying a second Aspen mansion or a third Gulfstream. So they rally a bunch of out-of-work, uninsured pissed-off losers, many of whom are willing to lay their lives on the line for the super-rich in order to ensure they stay rich while the shock-troops remain uninsured and down in the bottom. Now the Tea Bag suckers finally produced the martyr they were aiming for-an African-American with a scraped knee-and they're already milking it with hilarious results….But like the bad sitcom bozos they are, they screwed up even this simple task by hiring a martyr without health insurance. Making Gladney the Tea Party equivalent of Detective Nordberg in Naked Gun, crashing down the stairwell of shame to provide cheap laughs for us.
Despite his proudly libertine lifestyle, Ames routinely trashes libertarians, whom he whom he calls "libertards." He hates Ayn Rand, and recently attacked GOP presidential candidate Ron Paul for wanting to allow states, but not the federal government, to decriminalize drugs: "Ron Paul is a drug war asshole," Ames declared.
Yet Ames, by his own account, was once a Republican who rebelled against the "hippies" during his student days at UC-Berkeley by joining "a small circle of reactionary intellectuals." (Ames and Taibbi 1)
Back home, Ames has criticized the left for buying into cult of personality around Barack Obama, allowing itself "to be duped into projecting candidate Obama into the great progressive messiah, despite the fact that Obama's record offered little evidence besides skin pigment to support that hope." He also slammed Obama's "horrible" new appointees as a "Middlebrow-ocracy," calling regulatory czar Cass Sunstein a "a loathsome overachieving hamburger-head."
In fact, while he has lately devoted himself to attacking the Koch brothers, in the 1990's one of Ames's targets was none other than George Soros, patron of today's left–including the Center for American Progress, which has doggedly promoted the Koch brothers meme that Ames and Levine created. In 1997, the eXile published a mock board game called "Oligopoly," a satire based on the famous Monopoly game, featuring a photograph of Soros with the instructions. (38-9)
Ames has not, like Media Matters' David Brock, made a transition from right to left. Often, Ames simply prides himself on embracing extremes: at the eXile, he proudly published a regular column by the Russian fascist Eduard Limonov, who also wrote the foreword to Ames and Taibbi's book. His political beliefs, in both their right and left incarnations, have retained the same persistent theme: a hatred of "oligarchs"–those who have amassed great private wealth, through legitimate means or otherwise.
In one recent column, for instance, Ames suggested that the U.S. follow China's example and use "mobile execution bus fleets" to kill "all of the bankers and their minions." Ames carries his hatred of the rich into a contempt for Americans as a whole, whom he describes as "mean, spiteful jerks being duped by a tiny cabal of evil oligarchs." He was driven to Russia, he recalls, by his hatred of the affluent, upwardly mobile Silicon Valley suburbs from whence he came; he lamented the torment of "suburban nihilism," being "cooped up at my father's–twenty-seven years old, unemployed, unemployable." (7) He wrote in March 1997:

I arrived in Moscow on September 9, 1993, and have never thought of moving back. What I have come to realize is that in fact, suburban California is the negation of Russia, and not the other way around. Of course it is. California's newer, brand new-like some evil Proctor & Gamble marketing product; everything new is a negation of the old. I now live in the positive dimension. I was right to abandon California. Even if the world is warming up, I'll stay here, where it's cold.
In the pages of the eXile, he sought revenge against the American expatriates who were his primary audience. He even joked with Limonov about sending Americans to the Gulag: "Promise me you'll let me load them all in the cattle wagons myself if you take over," he said. (193)
Though he vowed never to return to the U.S., Ames came back in 2008, partly because Russian authorities cracked down on the eXile. Though he had once idealized "provincial Soviet Russia" as "violent, cruel, and yet full of possibility for a kind of minor epic life" (176), the neo-Soviet reality of life as a journalist in Vladimir Putin's Russia proved too cruel even for an epic provocateur.
Ames kept the eXile running online, and seems to have coped with the transition back to American life by interpreting U.S. politics through his old Russian lens. He applies his Russian template selectively, however, targeting big business and private wealth, but rarely taking on big government and public sector corruption.
Arguably, the Obama administration's attempts to use government bailouts, stimulus funds, and health care waivers to reward its political cronies are a better parallel to Putin's Russia than the self-made success of Koch Industries, Inc. Yet Ames attacks the Obama administration differently, casting the president as a 97-pound weakling "groveling before a cast of Wall Street villains" rather than serving his own particular constellation of special interests, including big labor and the liberal gentry.
That selective reporting continues a pattern that Ames established in Russia. In reviewing Ames and Taibbi's book, Matthews wrote:

In any case, the eXile's self-righteous, Serpico-style whistle-blower, fearless-investigative-reporting shtick is just a pose. For one, they're just inaccurate–a grave mistake when you're setting yourself up as the arbiter of journalistic ethics….They went after reformers, provincial administrations, corrupt American businessmen and aid honchos, but did the eXile ever take on the big boys like Moscow Mayor Yury Luzhkov, someone who actually might be in a position to retaliate? Uh-uh. And when Russia launched its second, fantastically brutal war in Chechnya, did the eXile write anything about Putin's Goebbels-style clampdown on the press? Don't think so.
To this day, Ames seems more concerned with attacking private corruption–real and imaginary–than public corruption. Beneath his dislike of conventional politics, he has adopted rather conventional left-wing attitudes. He has contempt for the institutional left–mostly for its political failures and compromises–but shares its obsession with economic leveling, and its fixation on "hidden hand" theories that project powerful forces manipulating society behind the scenes.
That's why he and Levine found their Koch brothers conspiracy theory so compelling, and why they have continued to promote it. In November 2010, Ames and Levine teamed up again in an article for the Nation, in which they suggested that John Tyner, the California man who became a popular hero for protesting an airport security pat-down ("If you touch my junk, I'm going to have you arrested") was part of a Koch-funded conspiracy.
As with the Santelli rant, Ames and Levine questioned the "spontaneous" appearance of the protest: "Instead," they wrote, "there is plenty of evidence of a coordinated campaign for purposes that are only just beginning to emerge–a campaign with a profit motive and a political objective." The article was so egregiously false, however, that Nation editor Katrina vanden Heuvel felt compelled to offer an apology:

The article…used innuendo to cast doubt on Tyner's motives, and when Tyner denied any connections to lobbyists and to Koch-funded organizations in an interview, we printed his denial–but we didn't press hard enough to get clarity on his actions and intentions….[A]s editor of The Nation, I also want to apologize to John Tyner. The Nation hasn't been–and never will be–in the business of muffling citizen protest.
Writing at Salon, Glenn Greenwald declared Ames and Levine's article a "journalistic smear job," castigating Ames for "evidence-free innuendo." Ames and Levine responded, as usual, by linking Greenwald with the Koch brothers (via his work at the Cato Institute). They also complained that he "never tried contacting either one of us before publishing his story. That's one big reason why we're both so disappointed–because that's what journalists do: we call our subjects to confirm, or not confirm, evidence and suspicions that we have compiled."
Neither Ames nor Levine appeared to have made the slightest effort to contact any of the people or institutions named in their original Koch brothers article to confirm their accusations.
Today, Ames continues to appear on The Dylan Ratigan Show. The two are currently collaborating in a profane joke that tests the boundaries of FCC regulations by broadcasting the word "ratfucker," disguised as an acronym, "RATrFOCr." RATrFOCr ostensibly stands for "Real Americans for Tax Reform" and "The Foundation On Constitutional Reforms," two fake grassroots organizations created by Ames to push for a return to Eisenhower-era tax rates "on the richest one-tenth of one percent of Americans".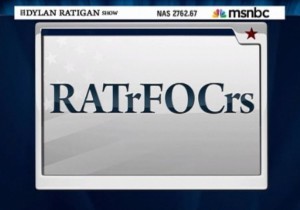 "FOC the RATs," Ames's website declares. Evidently, not enough people got the joke the first time, because Ames and Ratigan felt the need to tell it twice. "Long live the RATFOCRs!" Ratigan declared.
Whether that new Astroturf project succeeds or earns Ratigan a hefty fine, Ames has already made his mark on our national debate, even if he doesn't always get the credit. In his attack on the Koch brothers, he and Levine got their story wrong, but created a lasting meme. Ames gave the left the target that it desperately needed to rally its dispirited forces, and added a tone of mischievous depravity never seen before in the history of American politics–or at least never expressed quite so openly.
By the time the unions besieged the state capitol in Madison, the mainstream media, including NPR and the New York Times–which had dismissed Ames and Levine's original claims–were reporting, and apparently enjoying, the Koch brothers meme.
They didn't credit Ames, but the next time you hear the Tea Party attacked with the Koch brothers conspiracy theory, you'll know where it came from.
Ames provided the following response to my request for comment:

Dear Mr JOEL B. POLLAK,

Thank you for your letter. Unfortunately, due to the large volume of fan mail to Mr. Ames, please allow 4-6 weeks for a reply. Furthermore, I am under strict instructions from Mr. Ames that he only responds to Tea Party Republicans who actually won their elections, and not to respond to any queries from, as Mr. Ames put it, "Tea Party backwash, by which I mean those Republican C-list failures who got their asses handed to them in the 2010 election. I grant you, there are almost no Tea Party Republicans who actually got their sorry asses handed to them by liberals in the elections, so thankfully the list is small."

However, my boss Mr. Ames would be willing to answer queries from your boss Mr Andrew Breitbats, or from someone on the level of a Mr Charles Koch, should Mr Charles Koch be interested in discovering how Mr. Ames and Mr. Levine broke the Tea Party story before anyone else.

Regards,

Vikram S. Khemka

Assistant to Mr. Mark Ames