Talk radio titan Rush Limbaugh will probably consider his upcoming children's book a success once he learns that the very idea of him doing such a thing has already made a CNN anchor "sick." But based on his previous history as a best-selling author, upon its release October29, there is little doubt even more success is on its way.
—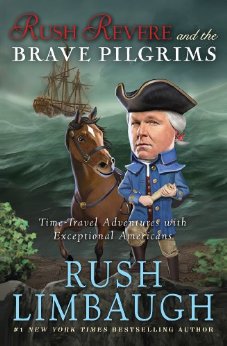 —
The book is advertised as a time-travel adventure and titled Rush Revere and the Brave Pilgrims: Time-Travel Adventures with Exceptional Americans. The Amazon description tells us Limbaugh has created the character of a "fearless middle-school history teacher named Rush Revere, who travels back in time and experiences American history as it happens[.]"
One of Rush Revere's stops will be on the deck of the Mayflower.
Though he has written a number of book forwards and edits a monthly newsletter, Rush Revere will be the first published book Limbaugh has authored since 1992's The Way Things Ought To Be and 1993's See, I Told You So. Both were runaway bestsellers, hitting the top of the New York Times Best Seller list — the former for an extraordinary 24 weeks.
Writing a children's book about exceptional Americans is not that big of a surprise. Limbaugh talks frequently about the importance of popular culture and education. A historical book aimed at kids hits both of those important sweet spots.
Fox News reports that it was Limbaugh's wife who "nudged" him to do this and that the Rush Revere character could become part of a series of books:
My wife Kathryn came up with an idea that literally lit a fire under me. She said, 'You know you're always talking about how history is being mistaught. You're right. You're always talking about what kids are learning these days, and they're not learning about the greatness of America," he said Thursday. "They're not learning about the founding days. They're not learning the right things about the great people, the exceptional people in this country.' She said, 'Why don't you write a book for kids?'"
Consumers of Limbaugh's Two-If-By-Tea drinks will immediately recognize the character of Rush Revere.
According to Amazon, Rush Revere and the Brave Pilgrims is already available for pre-order and will be released in hardcover, Kindle, and as an audiobook CD narrated by Limbaugh.
Follow  John Nolte on Twitter @NolteNC