Reporting from Gaza, CNN's Diana Magnay had a busy morning watching the mounting military action and interviewing onlookers. However, she also had time to jump on Twitter to call Israelis "scum" – purely as a "reporter," of course.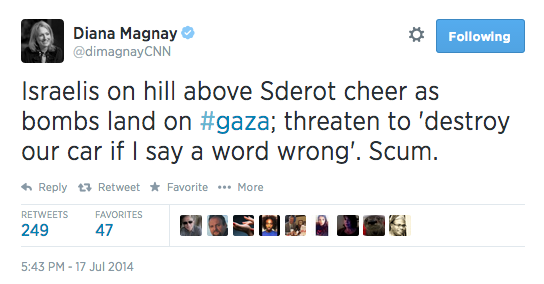 During her on-air report, Magnay pointed out the trail of rockets that could be seen leaving Israeli positions to take out Hamas. "I think you can probably see there are lots of Israelis gathered around who are cheering when they see these kinds of Israeli strikes," she noted. It was a scene that was "macabre," Magnay insisted.
Only minutes after she left the air she jumped to Twitter, revealing that she had a few more things to say about what she witnessed that morning.
On Twitter Magnay was shocked at those Israelis she saw that morning cheering the rockets' red glare: "Israelis on hill above Serdot cheer as bombs land on Gaza; threaten to 'destroy our car if I say a word wrong'. Scum."
Magnay deleted her tweet only minutes later.
Follow Warner Todd Huston on Twitter @warnerthuston or email the author at igcolonel@hotmail.com.